Have you seen the new Jimmy Dean's Sausage Crumbles? I first heard of them this summer while I was in NYC for BlogHer and met the sweet folks with Jimmy Dean. Remember, the Sun! What a great idea. I thought it would be perfect in my mini sausage quiches and especially good in my simple stuffed mushrooms. Perfect in time for holiday parties and entertaining.
So when the folks from Jimmy Dean asked me if I would like to help them with their Crumble Rumble recipe contest, it was a no-brainer for me.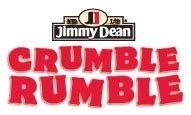 Submit your original recipe using Jimmy Dean crumbles and you could win a trip to a live taping of the Rachael Ray Show. Fun, huh? But it gets better. You get to bring a friend! The winner will receive airfare and accommodations for two people!
And guess what, if you win, then I get to go on the same trip with you! There are 10 bloggers who are hosting this contest and we are all knowing our readers will have the best recipes. Don't let me down, okay? Cause I would love to meet you in NYC!
How You Enter:
Submit two recipes using Jimmy Dean Hearty Sausage Crumbles. One recipe must be a breakfast recipe. The second recipe is up to you. Your choice.
Email your recipe entry to [email protected] Mention Add a Pinch in your entry so I get to go along to NYC! Purty please?
What Judges Are Looking For:
Appeal: Does it sound good? Will it make readers want to try the recipe?
Originality: Is the recipe itself new and/or creative? Does the recipe stand out?
Use of Crumbles: Is it an appropriate use of the product? Do they use the sausage well or in an innovative way in the recipe?
Simplicity and Ease: Is the recipe easy to follow? Is the prep time reasonable? Ease of prep. Are the ingredients easy to find? Is the ingredient list reasonable?
Clarity and accuracy: Accuracy of the recipe. Clarity in the ingredient list (i.e. if onions are listed, state whether they are red, yellow, pearl, green, white that are called for in the recipe); clarity in the production steps (i.e. if something is cut, approximately what size: roughly chopped, minced, small dice, etc.); Steps written and/or numbered in a logical sequence.
This contest is open from 10/25/2010 – 11/26/2010. Judging will be performed by Sara Lee chefs. Winner will be announced 12/3/2010.
I can't wait to hear all about your entries for the contest. But remember, official entries have to be emailed to [email protected]
What are you going to make?