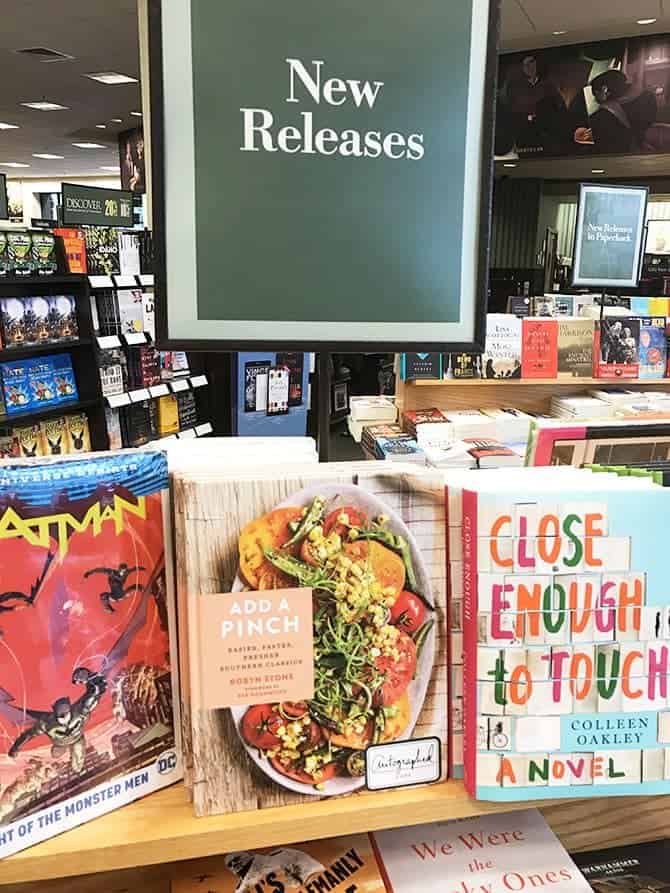 This has been such a fun week! I thought I'd share a few of the photos I've snapped from my iPhone with you!
This week, the Add a Pinch cookbook released out into the world and it was like sending my baby off to visit with friends!
Do you remember that feeling? When your little one was just old enough that you'd let them spend time at the grandparents or with your dearest friends while you ran errands (or took a nap!)?
Many of you may not be to that stage in life yet and many, like me, have teenagers or older children and you think back on those days wistfully.
They sure do go by in a flash, don't they?
Well, knowing that the cookbook was headed into your homes felt sorta kinda just like that!
Except I knew I didn't have to send a million diapers and a feeding schedule to go along with it! 🙂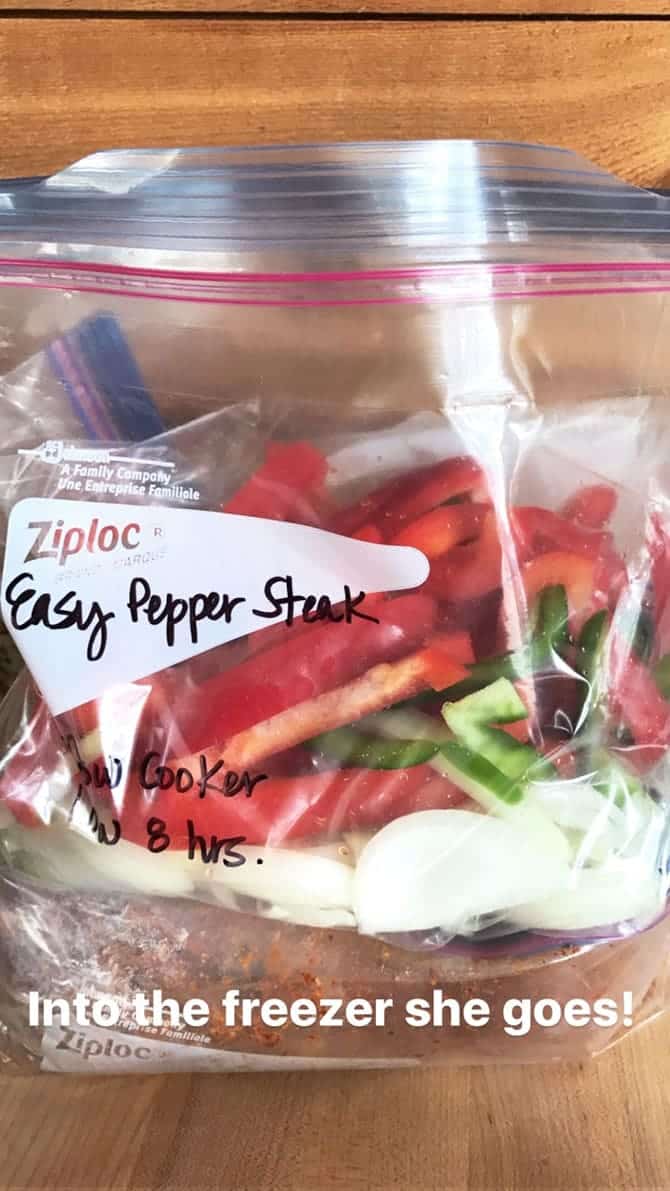 I've been nesting all week hoping that you love it!
Cooking, cleaning, pacing the floors, and I even started cleaning out a few closets! Ack!
But, I also started planning the meals for our upcoming camping trip and getting a little bit ahead of the game there.
I shared on Instagram Stories how I am meal prepping just a little early this week since we are headed out in the RV for Spring Break.
This is the Easy Pepper Steak from the cookbook and I just added the meat and spices to one freezer-safe bag, sliced all the veggies and added them to a second bag, and then popped both bags down into a third. Then, I wrote the name of the recipe and the instructions on the outer bag and stuck it in the freezer of the RV.
The night before I plan to fix this for our supper, I'll take it out of the freezer and place it into the refrigerator to thaw. Then, the next morning, I'll add all of the contents to my slow cooker, set the timer and head out into the parks for the day. I've also prepared the rice that I'll serve this with and will just reheat it from frozen to go along with it.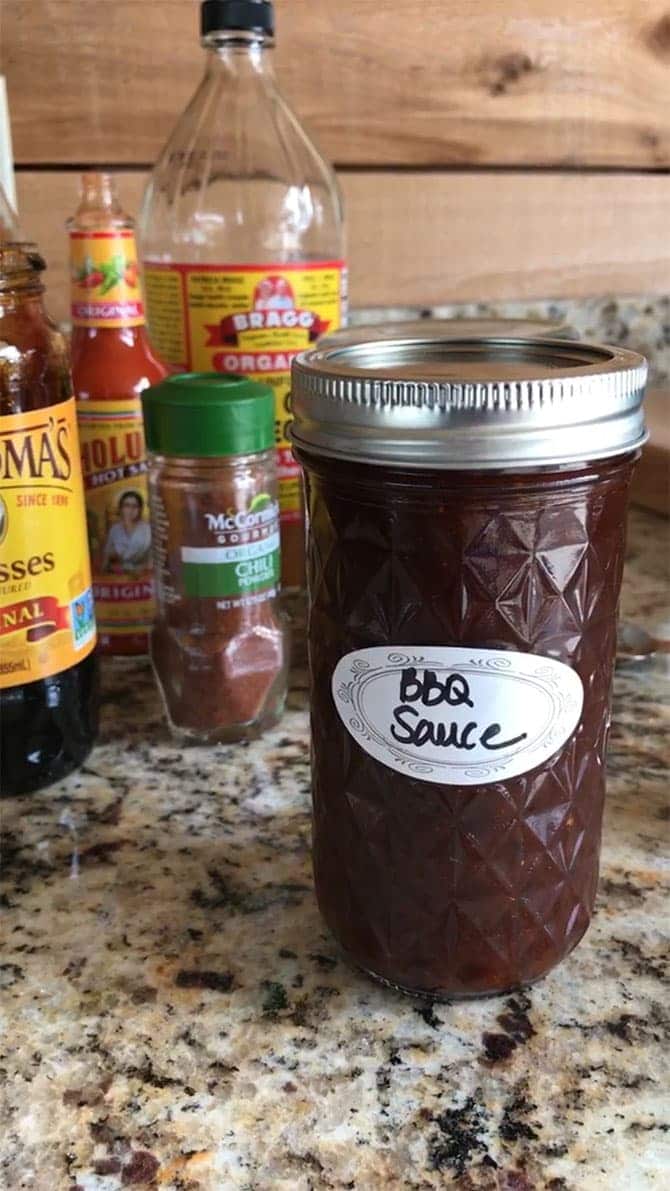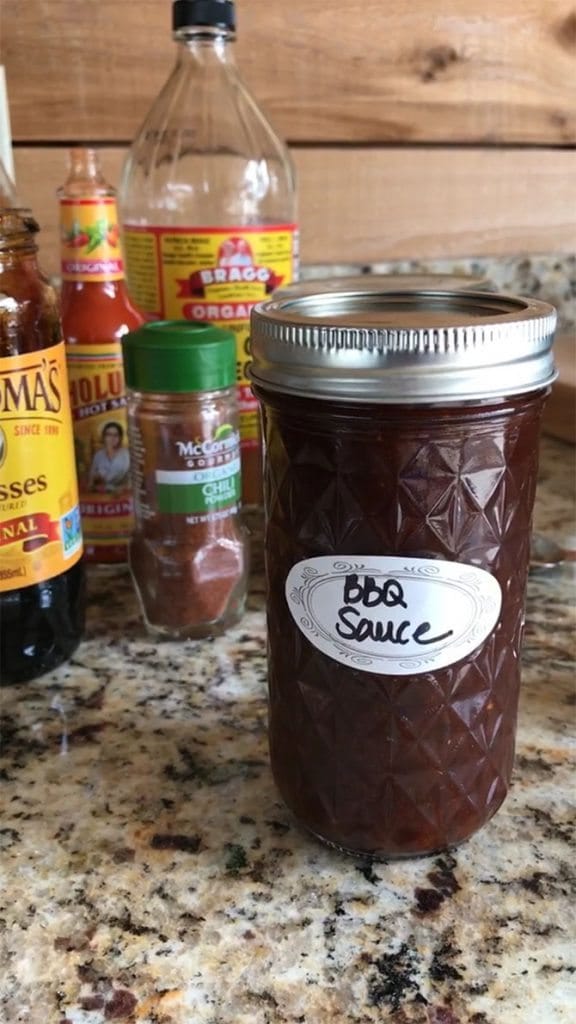 I also prepped the BBQ sauce for my Sticky Molasses BBQ Ribs and have that ready to go in the slow cooker along with the ribs for one day as well. It took all of 5 minutes, but it is 5 minutes I don't have to spend mixing things together while on our trip! 🙂
Easy, peasy and how we like to do meals at Disney!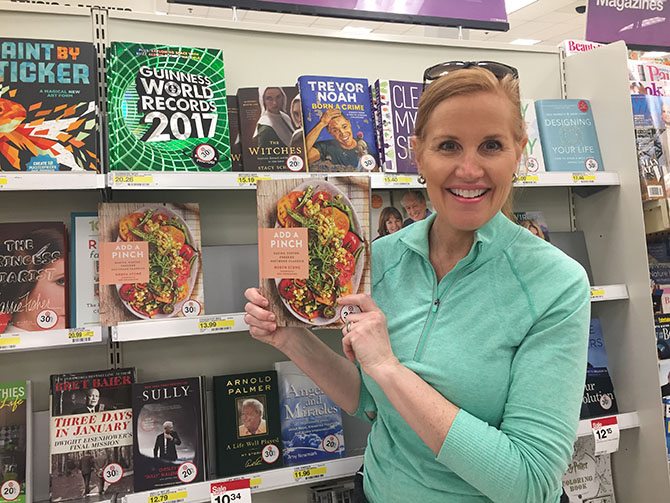 My sister-in-law Kay sent me this photo of her with the book from our local Target bright and early on Tuesday morning when the book was released!
She is truly one of the sweetest people in the world!
She retired from teaching school (3rd grade) after 22 years (she must have started teaching as a toddler!) and you can't even think about going anywhere in town with her that she doesn't have people coming up to love on her!
She's just the best!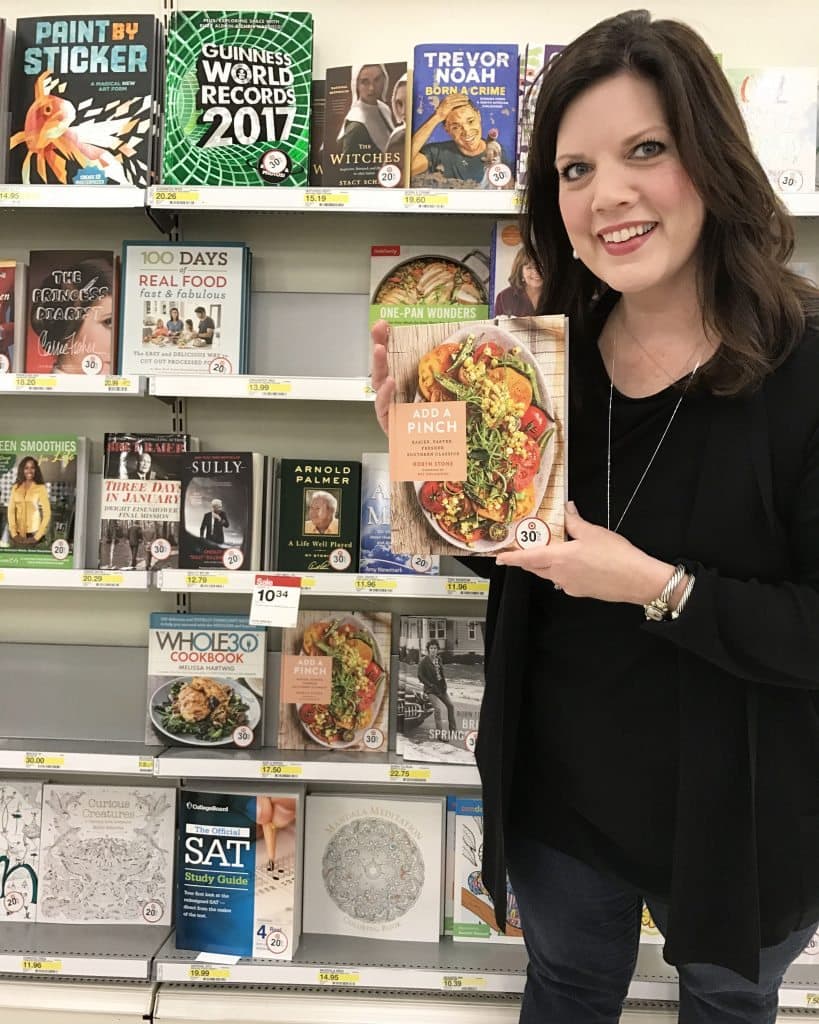 So of course, Bart took me by to see it on the shelves for myself. One of these days, I'll learn how to look at a camera properly. Or, most likely, I won't!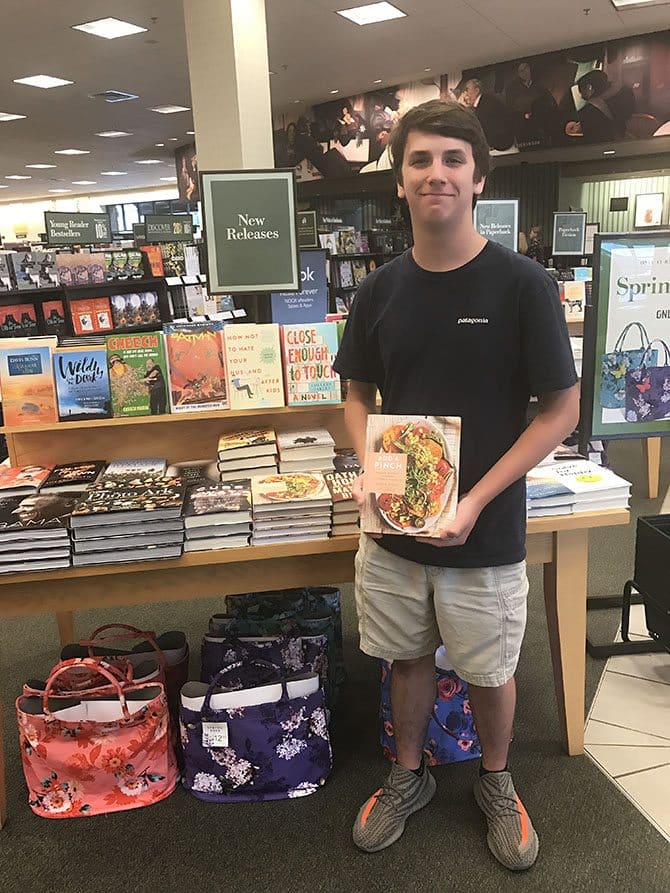 And when Sam got out of school that afternoon, we headed to the local Barnes & Noble so that he could see it, too. Yes, we were "those" people!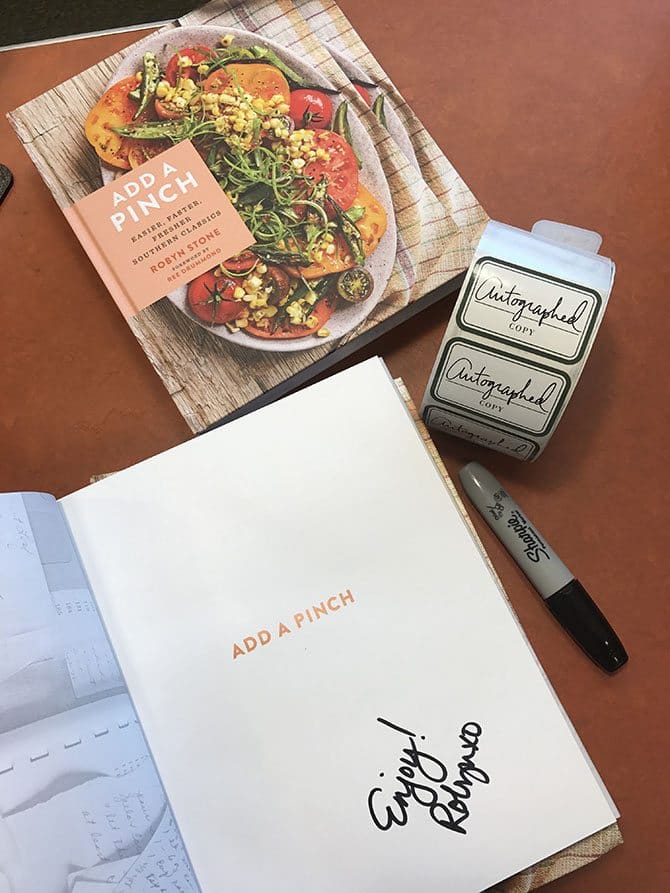 But, while I was there, the manager let me sign all of the books that they had shelved. If you go to the Newnan Barnes & Noble, they may still have a few.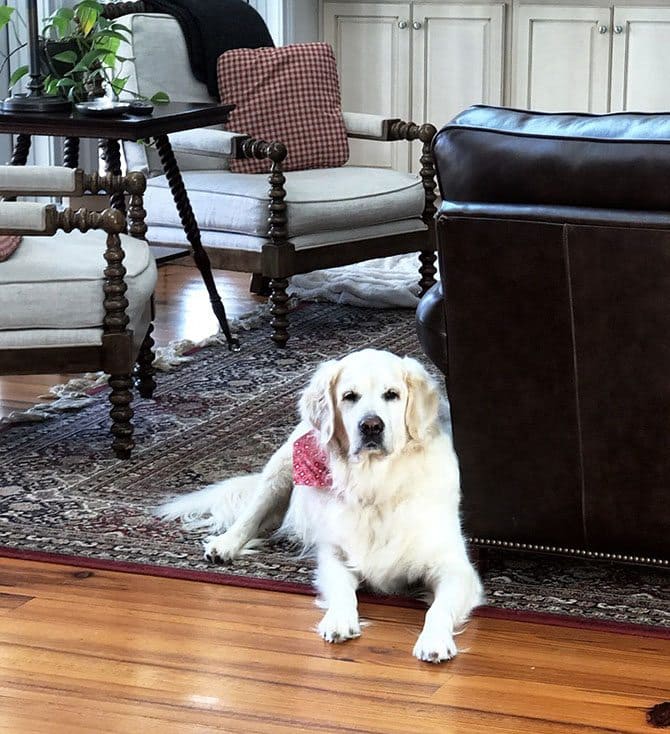 It has also been one of Ranger's favorite weeks!
It included grooming day and I think grooming days are the days he looks forward to most!
I imagine he thinks of them as his very own spa day! Ha!
But seriously, unlimited petting, brushing, and attention all without Annabelle pestering him.
I think he's on to something!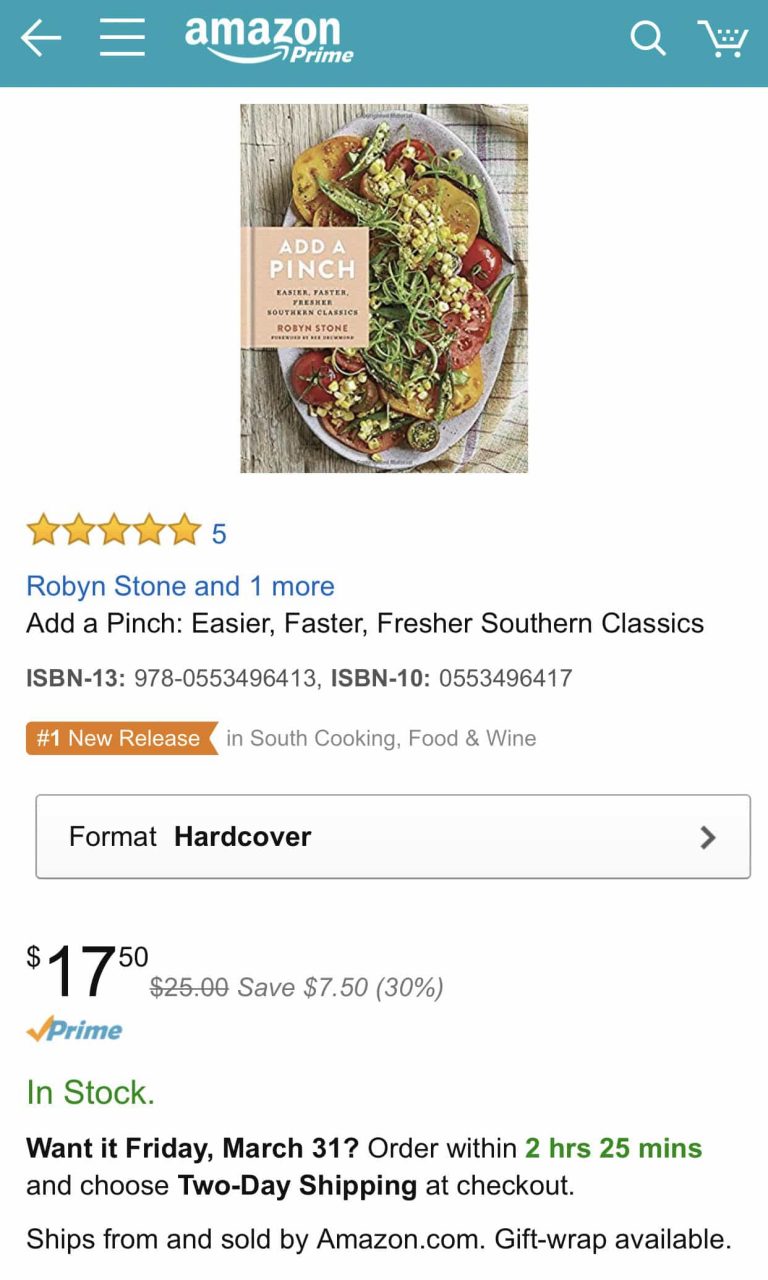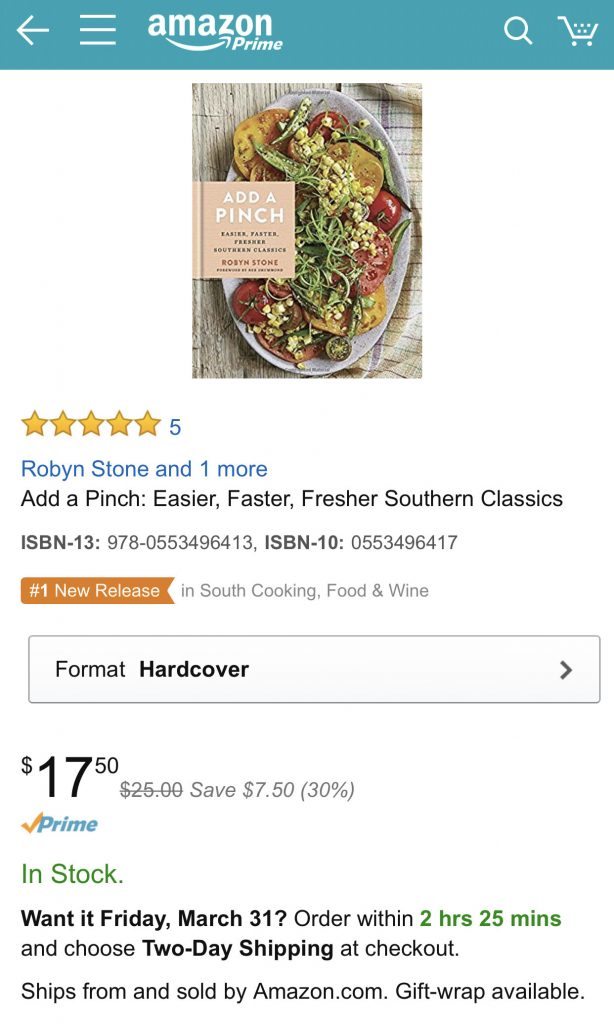 Speaking of spoiled!
You guys sure have spoiled me!
The cookbook has been loving the #1 new release spot in Southern cookbooks on Amazon, but most importantly, your reviews there have just thrilled me to death!
You all are just the best!!!
Love you bunches!
Robyn xo