This week's Link Love includes favorites from around the web of everything you need to know about St. Patrick's Day, best perennials, organizing tips and more.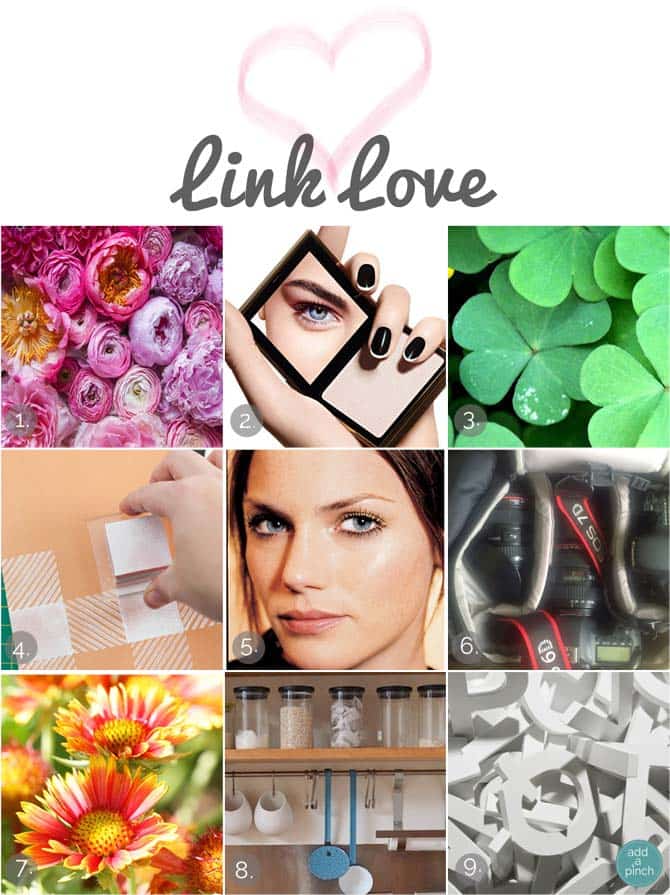 1. I'm always wondering the names of certain plants and love that this new free app helps you identify them. Just snap a photo while in the app to be in the know! // iTunes
2. Compact foundation is wonderful for traveling and touch-ups when you are out and about since you don't have to worry about spills in your bag! // Total Beauty
3. Ever wonder about the origins for all the traditions surrounding St. Patrick's Day? Here's a one-stop spot to learn about them all. // History
4. Buffalo plaid has always been one of my favorite patterns and I love the idea of making my own stamps. // A Beautiful Mess
5. A great guide to the best beauty looks for your age by the decade. I'm loving this list for the 40's. // Allure
6. My camera is used routinely and I wish I could say that I took better care of it. However, these tips on how to keep it in great shape will definitely come in handy to correct that. // Lightstalking
7. I have spring fever something crazy right now and can't wait to plant. I've learned that perennials suit my lifestyle best and am studying this list carefully. // BHG
8. Along with planting, I am ready for intense spring cleaning and decluttering. These tips from professional organizers should come in handy. // Real Simple
9. Sam and I had fun reading this list of phrases even smart people misuse this week during our grammar lessons. If you love words, they are definitely an interesting read. // Inc.