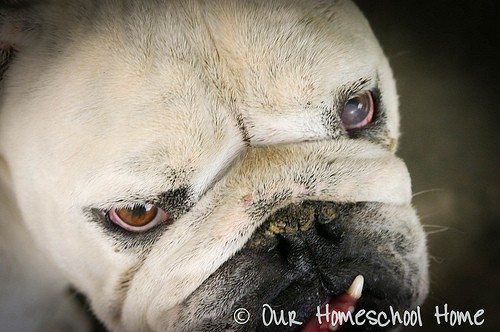 My sweet Bubba is coming home today. I honestly didn't know how much I would miss those big brown eyes, the wrinkles that make him seriously look like an old man, and all that slobber that just continuously falls from his sweet face.
I didn't know I'd miss him until he got sick.
Each afternoon, he loves to ride around the farm on our mule with Little Buddy. No, not a mule as in animal, a mule as in a farm vehicle. It's their special time together every day. It's really sweet to see them. Anyway, this past weekend, he decided to get off said mule and run.
Now, just let me say, Bubba doesn't run. It's just not in his nature to run. He wasn't breed to run. He's like me, running just isn't what we do. Well, at least I thought we didn't.
But on that day, Bubba decided he wanted to be a runner.
He took off like a shot to the barn. With everyone chasing after him because we knew he shouldn't be running. It was quiet a sight.
And then, he overheated. That happens pretty rapidly with bulldogs. They really are built to be a lazy man's (or Mama's) best friend. I think that's why we get along so well. We understand one another.
To make a long story short, Bubba has been at the veterinarian's office all week. But today…. he's coming home.
And for once, I am looking forward to being slobbered.