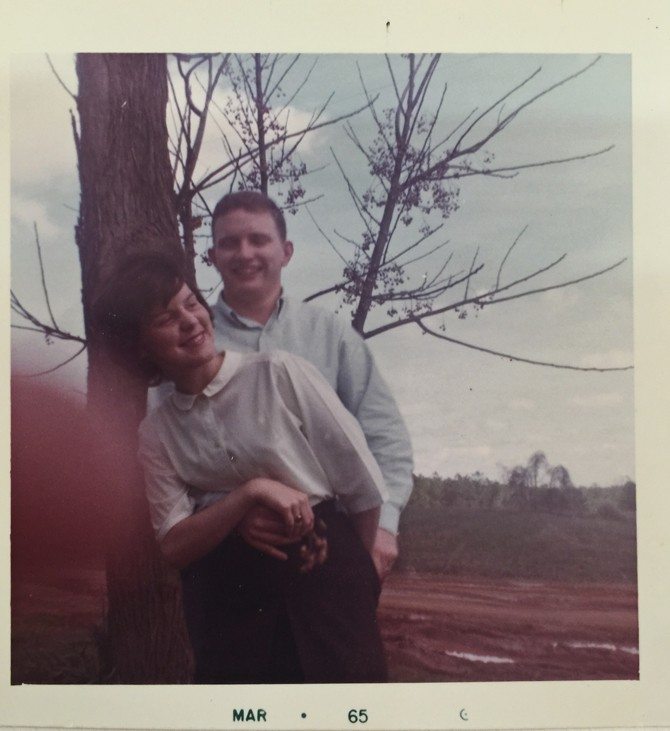 This has to be one of my favorite photographs.
I remember always finding it in the family photo album growing up.
It showed my parent's personalities perfectly. Daddy picking on Mama and her giggling uncontrollably at him which would then only encourage him to pick on her more.
And her giggling more.
The cycle was endless.
They were perfect.

Today is my parent's 50th anniversary and makes me realize how lucky I am to have them as parents. My sister and I were both immersed in their love story and witnessed their example of how two people who love each other live and treat one another.
Daddy put Mama on a pedestal, but he was the first to laugh at her for something funny she'd do or say. While she went back to college when Wendy was 7 and I was 3 , Daddy took over making suppers. He helped us with our hair, even whacking off my super thin hair to make bangs for me since my hair was always in my eyes. He tucked us into bed at night while Mama was in school and studying to become a nurse. He was always her biggest cheerleader.
But Mama certainly put Daddy on a pedestal, too. She would just giggle when he wanted to watch a marathon of John Wayne movies on a weekend and head into the kitchen to make the popcorn to watch them with him. She'd pack us all up to head to the houseboat for most weekends, even though couldn't swim a lick because she knew just how much he loved it there. And later in his life when he became so ill, she put everything aside to care for him.
From them, I learned so much about love, relationships and marriage and for that, I'm eternally grateful.
I'm not sure who put their finger in the photograph of them on their honeymoon, but it just adds to my love of the photo. It suits them perfectly.