Congratulations to Mitch S, comment #115, as winner of the Memorial Day Ice Cream Maker Giveaway!  A bowl of his favorite ice cream flavor would be really good right now.
"Cookie dough"
Thanks to all of you who responded with your favorite ice cream flavors.  There were several new flavors I had not thought of in your comments. We may have to try some of them this summer!
Happy Memorial Day Weekend! I know my little family of three couldn't be more excited that the holiday weekend has arrived. It signals all sorts of great things!
First and foremost in Sam's mind is that the water at the lake will be warm enough for lots of wakeboarding, tubing and swimming. It also signals that his buddies are out of school as well since the area public schools go just a bit longer than our school year.
For me, it means plenty of cookouts, entertaining at the Party Barn, occasional lazy weekends at the lake, watermelon, fresh vegetables, and making homemade ice cream.
Although I can easily make homemade ice cream year round, there is just something about once Memorial Day weekend arrives I'm all about making it as often as possible!
So, since I love and appreciate you guys more than you'll ever know, I thought it would be fun to have a giveaway for a handy dandy ice cream maker that is absolutely amazing. This is an updated version from the one that I have that I adore!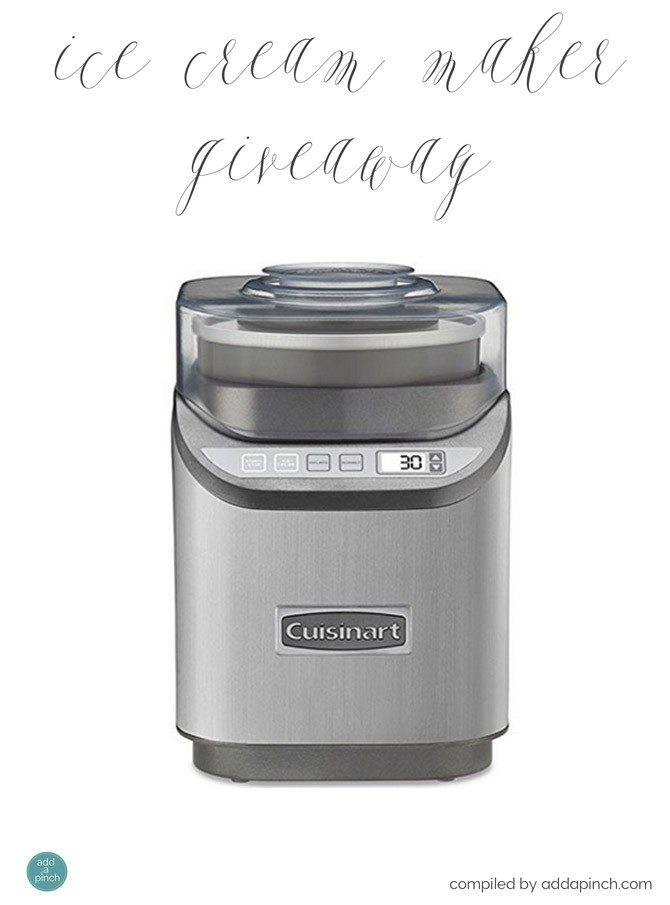 Giveaway
I'm giving away a Cuisinart 2-quart Ice Cream Maker to one lucky member of the Add a Pinch family.
To enter, leave a comment on this post telling me your favorite flavor of ice cream. Is it vanilla? Chocolate? Strawberry? Cherry cheesecake with blueberry swirl? (Hmm, that last one sounds like an ice cream I need to make pronto!)
This giveaway ends Tuesday, May 26th at 11:59 PM eastern. I will randomly select one winner and update this post. Good luck!
Love ya!
Robyn xo