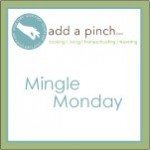 Welcome to Mingle Monday!
I am loving the new way we're having our Mingle Monday lately. I like the focus of a specific thing like Facebook, Twitter, or blog each week with the ability to add to that if you'd like to do so.
This week's focus is all about your favorite blog post you'd like to promote!
Link up your choice of blog post for new folks to discover and enjoy. If you don't blog, don't worry about it. Just feel free to link up your Facebook or Twitter. Then, just grab yourself a cup of coffee and enjoy visiting all of the wonderful people who do link up.
While you are out discovering new blogs or visiting with old friends, take just a few seconds to leave a note to the person before you in the link up. That's just one person whose day you just brightened!!! Now, by all means, if you'd like to leave a comment for other minglers, I know they would LOVE it!
Tomorrow is Organized Living Tips & Tricks
Remember Tuesday's the days for sharing your tips and tricks for Organized Living. I can't wait to see what all y'all have going on and learn from your tips!