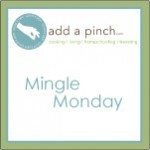 Welcome to Mingle Monday!
I'm still on cloud nine after a wonderful weekend at our first Go Savor™ Culinary Retreat in Savannah, Georgia. It was a wonderful weekend filled with cooking together, learning from photography and food styling greats, sharing tips and tricks with one another, and tons and tons of laughter! I think my sides may just be sore for the whole week!
Social media is really quiet remarkable. I've met incredibly lovely people who have become some of my very best friends. People from whom I've learned so much and continue to learn from every day. People who may not live next door or even in the same state as I do, but who I can pick up the phone and call at a moment's notice to share great news or even figure out a camera setting.
And that my friends is the heart of why I began Mingle Monday. Yes, it's great to promote our blogs, Facebook pages, Twitter accounts, and the many other "things" that we are all involved in. It's even greater when we share these "things" with one another to connect, learn, share, and grow.
So, let's connect.
Are you ready to mingle?
This week, it's all about Twitter!
Link up your Twitter account.
If you don't tweet, don't fret, just link up any other social media such as blog, Facebook, Tumblr, Flickr, Stumble Upon, Pinterest, or just enjoy mingling!