I had so many sweet messages and emails about last week's quote. I personally love inspirational and motivational messages and am excited that so many of you do as well.
What is it they say about like minds?
Well, I think we go together like peas and carrots, you and I.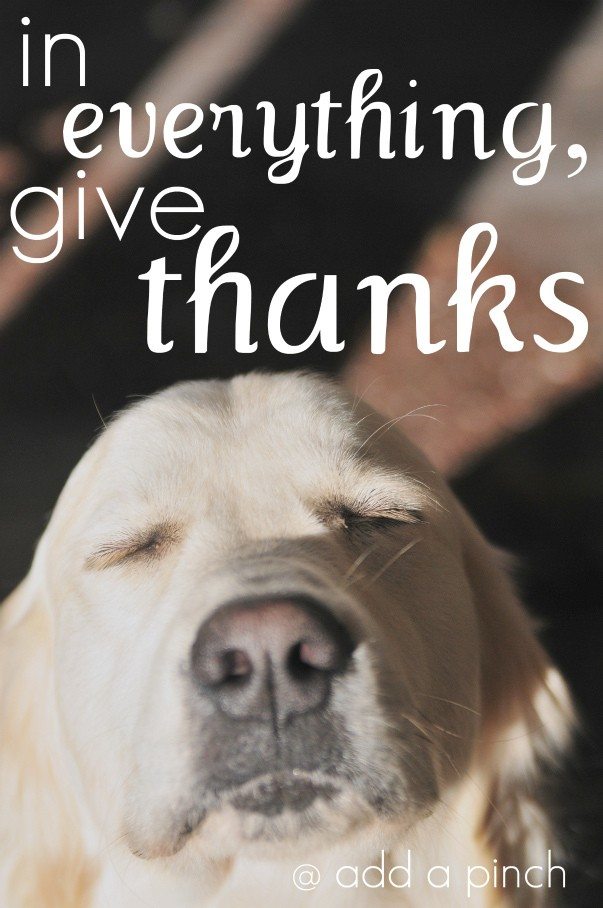 Last week, I chatted away about goals. I loved hearing about many of yours as well.
This week, I want to focus on being thankful.
I'm constantly reminding my son that in our house, thanksgiving isn't just a holiday where we eat turkey in November, it is a state of mind we should proudly have each and every day.
I know it is a hard lesson to learn.
I remember being his age and thinking the same. I would rush up the driveway after school, shifting my books from one arm to the other as my shoes kicked up dust and gravel. Grandmother would greet me at the top of the hill with a smile and a hug and ask me about my day. Immediately, I would start in telling her about whatever wrong had happened during the day. A funny story from a friend, or about how I wish the lunchroom served food like hers. And every single time I would finish rattling off my stories to her, she would place her arm across my shoulders in a sideways hug, give me a tight squeeze and say, "in everything, give thanks."
Now, as an almost 40-year old wife and mother, I catch myself becoming caught up in toys scattered underfoot in the playing room, dirty socks tossed carelessly around my son's bedroom, and half-drunk glasses of milk left sitting on the table.
And then her words remind me.
In everything, give thanks.