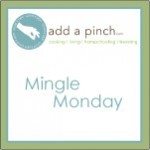 Welcome to Mingle Monday!
Remember a few weeks ago I told you I had something fun to share coming up? Well… I'm nervous as a cat about showing you what I've been up to lately, but I've been having a blast with it and can't wait to show you.

That's right, I've opened a shop with fun, personalized products.
To celebrate my opening, I'm giving away personalized mousepads to three lucky Add a Pinch readers. So head on over and pick out your favorite products and designs and leave a comment for which one you'd love to have. I'll randomly select three comments left on this post.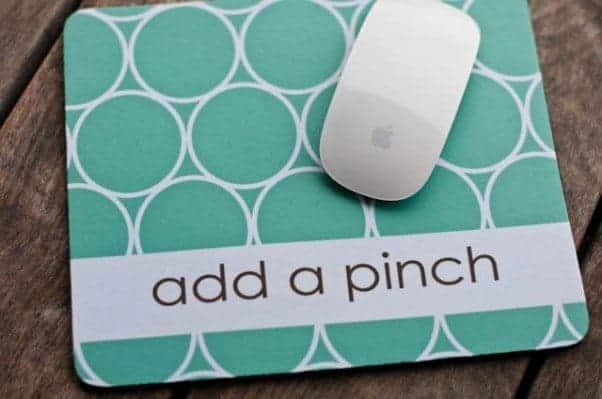 How fun is that?
Entries end Friday, March 25th at noon. I'll announce the winner by the end of the day on Friday.
Are you ready to mingle?
This week, we're going to share our favorite things we've made – blog post, meal, craft, you name it!
I know so many of you cook some amazingly delicious meals and are ultra talented in the craft department! I want to see what you've been up to lately and I know everyone else would love to see it as well. So come on, share your talents.
If you have a shop of your own, feel free to link it up as well!

***Congratulations to the Winners***
Winner #1 – Cecedon
Winner #2 – Sylvie
Winner #3 – Amy
Contact me with your design, color and personalization choices for your new mousepads!