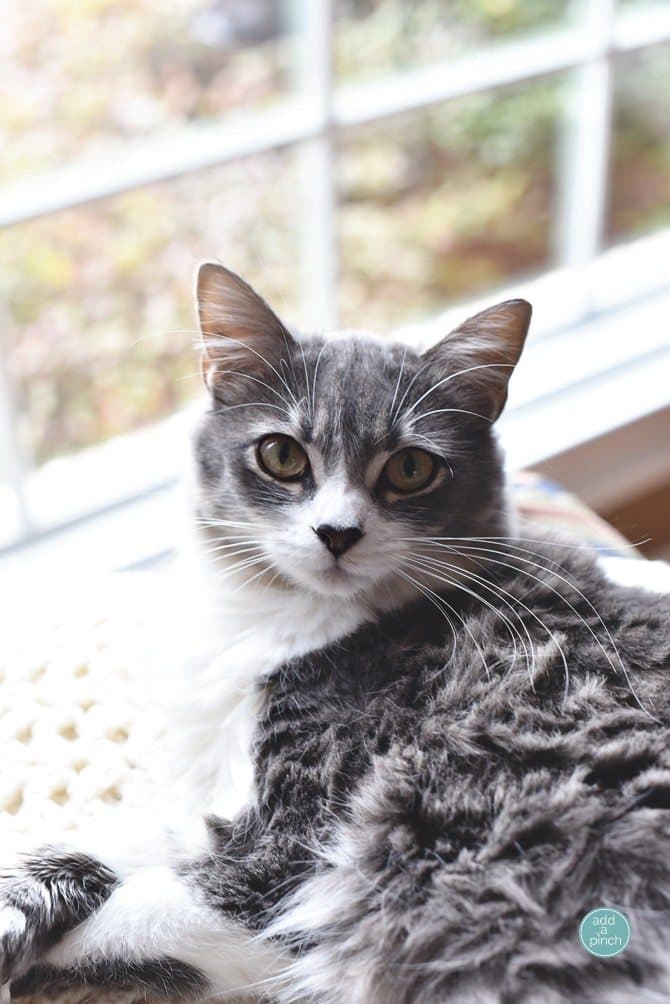 This week is Miss Socks' first birthday. I'm not certain if that explains why she has suddenly changed from being a sweet, gentle, adoring kitten into a temperamental, snooty, tween cat who loves on you only when she is looking for attention and then ignores you for hours on end.
She reigns over the dogs of the house by sitting on the back of the chairs and just watching them as they cheerfully go about their business. If you've not been around golden retrievers in a while, let me just tell you, they are always cheerful. Unless they are sleeping and even then, I think they sleep with smiles on their faces.
If Ranger or Annabelle happen to allow their fluffy tails to swish a bit too close to Socks' liking as they pass her by, she has no problem swatting at them to let them know she's the one they should be concerned with and not the humans in the house.
What I have discovered in this past year is the demeanors of cats and dogs are as different as night and day.
The dogs are ecstatic to have you love on them endlessly throughout the day.
Socks only wants you to pay attention to her first thing in the morning and maybe, just maybe last thing before bed.
The dogs are always wagging their tails.
Socks' tail only moves when she's thinking about pouncing on something.
The dogs always look at me with sweet adoring eyes.
Socks looks at me as if she's wondering how in the world she can manage to be around me one more day.
The dogs run to greet me when I come in – no matter if I've just been outside for 10 minutes or gone for a week.
Socks sits in her spot hoping that everyone will just leave her alone.
The dogs would love to climb into my lap at any given moment.
Socks does her best to avoid all unnecessary direct human contact.
The dogs are dirty within 5.34792 seconds of getting a bath.
Socks is always neat as a pin.
The dogs constantly steal shoes, bags, boxes, newspapers, and anything else that isn't nailed down.
Socks could care less about anything other than her food and hairbands.
But… the thing that they have in common is how much I love them. They make my days brighter!
And… after writing this, I realize that I have now turned into a 100 year-old woman who endlessly watches her cat and dogs.
Signed,
The Cat AND Dog Lady xo