Jump to Recipe • Print Recipe
Mississippi Mud Cake is a chocolate lover's dream of a cake recipe. A rich chocolate cake with marshmallows, and pecans and a delicious frosting.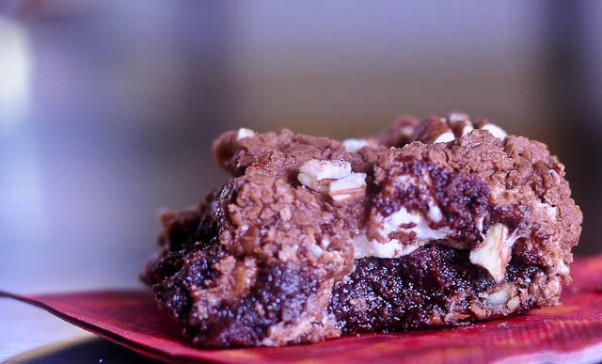 Y'all know how much I adore my Chocolate Sheet Cake that I shared with y'all a while back? Well, I've gone and made it into a Mississippi Mud Cake and let's just say – YUM!
Heavenly days are they sure enough good!
We hosted a party this weekend for about 65 people and I wanted to be sure to have a dessert option for chocolate lovers. I kept trying to think of just the right dessert to serve and then in the middle of the night the other night, I thought I'd turn that Chocolate Sheet Cake into something else. We all love the recipe and the transformation sounded mighty good to me, so at 2 o'clock in the morning, my mouth started watering just thinking about them.
On Saturday morning as my husband was on the tractor cutting the runway and fields, I got busy in the kitchen. I made six gallons of sweet tea (I started at five but kept having to "taste test" each batch, so I ended up making six!), two gallons of unsweet tea, three gallons of lemonade, prepped all the fixings for a hotdog and hamburger bar, made a scrumptious dip that I can't wait to share with you this week, and whipped up this cake.
Then, I ran it all up to what we call the Party Barn on the mule to get set up for the party.
About that time, my sweet husband was helping me haul all the teas off of the mule, I asked him to try a bite of the cake for me as we were setting up.  He cut a tiny little wedge off the piece I had for him and then said, "Wow!"
Now, "Wow" can really mean a few different things when said by husbands in case you didn't already know.
It can mean they are so good that they knock your socks off.
It can mean they taste so horrible there are no other words.
Or, it can even mean that all they can think of is Wow because they are searching for another word so they don't hurt your feelings.
So, in the short of it, I never know how to take the word, "Wow!"
So I pushed.
I prodded.
I just came right out and asked him, "Does that mean you like them?"
A girl's just gotta know that sort of thing before she serves something to 65 people, you know!
And then he kissed me causing even more confusion.
And finally, he picked up the rest of the piece and popped it into his mouth and gave me a little wink.
I think he just likes messing with me.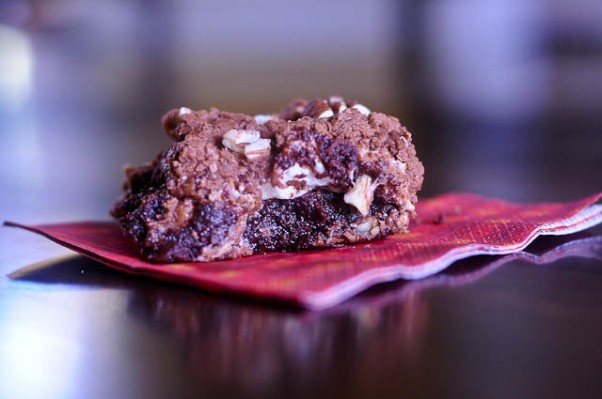 Here's how I make them.

Mississippi Mud Cake Recipe
Mississippi Mud Cake is a chocolate lover's dream of a cake recipe. A rich chocolate cake with marshmallows, and pecans and a delicious frosting.
Ingredients
For the Cake:
1 stick of butter
3 tablespoons cocoa
1 cup water
½ cup vegetable oil
2 cups flour
1 teaspoon salt
2½ cups sugar
2 eggs
1 teaspoon soda
½ cup buttermilk
For the Filling:
1 bag mini marshmallows
For the Icing:
1 stick butter
2 tablespoons cocoa
3 cups confectioner's sugar
¼ cup milk
1 teaspoon vanilla
1 cup pecans, chopped and toasted
Instructions
For the cake: Preheat oven to 350 degrees.
Melt butter and cocoa in heavy bottomed pan over medium heat.
Add water and oil.
Heat to boil and then remove from the heat.
Add flour, salt, and sugar. Mix well.
Add eggs one at a time.
Pour in buttermilk and soda. Mix well.
Pour into 9×13 baking dish or sheet pan that has been lightly sprayed with non-stick cooking spray and bake for 20 minutes.
For the filling: Pour mini marshmallows on top of warm cake and place back in the oven for 8 minutes, until lightly browned. Remove from oven.
For the icing: Melt butter and cocoa.
Add other ingredients except confectioner's sugar and vanilla.
Heat to boil then remove from heat.
Beat with an electric mixer and add confectioner's sugar and vanilla. Mix well.
Pour icing over marshmallow topping of warm cake.
Top with chopped pecans, optional.