Ever been on a trip when someone on the trip with you was just not a happy camper?
Well, yeah. That was me the other day.
No matter what we did, Little Buddy just wasn't having any part of it. He wasn't interested in what we wanted to do. He didn't care about the history of Fort Hayes, Kansas. He didn't care about the buffalo. He didn't care about where the prisoners were kept.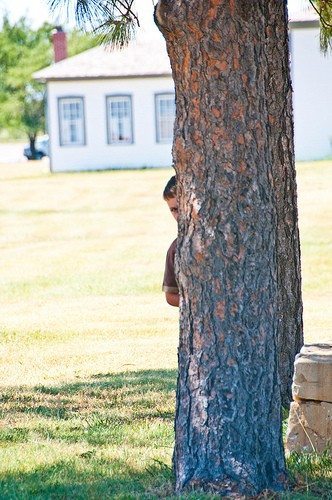 He didn't care that I wanted to take his picture. He was having no part of my plan – a guided tour of the Fort.
So I just went ahead and asked him, "what bee got in your bonnet?"
He didn't reply, but thankfully, he cracked a slight grin. Albeit very slight.
And then, as we climbed back into our RV to head on down the road toward Colorado, he said, "Mama, would we have room at our farm for a baby buffalo?"
At least he paid attention to something on our stop.