I loved reading all the sweet, heartwarming comments for our Mother's Day giveaway. If you want to hear inspiring stories of the impact Mothers' lives have on others, please read these comments. Congratulations to Sharon, comment #732! Hope you and your daughter enjoy these mixers.
"My grandmother was the most positive influence on my life. She taught me to be courteous, kind, gentle, and how to be a good parent. She is gone now but lives on in my heart. In her memory I would gift the second to my daughter, her great granddaughter, who is also blessed with the wisdom and love that is her legacy."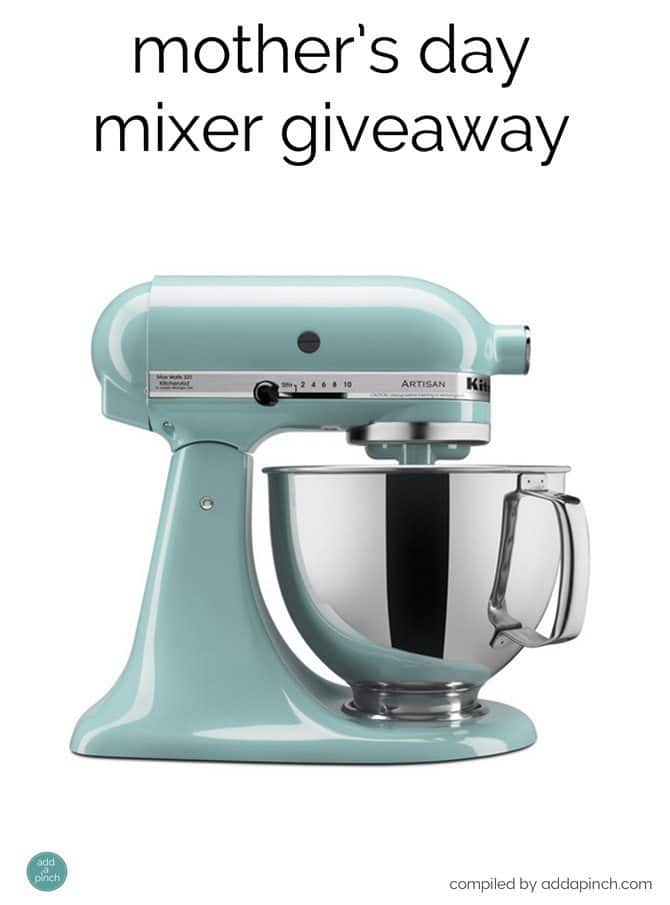 Can you guys believe that Mother's Day is this weekend?! Until yesterday, I had in my mind that we had another week before Mother's Day, meaning… ACK! Where did the time go? My lack of looking at my calendar beyond Sam's last week of classes and preparing for his finals, and getting ready for a party we are hosting this weekend has completely thrown me off course.
So, to celebrate the upcoming special day, I'm having an extra special giveaway!
Giveaway
I'm giving away a gift package of TWO 5-quart Artisan stand mixers by Kitchenaid in this gorgeous aqua blue color or another available color of the winner's choosing.
To enter, simply leave a comment on this post telling me what you love the most about that special Mom in your life – it can be of your Mom, your wife, your Grandmother, aunt, sister, daughter, etc.  Then, a comment will be selected at random and you (and that special Mom you raved about!) will EACH receive a mixer!
This giveaway ends Saturday, May 8th at 11:59 PM eastern. Only comments left on this post will be considered for entries. Only one entry per person, please.
Love you bunches!
Robyn xo
This giveaway is provided by Add a Pinch, because you guys are amazing and I love ya!