Jump to Recipe • Print Recipe
Happy Tuesday! Can you believe we're nearly smack dab in the middle of November, Thanksgiving is next week and Christmas is just peeping around the corner at us? And let's not even think about New Year's yet. Deal?
The last few weeks have flown by in an absolute blur, so I thought I'd slow down a second or two today and share another one of my favorite things with you guys. Are you ready?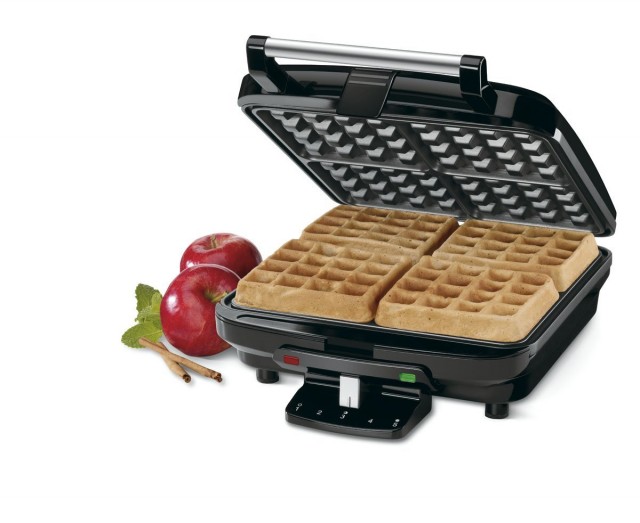 This time, it's all about waffles!
I swear I can hardly even say the word without hearing Eddie Murphy as Donkey in Shrek saying, "In the morning, we're having waffles!"
Seriously. It cracks me up and I want to say it every single time.
It gets a bit embarrassing being me sometimes.
Anywho.
My son's favorite breakfast in the whole wide world are my waffles, so our waffle maker gets a constant workout in my house. As a matter of fact, he loves them so much, one Christmas when he was just a wee one, he asked Santa to please bring him his very own waffle maker. Of course Santa did and we crank out waffles on a routine basis. It's not the same model as the one I'm giving away, but I swear by Cuisinart waffle makers. They just always are workhorses, I think.
So here's the dealio.
Giveaway
I'm giving away THREE Cuisinart 4 Slice Belgian Waffle Makers. Just in time for all that making waffles for your holiday breakfast!
Here's how you enter:
Leave a comment telling me about your love for waffles!
You can also get a few extra entries with the following:
Then head back to this post and leave a comment that you did.
Giveaway ends Friday, November 30th at 11:59 PM Eastern. The winner will be announced sometime on Saturday.
Giveaway open to US residents only.
Congratulations to: #260 – Abigail, #353 – Niki, #368 – Missi