I love that y'all love this cooler as much as I do! I just wish I had 700+ of them to give to you all!  Congratulations to Allison Kubitz, comment #237. I just love Allison's plans for her first use of the cooler! It is just too cute!
I need a Yeti (especially one this color!!) so that me and my best buddy Kaden (my 4 year old grandson) can go to our boat and go 'hunt for alligators'! We have official alligator hunting hats (fishing hats) and vests (life jackets), and this super cool Yeti cooler would be perfect for the grub (pbj sammies and juice boxes) that we bring along on our safari adventures. It's pretty serious stuff and we definitely need the right tools!
*******
Can you guys believe it is already this late into April?! I'm absolutely blown away – but definitely not complaining. It means that Sam only has two and half more weeks of school before finals at his homeschool academy before summer! We both are ready, ready, ready!
And when I think about summer, I automatically start thinkings of camping, weekends at the lake, cookouts, reunions, and all the fun that goes along with them. One thing that is a constant for all of those things is a cooler. Right? If your family is anything like mine, you are always packing a cooler full of ice and bottled water, fruit, and snacks for a day out on the lake or even for my husband and son to take food for a week long Scout camp! Let's just say that our coolers get a workout!
What we've found over the last few years though is that all coolers are not made equal! We've pared down our cooler collection to just a few really, really good ones and I want to share one with you guys in one of my very favorite colors!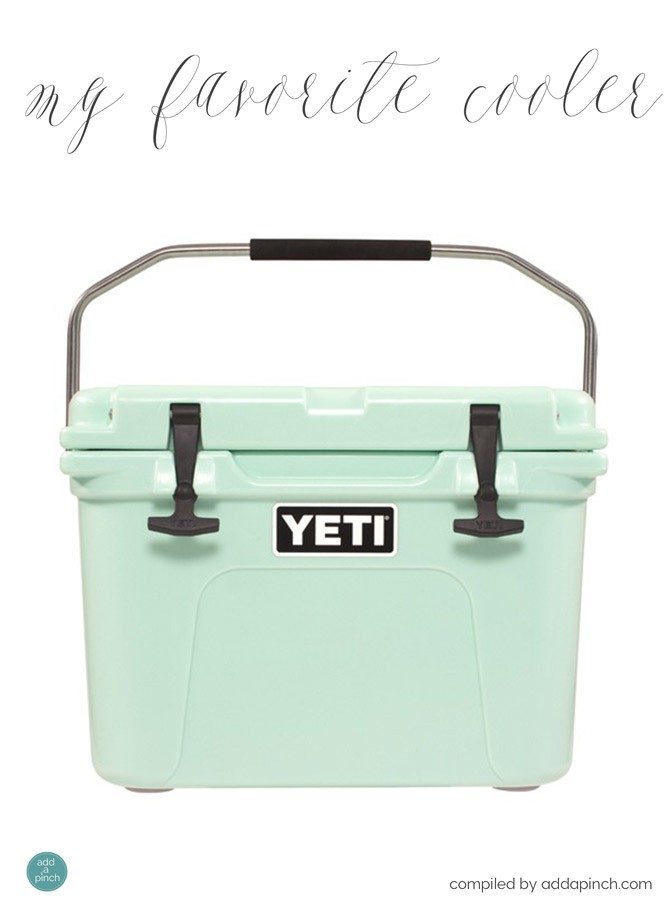 Can you believe the gorgeousness!?
Giveaway
I'm giving away a Yeti Roadie 20 Cooler in the Limited Edition Seafoam to one lucky member of the Add a Pinch family.
To enter, leave a comment on this post telling me if you were to win this cooler, where would be the first place you would take it.
This giveaway ends Monday, April 27th at 11:59 PM eastern. I'll randomly select one winner and contact him or her via email and update this post. Good luck!
Love ya!
Robyn xo
This giveaway is sponsored by Add a Pinch because I love ya – even more than I love my cooler! Ha!