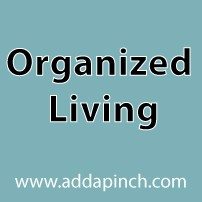 Does your family struggle with where things should go in your home? A place for keys, batteries, cell phones, and the never ending amount of mail that shows up every day without fail?
Well, mine did. It seemed like it all would end up on my kitchen counter or the dining room table. No matter where you looked when you entered the front door of my house, you could see a pile of stuff that obviously didn't belong there. I knew there had to be a better way – a more organized way to manage these items.
Our solution was to create a home information center and I'm going to share a few tips on establishing one for your family.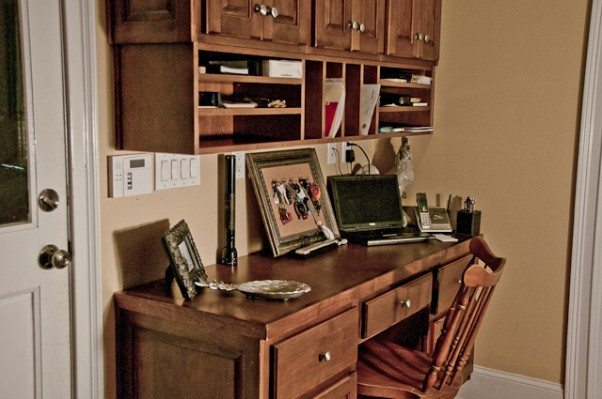 The purpose of our information center is to:
Store critical information needed to manage our household
Provide a space for sorting mail, paying bills, and maintaining records
Keep important items from being misplaced
How to Create a Home Information Center for Your Family
1. Designate an area as your home information center.
This may look different for every family and most likely will. We designated an area as we enter from our garage. This is not in a high-traffic area of our home when we have guests, but is definitely an area that our family passes multiple times each day. You may find a similar area or even decide to locate your home information center within your home office, in your kitchen, living room, or master bedroom. We attempted having our home information center within our office, but it always seemed that business related items and family related items became mingled when they shouldn't have.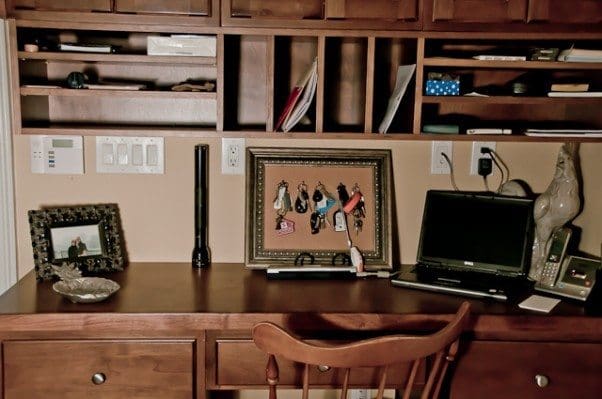 2. Determine what your home information center will contain.
Again, each family's home information center will most likely contain different things from another depending on your individual family's needs and life. For our family, we decided we needed a place to:
manage our incoming and outgoing mail
maintain household records
pay bills
manage our family calendar
keep keys, cell phone chargers, cameras, batteries, loose photographs, library books to be returned, etc.
I also needed a place to keep other household management items like coupons, grocery lists, meal plans, etc.
Discuss with your family what items to include in your own home information center to personalize to your family's needs.
Questions to consider would be:
What items are you usually looking for and can not find?
What items find their way to other areas of the house that need to find a designated home? (I just had to look at my kitchen countertop),
If you were to sit down for 10 minutes to manage details for your home what all would you need on hand?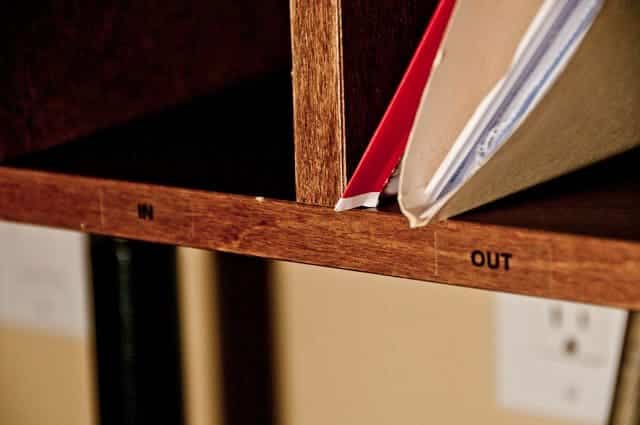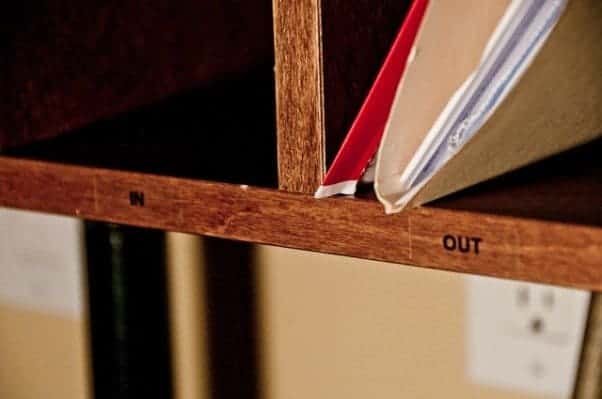 3. Organize your home information center and maintain it.
This may seem like a daunting task, but it is extremely rewarding. Don't let it overwhelm you to the point of not beginning. If you can allot an afternoon to get it done, you should have it ready to go by dinnertime, but if you just have minutes to spare here and there, you can still have it done fairly quickly. Just take bites of time as you have them to get it done.
What you'll need to do.
Completely clear away the area you have designated for your home information center. Remove everything from the area and give it a good cleaning.
Setup any furniture, cabinets, or other storage you'll need. This can be as elaborate as built-in cabinetry designed for this purpose, an unused entertainment armoire you can repurpose, or a table with stacking trays or crates. Make this work for your family without having to spend a lot of money to do it. Be sure to include a trashcan or recycle bin and a shredder for items that will need to be discarded.
Gather items to be stored in your information center and sort them by specific purpose – bills, coupons, paperwork, pet information, insurance paperwork, tax information, keys, cameras, etc.
Label designated containers for the item to be stored within that area and organize items you've sorted into these containers. I highly recommend having four sorting stations that are visible. These are In, Out, File, Handle
Maintain your information center on a routine basis, at least weekly, to manage your In, Out, File and Handle sorting stations.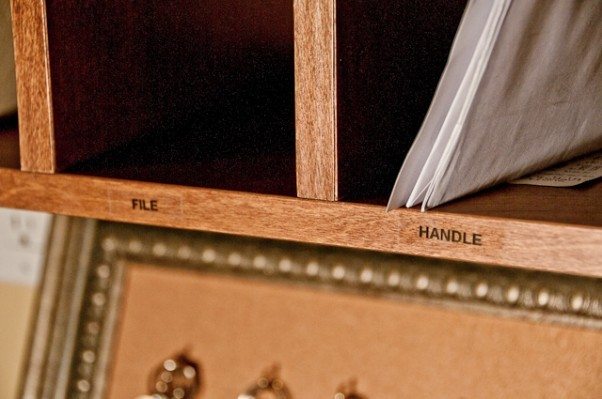 I could go on and on about the importance of an organized home information center, but the most important thing is have fun while you make it work for you and your family. Once you get your home's information center established, you'll be able to enjoy the time you used to use searching for lost things.
Do you think a home information center will help your family?
Remember, beginning next Tuesday (01/11/11), I'll be hosting an Organized Living party for you to share your tips and tricks and organizational projects with other Add a Pinch readers! Get those tips ready!