I'm so excited about this week's Organized Living!
Have you ever gone to bed at night and wondered what in the world you accomplished? You know you've at least answered all of the phone calls throughout the day. You think you've gotten to all of your text messages and may have even scratched the surface on your email. But all of the items you'd hoped to get done during the day just didn't happen.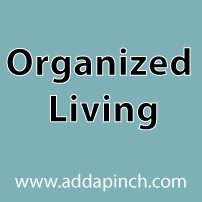 What went wrong?
I've been there. I know exactly how those questions make you feel as you pull the covers up at night. Hoping beyond all hope that the next day will be a bit better. Maybe at least no major distractions will occur and you can get the laundry folded that's been glaring at you every time you walk into the laundry room.
Ring any bells?
I want to share with you one simple tip that has and continues to help me tremendously and continue to help me take control of my life – establish routines.
Routines are not something that are naturally ingrained in me. It's honestly something I struggle with often. However, I do understand how much more organized they make my life when they are in place and I most certainly enjoy the results! I see the fruit of routines in my own day, my son's understanding of "what's next" and even in training our new puppy. Routines bring calmness and order to an otherwise chaotic feeling day.
Establish Routines

1. Start with the basics. Think of the most important items to be completed and make sure they are part of your daily routine first. If routines are something that your family struggles with, consider paring your day down and starting with the basics – eating, sleeping, bathing. Once you have routines for these main parts of your life, you'll find you have more time and energy to devote to other areas such as school/ work/ play later.

2. Prioritize. Spend time incorporating and living with the routines for all of your basics and then move on to other top priorities. It's easy to become so enthused about organizing your life that you bite off more than you can chew in the beginning. Take a step back and remember when you accomplish your major priorities, you've accomplished a great deal!

3. Set a time. In organizing your day, we touched on scheduling time on your daily planner for priority items so that you can visually see the most important items you must complete for the day. For me, I mentioned that I've marked off our homeschooling time to help remind me of my "busy" status each morning. That simple note to myself is my virtual stake in the ground for time designated to the bulk of my son's homeschooling.

Not all routines have to be written down, but set a time for them. For example, by 3:00 pm each day, I begin preparing that night's dinner. Whether it's setting the table, beginning to cook any items, or just gathering my ingredients to be ready to prepare a quick-cook meal – I know that by 3:00 each day, it's time for dinner plans to begin being put into motion.
Now, let's hear from you. Do you have a routine that you'd like to share? We'd all love to hear it. It may be just exactly what someone else has been needing!