Have you ever wondered what in the world all the hub bub about a pinewood derby was about? Have you ever even heard of a pinewood derby?
Well, I was in the group that had never heard of it. Growing up, being a girl with only a sister, I had no need to know about such things. Boy Scouts was so far from my concern, I really could have cared less what they raced, flew, or lit. I was into how many cookies we sold in Brownies and the socks that went with my uniform. Loved those socks. I wonder if my Mom kept them. Oh, and that beanie. So cute. Of course I wanted it to come in red and not that brown color.
Boy, have things changed around here. Little Buddy is in his first year of Scouts. He's a Wolf Cub. We've been gearing up for this Pinewood Derby for months. Now, by gearing up I mean "thinking" about it and "talking" about it. Not really doing much more than that. Well, we have been researching websites for Derby car designs. Whewee – there are some cool ones out there.
Since my husband is, well, a man, I "let" him have the pleasure of working with Little Buddy on the design etc. My husband really gets into the design thing. He has two degrees in Architecture and doesn't get to use them everyday. So, whenever there is a design opportunity, it's his.
Little Buddy is a huge Jeff Gordon fan. Driver jacket and all! (Actually, that's why I am not going to go to Blissdom this year. We are headed to the Daytona 500. ) So, guess what his car was designed to look like?
You got it, Jeff Gordon's car. Well, sorta.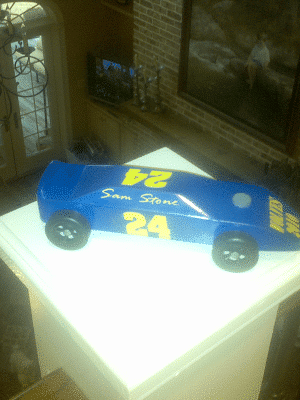 Aren't those custom vinyl decals SWEET? Excuse my high-quality photo. I made it with my phone after the race. Look in the bottom left corner, see my little love, Tinkerbell. She wanted to be in the picture, too! Such a vain dog.
My husband had to be out of town on business on Derby day. So I got to sign Little Buddy in, film, and socialize with the other parents (love that socializing part). My Mom went with us to cheer Little Buddy on. (She's a great Nana that way!)
The parent's were cracking me up. I think it was just as much the parents racing as the children (or so they thought). I'm sure they were saying the same about me. I am pretty competitive about stuff like that. I know I shouldn't be, but hey – I'm human.
Race results: Little Buddy came in FIRST PLACE for his den and SECOND PLACE in his pack!!! Woo Hoo!!! It was hard not to do a big ole touchdown style dance. I restrained myself.
But I was doing the dance on the inside! I think I still may be doing it.
Hey, thanks for indulging me in my celebratory braggin'. What's your favorite Girl Scout cookies (not sure what this has to do with Little Buddy winning other than I ordered from a Girl Scout while we were there)?