Outdoor living is such a part of life for my family and many others especially during the summer! With a few basics as well as some extra special touches, you can create your perfect outdoor living space that works beautifully for your family!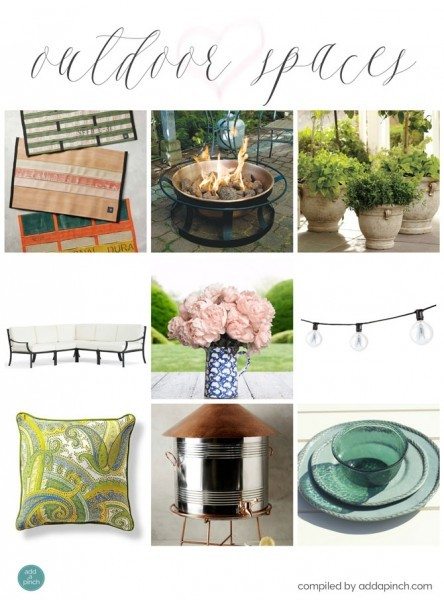 The sunny days of summer are finally here and it's time to get outside! All through life, the outdoors has been a space for living to me. Bicycles and tire swings and picnics in the pasture with my sister when we were little girls. Cookouts, outdoor parties, sipping sweet tea on the porch swing or making s'mores by the fire pit with my husband and son now. Entertaining and living outdoors is just a part of how we live, and that is true of many people.
Creating your own personal outdoor living space can be the perfect way to spend time in the sun — or shade. These areas can extend the usable space of your home and allow you to have more room to entertain, gather with friends and family, or simply enjoy a peaceful, personal space reserved just for you. The possibilities are as endless as your imagination. Here are a few ideas I hope you like as much as I do!
Colors and fun patterns add so much to your space – such as in these doormats, throws, or table cloths!
Whether it's chilly out at night or not, a fire pit is a nice addition to a patio space. Roasting marshmallows over an evening fire for those fireside chats with friends and family – so special!
I love surrounding my living spaces with plants…and these planters are just right for so many decorating styles!
Comfortable lounge furniture is an absolute must-have in my book for outdoor living.
I enjoy beautiful products that are multipurpose – especially for outdoors. This spongeware pitcher adds fun color and pattern and is also a great vessel for flowers.
I completely fell in LOVE with outdoor string lights at a outdoor party we gave for our niece. They added such a cool – and functional – factor that I later hung them in our party barn.
There are so many fun colors and patterns in outdoor pillows these days! They come in all price ranges, too which helps to easily extend your decorating style to the outdoors.
This dispenser even makes sweet tea or water seem extra special! This looks so different than the usual ones I've seen, so I just had to share! Great for family suppers and entertaining friends.
We love to have lunches and suppers outside. These plates look like the color of the sky or ocean…so relaxing.
There are so many more outdoor must-haves I use since we spend the summer outside. I will share more another day but these fave items are a great place to start in creating your outdoor living areas.
What are some of your favorite elements you add to your outdoor spaces? I'd love to hear because I may just want them to add to my porch too!
Enjoy your summer – and have fun relaxing outdoors!
Robyn xo