Dear Robyn,
You are bringing your beautiful baby boy home from the hospital today. You are completely raw with emotion and gratitude and love. You can laugh and cry at the same time your heart is so full of joy.
There are simply no words to describe the feelings when you first held him and were able to sing your favorite hymns to him. You didn't care what anyone thought when you were rocking and singing (Most definitely off key.) It just didn't matter. Remember this.
You are certainly ready to be this little boy's mother. You've read every parenting book you could get your hands on, filling them with sticky notes to mark the special sections you want to be sure to visit again should you need to. Even though these books are written by experts, I am writing to tell you a few things I learned along the way.
1. Don't fret. It will only make whatever you are fretting about so much worse. That was the hardest lesson to learn, but one of the most important. When you pray, pray specifically about whatever your concerned about and God will take it from there.

2. Yes, it really is colic. The doctors and nurses keep telling you that it is not colic, but it turns out that Grandmother Verdie is right. And here's how you comfort him – warm a towel in the dryer and then place inside of another towel, now wrap that towel around his belly. It will feel so much better to him. And go ahead and plan on sleeping in the recliner for about six weeks. That's where you both are the most comfortable.
3. He loves the swing. You wonder if it is worth the money to go ahead and buy him that swing when he's two month's old. Don't worry about it, he'll love it. As a matter of fact, you'll have to give it away when he's two because he sees it when you move and wants to swing in it again.


4. Your mother-in-law is a baby whisperer. It's just natural to pick up the phone and call your mother when you have a question or need something, but be sure to call your mother-in-law from time to time as well. She raised six children herself, she has wonderful insight and first hand knowledge. She really is a baby whisperer.
5. Enjoy your daddy's visits each day. Every day during lunch, your daddy will "drop by" with lunch for you and want to feed and hold the baby. He really wants to give you a break and spend some one on one time with his new grandson. Let him. They will build a special bond that lasts even after your father passes away in a few years. These memories will warm your heart on days when you really miss your dad the most.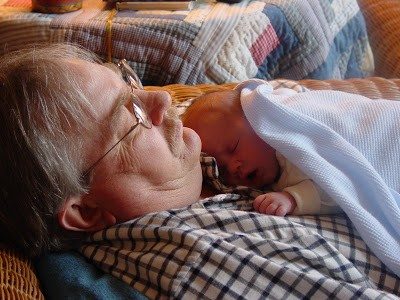 I'll write you again soon to tell you of some other things I've learned. Until then, remember, I love you and enjoy this beautiful gift you've been given – even on what you think are the bad days.
Love,
Robyn