I have a confession. I love to watch people. They fascinate me. What they wear, how they walk, how they interact with one another. It all intrigues me. I wind up making up my own little stories. Almost like they become characters in the book I've never written.
When we were on the cruise with nearly 4,000 of our closest friends (I jest, we didn't know a soul other than our own little family), I could people watch til the cows came home.
There was plenty to watch.
And then, when we were in port in St. Thomas, I noticed this.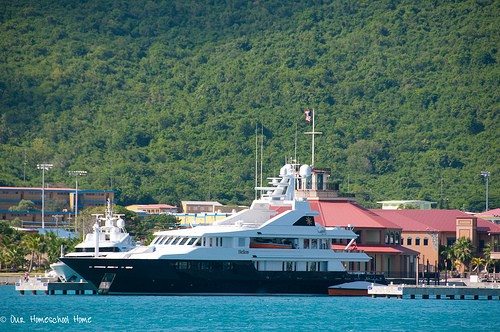 And I stopped watching people and just watched this boat. I think it really is called a yacht and the folks that own it would probably prefer I not call it "a boat."
But watching this boat got me wondering.
Who in the world owns this thing? What do they do? What do they wear? How do they walk? How do they interact with each other?
Sadly, the boat wasn't telling. But I imagined an entire book around it.
Do you people watch? Does it make me weird that I do?