Peppermint Sugar Scrub makes a quick and easy DIY sugar scrub recipe perfect for treating yourself or for gift giving! Ready in minutes!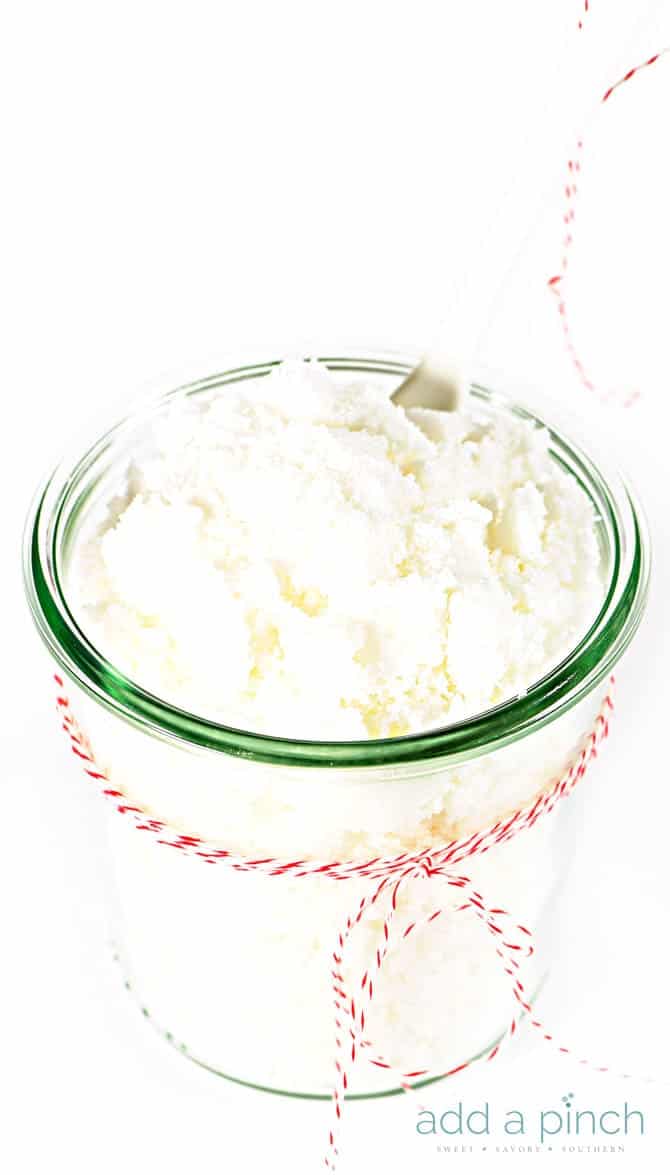 I love homemade sugar scrubs. I love knowing exactly what is in each one, being able to customize them to include organic ingredients, and most of all, have them ready in a jiffy! This peppermint sugar scrub comes together in just a matter of minutes and smells amazing!
In this peppermint sugar scrub, the granulated sugar works to exfoliate your skin while the coconut oil moisturizes. The combination leaves my skin feeling silky smooth and glowing! I also include a bit of an organic, unscented mild soap that works as a cleanser and then the star of the show – peppermint oil – makes this sugar scrub smell heavenly! I love it year round, but during the holidays it is just perfect!
It couldn't get much easier to make either. I just add my sugar to a bowl, add in my melted coconut oil, soap and peppermint oil and stir until well combined. Then, I pour it all into a clean glass jar, add the top to the jar and tie on a bow! Voila, in less than 10 minutes, I have a beautiful gift ready to give that just keeps on giving whenever your recipient uses it! A definite treat!
Here's how I make my peppermint sugar scrub! I hope you love it as much as I do!
Peppermint Sugar Scrub
Prep time:
Total time:
Ingredients
1 – 1 ½ cups granulated or sugar, packed
1 tablespoon coconut oil, melted
1 tablespoon unscented liquid soap (I used Dr Bronner's unscented soap)
8 – 10 drops peppermint oil
Instructions
Add sugar to a medium bowl. Mix together coconut oil, liquid soap, and peppermint oil and stir into dry ingredients. Continue to stir until smooth and any lumps of coconut oil have been dissolved. Pour sugar scrub into container for gifting or for your use. Keeps well sealed on the counter for up to two months.
To use, scoop about 1 tablespoon or more as needed of peppermint sugar scrub from container and rub onto skin in a circular motion. Rinse well.
You'll also need:
1 half-pint Mason jar or similar sized container for gifting or storing
Enjoy!
Robyn xo