It's that time of the year when my family starts marking our calendar and making travel plans for the upcoming year. Sometimes we're planning quick weekend getaways, longer family vacations, and everything in between. It truly is one of my favorite things about January where I look forward to planning time exploring new places or just hanging out at the lake with my family.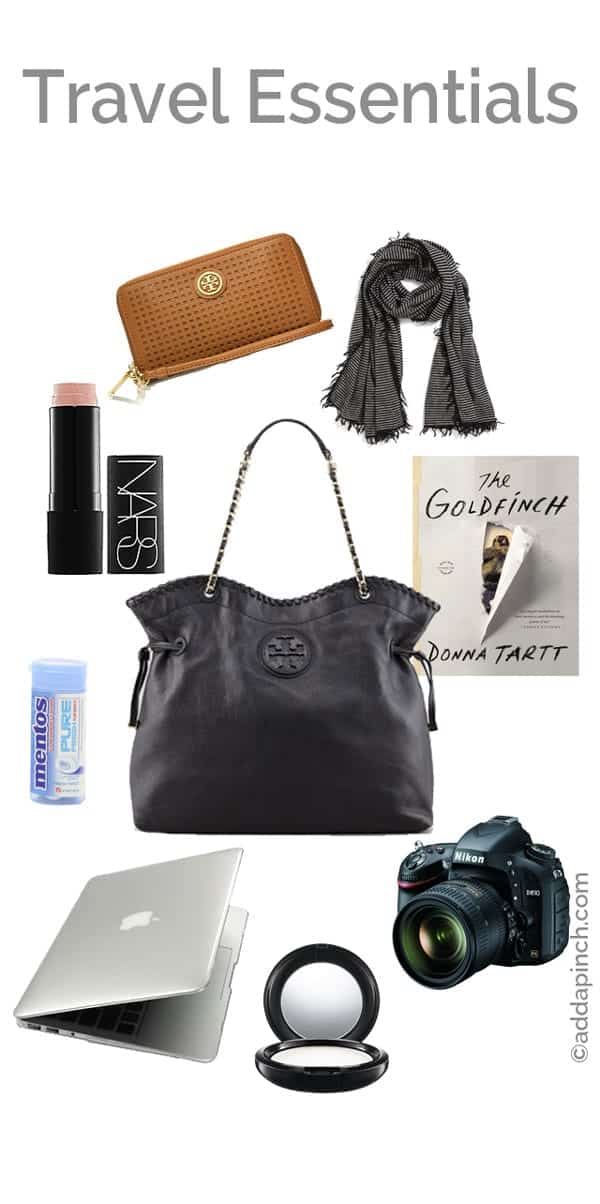 Regardless of where we're going though, I have a few personal travel essentials that make any trip more enjoyable. Here are some of my favorite things I just have to have with me.
My Travel Essentials
Carry:
I love bags, especially large ones that I can pack away my favorite things inside to have with me. Lately, I've been carrying a bag similar to this bag that I absolutely adore. It holds ev.ery.thing! I can use it as my around town purse, but also easily use it as a carry-on bag since the sides cinch up so well. I'm in love with it. I also like to keep a small wristlet or clutch inside that I can use for going out and stashing my phone, driver's license, credit card and a bit of cash.
Entertain:
I always have this in my purse or carry-on loaded with new books that I can't wait to dig into. Speaking of which, I just started this book and can't stop reading it! Gosh, I love it. I've yet to switch my magazine subscriptions to electronic copies though. I still love flipping through those glossy pages. I usually will have a few favorites stashed in my bag for reading along the way, too. I also have to have these babies in my bag. They are perfect for me since they also have the mic for my iPhone. Love. Of course, I'm currently obsessed with listening to the soundtrack to American Hustle, even though we've yet to make it to the movies to see it!
Wear:
I'm all about being comfortable. Of course I want to look my best while feeling great, too. Lately, you can definitely find me in these shoes, in black of course. Talk about the most comfortable things ever while still being stylish. They look great with jeans and leggings. Score! And since I always want to be snuggly, I love to have this wrap or this scarf with me.
Connect:
When I travel, I always have my essential electronic devices with me. Over the years, I've paired it down (HA!), but I still have to have a few things to keep me connected to you guys. I've found that I prefer to have this with me instead of an iPad, I always have to have this baby with me, and a little backup.
Refresh:
There's nothing worse than arriving to your destination and looking like you've been traveling forever. My bag always has a few essentials I use to freshen up like this powder, my favorite gum, and a drop of this to brighten my eyes and a touch of this to brighten up my face.
What are a few must-haves that you keep with you when you travel? I'd love to know!
Robyn xo