Today's guest is Amanda from Beautiful Blog Designs and Photography Haven. 
I am thrilled to have Amanda provide a guest post on Photography and Lighting. I have learned a ton from her photography blog and just knew you all would enjoy her.
Good morning! My name is Amanda and I'm going to share with you how one simple thing – LIGHT, can effect your photos and how to use it to take better pictures, whether you use a point and shoot or a DSLR. light.
There several types of light, but because of lack of time and expertise, not to mention readers' attention, I'm going to write only about natural light, i.e. the light provided by the sun. And, I'm not going to give a long lecture on how and why, but rather just give you basic tips to improve your photography.
Things to know about light and photography:
Try to only shoot early in the morning or late in the evening, when the light is soft, not harsh
If you are shooting in mid-day sun, move to a fully shaded area.
If you're shooting inside, move in front of a window and TURN OFF your flash.
To illustrate, I took my second son outside and grabbed a shot in the full sun and then one in the shade. (For all the shots in this post I only used my oldest son's Canon A470 Point-and-Shoot).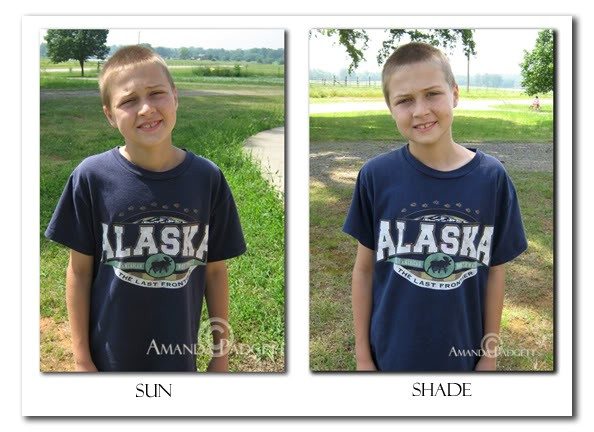 Do you see the difference? They were both taken at 11:20 AM, but for the second shot I just moved about ten feet away, under a large tree.
Now, let's talk about using a flash. I am NOT a fan of the flash. When I want to take a picture inside, I get near a window and position my subject so that they are well lit and take the shot. Below is an example of that. In one shot I used the flash and the other I turned my son's P&S; on manual, tweaked the settings a bit (read your manual to see how to shoot in manual) and took the second shot with no flash.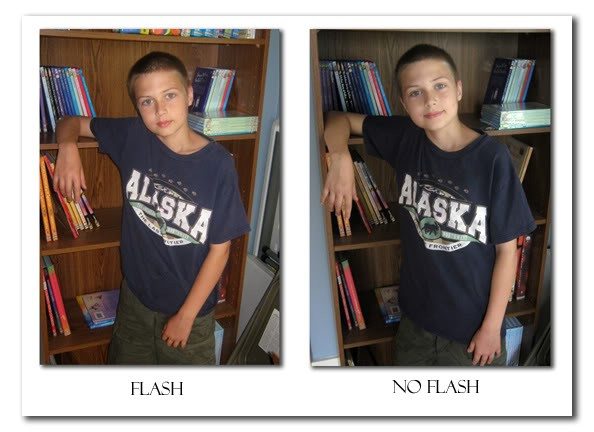 Isn't the one without a flash so much better? The skin tone is more realistic, and there are no shadows like in the shot with the flash.
So, if you want to take pictures of your children to put in frames or give to grandparents, or share on your blog, just remember these three things:
Shoot early in the morning or late in the evening.
Move to the shade if shooting in harsh sunlight.
Move to a window if shooting indoors and turn off your flash.
Head over and say hello to Amanda at her Photography Haven blog and let her know how much you enjoyed her post.