Not sure if you have heard the mommy blogger's story yet, if not, be sure to read it for the complete story. The thumbnail version of the story is that a Missouri mom posted her family's Christmas Card picture on the internet on social networking sites and on her blog. Little did she know that a Czech grocery store would turn her Christmas Card photo into the centerpiece of their ad campaign.
We all need to be sure to protect ourselves and to keep what is ours, well… ours. I for sure have not taken the time to watermark my photographs that I have posted thus far on this blog. But I most certainly will take the time to do so from this point forward. I have even gone back this morning and added watermarks to the photographs posted previously.
If you are like me and barely know how to find your way around in Photoshop, I have found a quick, easy, and free way to watermark your photographs through using Picasa 3. With Picasa 3, it is basically four easy steps that even I can do.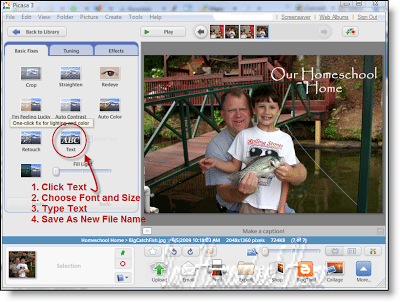 I crave to learn all I can about Photoshop. Until I do, I will rely on the trusty Picasa 3. Regardless if you do know Photoshop or not, take a visit over to http://www.lifewithmy3boybarians.com/. She gives the absolute best blogging tips, Photoshop tips, and good lessons learned. It is well worth the visit! Always. Everyday.
Any tips you have that you would like to share with me? I sure would love to know them.