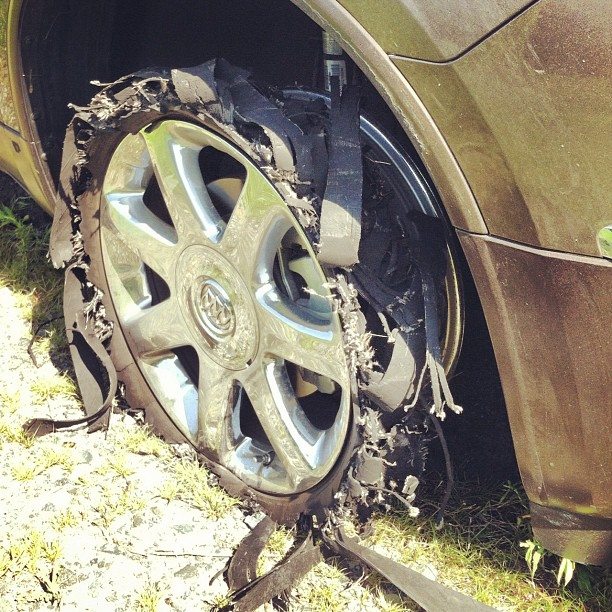 "Your on fire," came over the radio as we left Charlotte on our way up the road. We both looked into the rear camera to watch the front tire of our tow vehicle rolling off and down through the guardrail and into the ditch on the side of the interstate.
The smoke was what my father-in-law spotted first as he and my mother-in-law followed along behind us in their RV. The smell was what caught my attention. Rubber burning. That smell never smells good.
Immediately, my mind flashed visions of pit crews in Daytona, cute little Luigi timing himself as he announces, "pit stop," in Cars, and then the fateful scene where Ralphie and his Dad are changing the tire on their way home from buying their Christmas tree in A Christmas Story.
And I giggled.
Little Buddy, obviously upset from hearing, "your on fire," wasn't all the way caught up to the updated events and surely couldn't read my mind to understand why I was giggling. He gave me a stern look usually reserved for parents toward their children in such events.
Within seconds, my husband had our RV safely stopped on the side of the interstate and he and my father-in-law were in the process of pulling the spare tire out of my trunk.
Twenty-three minutes later (exactly), with spare tire seated and our old, shredded tire bagged and stored in my trunk, we were on our way to the local tire store for a replacement.
The moral to the story? Well, here are some points I thought of:
Always have a spare tire and know how to change it.
It is a good idea to travel with others when you can.
AAA and Good Sam are there to help when you need it. Although we didn't use them for our car tire, had it been our RV tire we would have definitely called them.
Have a good sense of humor when things happen. They can't be helped and a good sense of humor helps in every situation. Really. It does.
Be thankful. Be thankful no one was hurt. Be thankful there wasn't really a fire. Be thankful we had a spare. Be thankful we traveled with others. Be thankful my husband and father-in-law got it quickly changed. Be thankful it was on the side of the car opposite traffic so they weren't in any great danger. Be thankful we didn't have to use any Lava soap.
Thanks so much for all the well-wishes on Instagram and Twitter. Y'all are awesome.
Love ya,
Robyn (the official timer of tire changers)