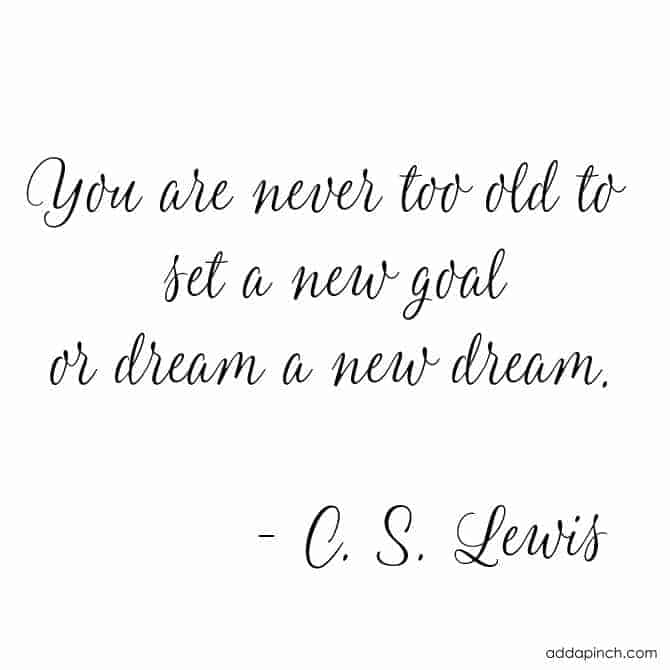 I love this quote by C. S. Lewis. I think it is perfect any time, but especially this time of the year when we are all reminiscing over the past year and planning ahead for the new.
Since I was just a little girl, I've been a list-maker, a goal-setter, and a planner. I might be the very last person on earth to read the instruction manual that comes with anything mechanical or of the sort, but give me a set of pens or pencils and a planner and I will be busy for hours! I'm an old-school kinda girl, thankyouverymuch.
And this time of year, I'm plum giddy with excitement in planning ahead for the new year. And since I'm also a big believer in sharing goals with others, I thought it would be great to share!
For years, I've categorized my list using alliterations so that I could remember them more easily.
Faith
I put faith at the top of my list! It just sets the tone for everything for me and is a daily journey. This year, my priority is spending time each day in my Bible study.
I've been using the Jesus Calling devotional by Sarah Young for a while now and love the app on iPad as well. I have two new books planned for this next year, Beth Moore's new book, Audacious and The Battle Plan for Prayer inspired by the Kendrick brothers' movie, The War Room. I can't wait!
Family
Each year we sit down as a family and decide our family goals and plans for the coming year. From making major travel plans to setting giving goals, everyone participates! It is a great way to decide our major plans/ goals for the year so that we are all working off of the same game plan. It helps us to start the year off in sync!
Once we've set them as a family, I love to make my own specific family-related goals, too! From waking up 30 minutes prior to the rest of the family to make mornings easier for everyone to setting specific work-related hours to decrease screen-time in the evenings.
Fitness
My focus is to continue eating well and moving more. That combination, as well as just taking good care of myself should go a long way in the new year and beyond. It should help me take care of myself so that I can take care of others for years to come!
As with anything, everything in moderation.
Fun
Laughter is an instant vacation – Milton Berle
My Daddy was one of the most fun people to be around and always had me laughing. Sometimes, so much so that I'd go to bed with my sides hurting from laughing so hard. Even at the silliest of things. His happiness was contagious!
Being around joyful people is amazing and my goal is to find ways to have fun every day – from playing more games, watching more movies, roasting more marshmallows – to serving others to make their days easier and joyful.
In general, my focus is to enjoy everyday, take care of my family, take care of others, and take care of myself.
Enjoy the little things for one day you may look back and realize they were the big things. – Robert Brault
What's your focus for the new year?