One of my favorite sets of furniture is the table and chairs that my mother-in-law gave to us when Bart and I were married twenty years ago this coming September. They were previously her grandmother's, then her mother's and then the table and chairs that she and my father-in-law used early on in their marriage. For years, the table was our only table until we built our house here on the farm and I've loved that there was so much history in them – four generations of newlyweds to be exact.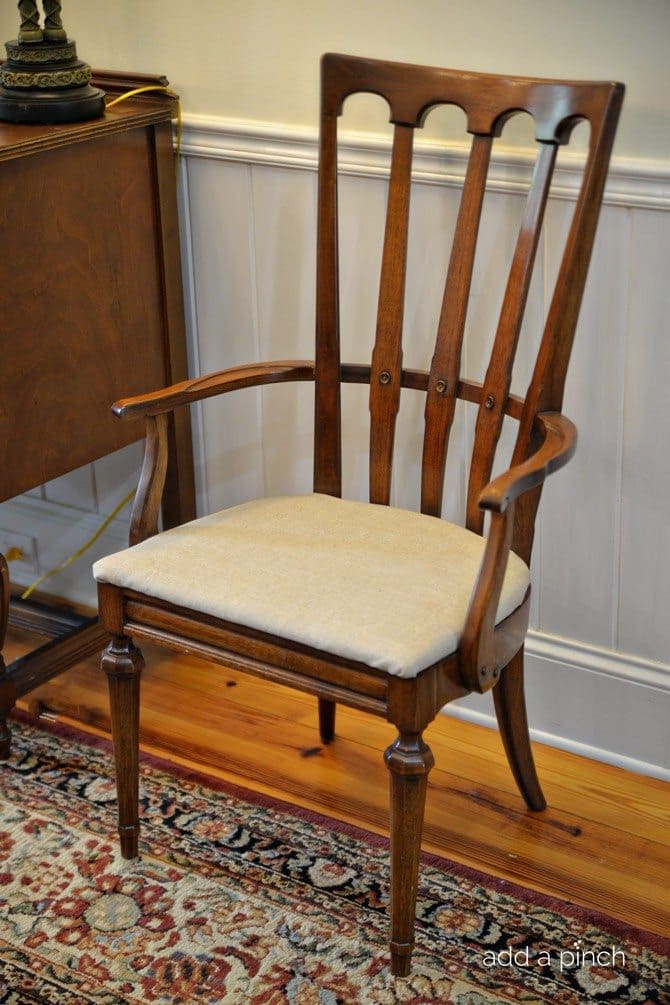 While we don't use the table and chairs for our everyday meals anymore, the table holds a special place in our living room and the chairs are used around the house in various places. I just love them!
But for a while now, I've noticed that the seats of the chairs desperately needed an update since they still had the fabric on them that we covered them in when we first received them – yes, twenty years ago!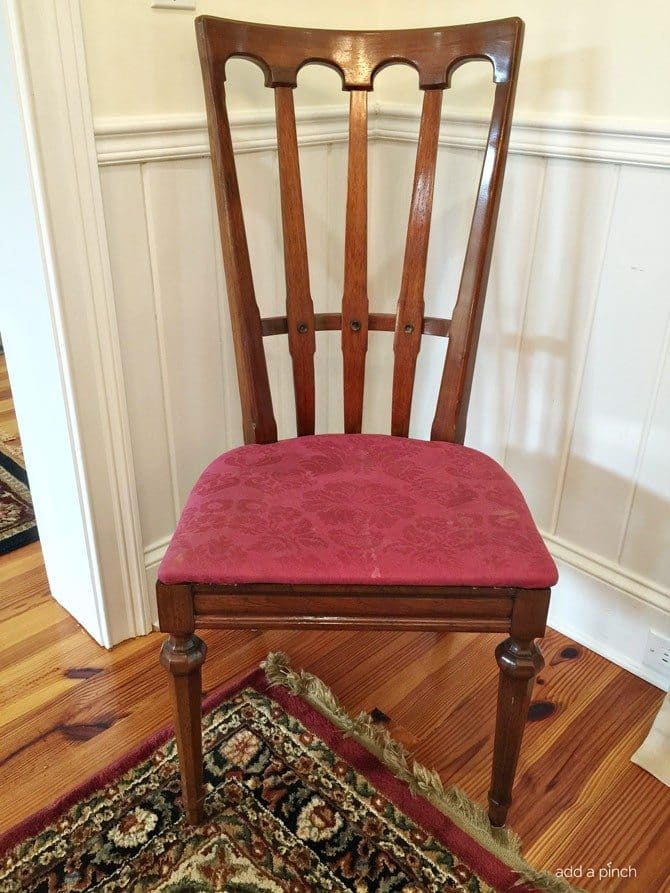 At the time, jewel tone damask was all the rage, so I chose it as well as a coordinating plaid to cover the chairs way back when. My daddy had done upholstery as a hobby while I was growing up, so he'd taken the lead in showing me how to recover the chair seats. Maybe a part of me had held off recovering them since they always reminded of the recovering project with daddy, but I really couldn't avoid taking care of them any longer.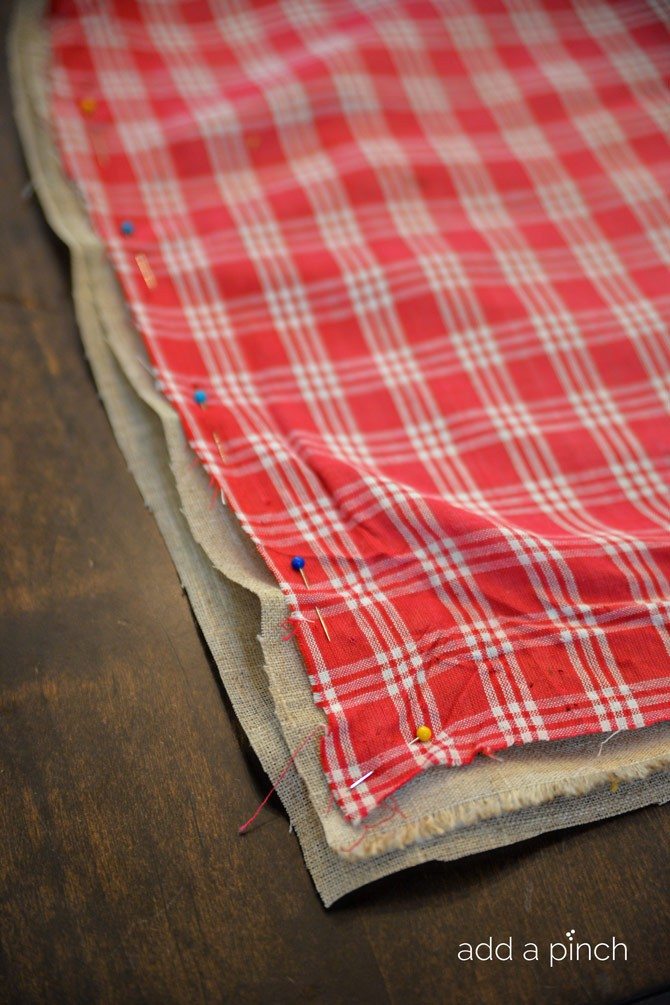 Since I've never been great a DIY projects or sewing worth a hoot, I decided the best plan of action would be to get help with estimating the amount of fabric I needed from the fabric department at my local Hobby Lobby. I took the seat off of the chair, removed the staples holding the fabric from the chair seat and then took the piece of fabric with me when I went to choose new fabric.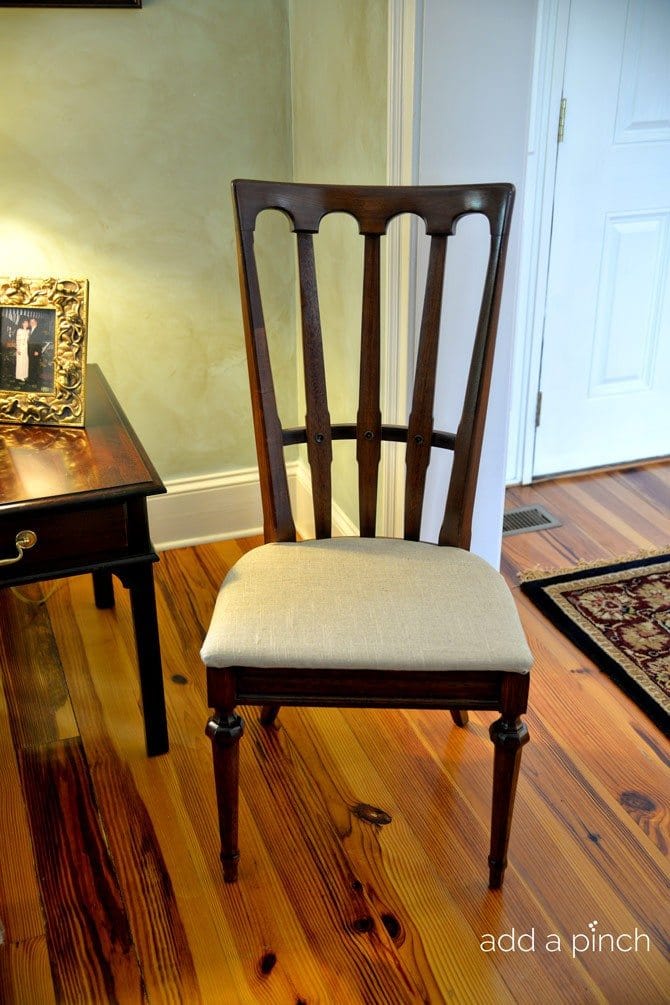 I knew I wanted a classic neutral that would go well in any room of my home, so I chose a natural linen. Since the cotton padding was still in good condition, I didn't have to replace it and just had to replace the actual fabric.
I used the piece of fabric I'd removed from the chair seat as a template, I pinned it to my new fabric and then cut out the new chair seat fabric, repeating until I had enough cut for all of my chairs. Then, I unscrewed the chair seats from the chairs, removed all the staples holding the previous fabric from the chairs with pliers and attached the new fabric to the chair seats.
In about 2 hours from the time I returned home, I had all eight of my chair seats taken apart, recovered and replaced. I sprayed them with Scotchgard specially formulated for fabric and upholstery to prevent stains and voila, I was done!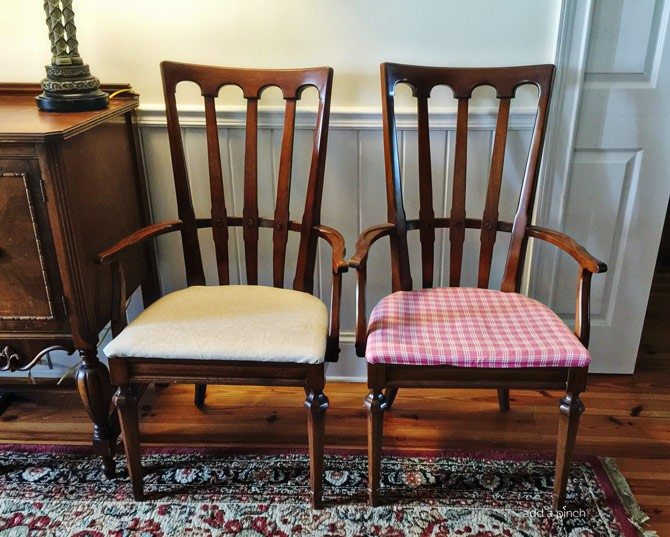 I'm so glad I finally bit the bullet to give them a fresh look. It made a world of difference. Who knows, maybe this fabric will hold up for twenty more years, but I'm no longer a scaredy cat about tackling recovering them. It is so much simpler than it looks!