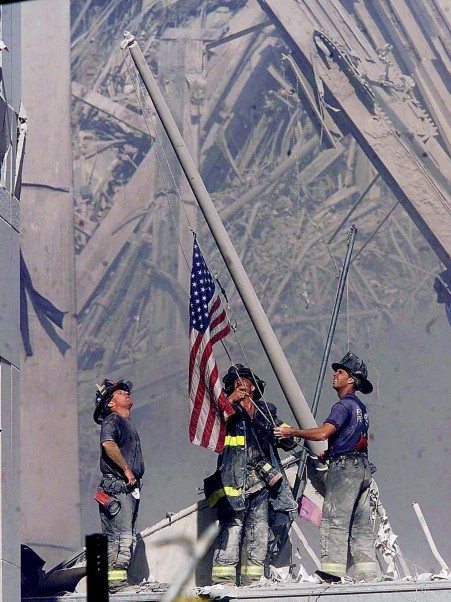 It's hard to believe it has been 10 years since September 11th, 2001. In many ways it seems like it was just a few months ago and in other, another generation. Like everyone else in America over a certain age, I remember exactly where I was when I learned the tragic news.
My husband and I were in Connecticut when a friend of ours rushed to tell us that an airplane had hit one of the Twin Towers, thinking at the time that something had to have gone terribly wrong with the airplane causing it to crash into the Tower. Within minutes, we learned of the second crash and knew America was under attack, but unsure of by whom or why.
We watched in horror as the Towers each crumbled taking our country's innocence with them.
We prayed.
We prayed for those in the airplanes, in the Towers, on the streets, in the Pentagon, in Pennsylvania, for America and for ourselves. We even prayed for God to please intervene and stop whomever was behind these senseless attacks.
I was numb, but couldn't tear my eyes away from the television. It seemed like the only connection to the rest of the world at the time.
And then we learned that so many people we knew while in Connecticut had loved ones, husbands, brothers, sisters, aunts, uncles, and close friends who were lost in the attack. The world seemed so much smaller in an instant, life seemed so much more fragile.
We were on one of the first flights that flew after September 11th, and I couldn't wait to return home. I couldn't wait to see my parents, my sister, my extended family and friends. I wanted to be home and no where else.
As our plane flew within the new airspace requirements of that time, I could see the plumes of smoke still rising from New York. Large, smokey gray reaching toward the sky where once large, shiny buildings once stood.
We were oddly comforted by the sight of military jets guarding and patrolling the skies rather than the normal views of passenger airplane after airplane in the normally congested area outside of New York City and Washington D.C. But I've never been as excited about a plane landing as I was the day our plane landed and I knew I was just a short drive home.
Our drive home was filled with driveway after driveway and home after home proudly flying the American Flag bringing me to tears at the sight of such patriotism. The days that followed were filled with neighbor helping neighbor, even more than before. We all seemed gentler with one another. The news was filled with heroism, love for our fellow man, and true love of country.
And today, I pray again. I pray for those on the airplanes, in the Towers, in Pennsylvania, in the Pentagon, for America and for ourselves. I pray for the families of those who sacrificed their lives on this fateful day and for those in military service who continue to fight for the freedoms we enjoy.
I even pray for those behind these attacks.
I pray for peace.
I pray we live the life of celebrating our everyday heroes, showing love for our neighbors and each other, and truly loving this great land we are blessed to call home.
God Bless America.
Mingle Monday will return next Sunday night.