We spent most of the day catching up on things that have to be done around the farm. You know, the "fun" stuff that you have to do, but you sure wish you could just twitch your nose and it be done for you?
Well, I've wiggled my nose every way to Sunday and my long list of things to do did not get magically done. If anything, my list just seemed to get longer.
I was so absorbed in all of my "getting done" that I completely lost track of time.
At 6:30 PM, my sweet husband walked through the door from a full day of working around the farm and asked me what was for dinner.
I was caught like a deer in the headlights.
Surely it wasn't that late already. I hadn't even thought about dinner.
That's when I remembered one of his favorite dishes is Shrimp and Grits, but I knew I didn't have any fresh shrimp in the house. But I did have frozen scallops.
In 15 minutes, I went from a frazzled, "what in the world am I going to cook" to "I hope you like it."
And he loved it.
Here's how you make it.
Rosemary Scallops and Grits Recipe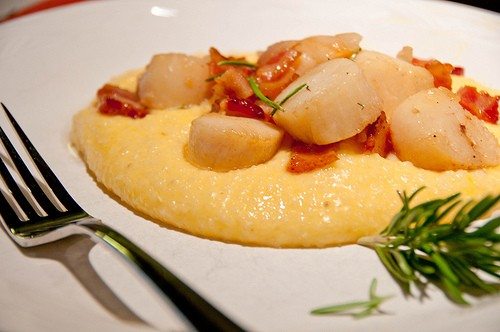 Rosemary Scallops and Grits make a delicious, quick meal.
Ingredients
1

pound

scallops

10

slices

bacon

chopped

1/2

cup

onion

chopped

1/8

cup

rosemary

1

clove

garlic

minced

2

cups

grits

4

cups

water

2

tablespoons

butter

2

cups

shredded cheddar cheese

1/4

cup

half and half
Instructions
Chop bacon and cook on medium heat until browned.

Add in chopped onion and cook until tender. Remove from skillet.

Boil 4 cups water and add grits.

Cook about 5 minutes on medium, add in half and half, butter, and shredded cheese.

Remove from heat and cover.

Add scallops to skillet used to cook bacon and onions.

Cook 3 minutes on one side and then turn.

Add bacon and onion mixture back to the skillet and add in minced garlic and rosemary.

Cook 3 additional minutes.
All of these ingredients can be kept on hand for a quick and simple, delicious and satisfying meal for your family.
Enjoy!
Robyn xo