Seven Pepper Steak Salad Recipe
It's that time of year again. The time when I make resolutions to get more healthy and spend more time on making joyful memories with my family. It seems like each year flies past even more quickly than the previous year and I haven't found the throttle yet to figure out how to slow things down so that feeling goes away. Hopefully, 2012 is the year for learning how to do just that.
My husband and I haven't schedule regular date nights and usually opt to stay in at home. However, the other night we simply had to schedule a time for just the two of us to get away and do some Christmas-y activities that involved Target, Wal-mart and wrapping paper. Before we started into the mad rush at the stores though, we took an hour for ourselves and enjoyed a wonderful supper at a local steakhouse.
Oddly enough, we both ordered the same meal of a Seven Pepper Steak that we just knew we could easily recreate at home. This past week as I was thinking of something special to make my darling husband as we were still packing away decorations, this Seven Pepper Steak came to mind.
Here's how I made it.
I marinated the steak with Worcestershire sauce, salt, and a combination of seven peppers that I coarsely ground. Okay, so smashed would be a better word truth be told. Then, we grilled them to perfection and slice and placed them across a bed of a mixed green salad with grape tomatoes and bleu cheese crumbles.
Absolute perfection.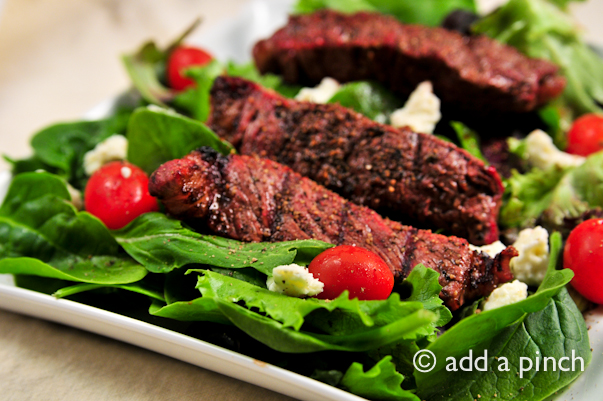 Now I can make date night salad here at home!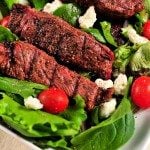 Print Recipe
Seven Pepper Steak Salad Recipe
Steakhouse inspired Seven Pepper Steak Salad. Simple enough for a weeknight meal, yet delicious enough for a special occasion.
Prep Time1 hr
Cook Time15 mins
Total Time1 hr 15 mins
Servings: 4
Ingredients
2 steaks your favorite cut
3 tablespoons Worcestershire sauce
3 tablespoons coarsely ground mix of seven peppers
salt
8 cups mixed salad greens
grape tomatoes
bleu cheese crumbles
Instructions
Marinate steaks with Worcestershire sauce, ground peppers, and salt in the refrigerator for one hour up to overnight.

Grill over medium heat for about 15 minutes or to desired level rare, medium, or well done. Tent with aluminum foil and allow to stand for about five minutes to rest.

Slice each steak into about 1 1/2 to 2 inches strips.

Place on top of salad and serve with dressing.