Simple Fall Floral Arrangement – This fall floral arrangement takes just a few minutes to pull together for a show stopping seasonal arrangement!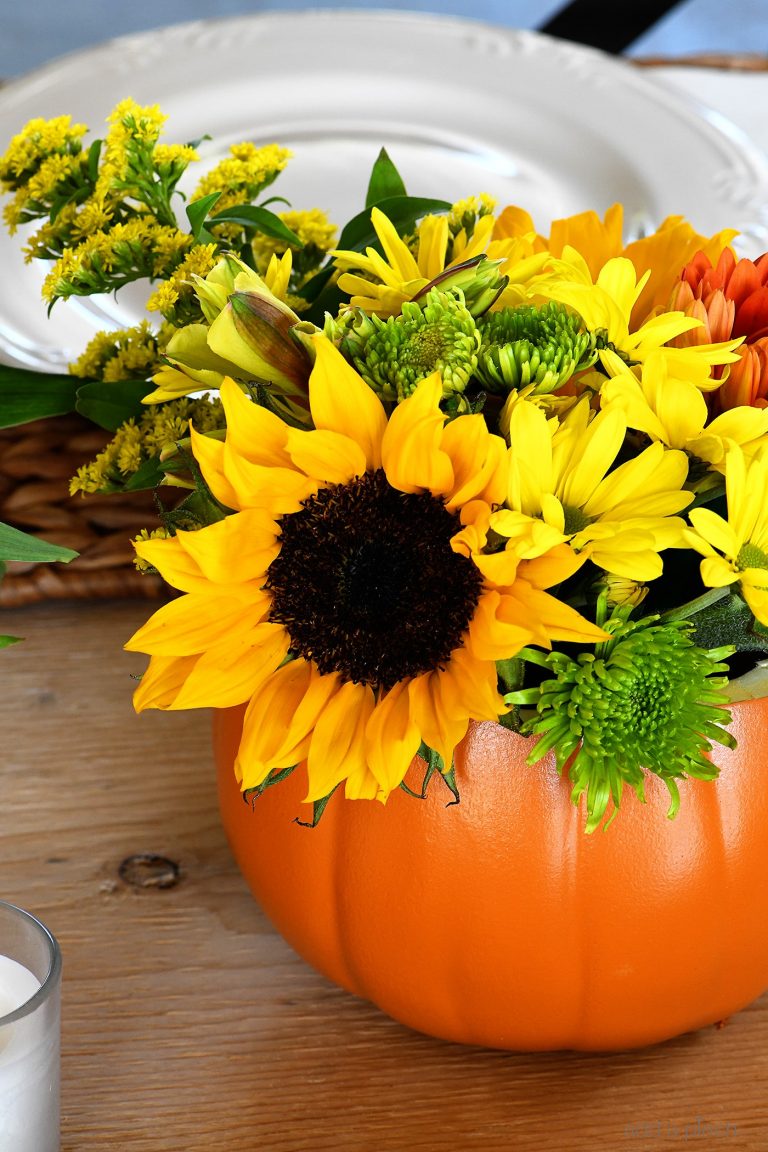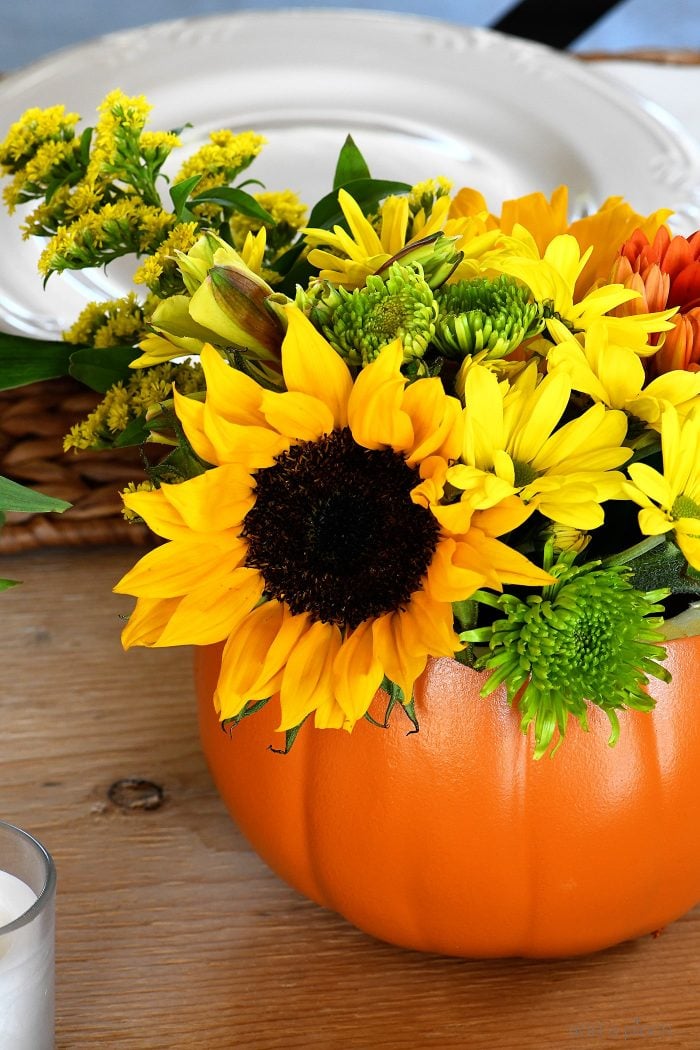 This simple fall floral arrangement uses inexpensive grocery store flowers made beautiful in reusable pumpkins repurposed into floral containers! They are simply perfect for Halloween, Thanksgiving and to use all throughout autumn! 
Simple Fall Floral Arrangement
I'm excited for Kelly, our gardening expert, to join us today in sharing this fun fall floral arrangement that even I can accomplish! 🙂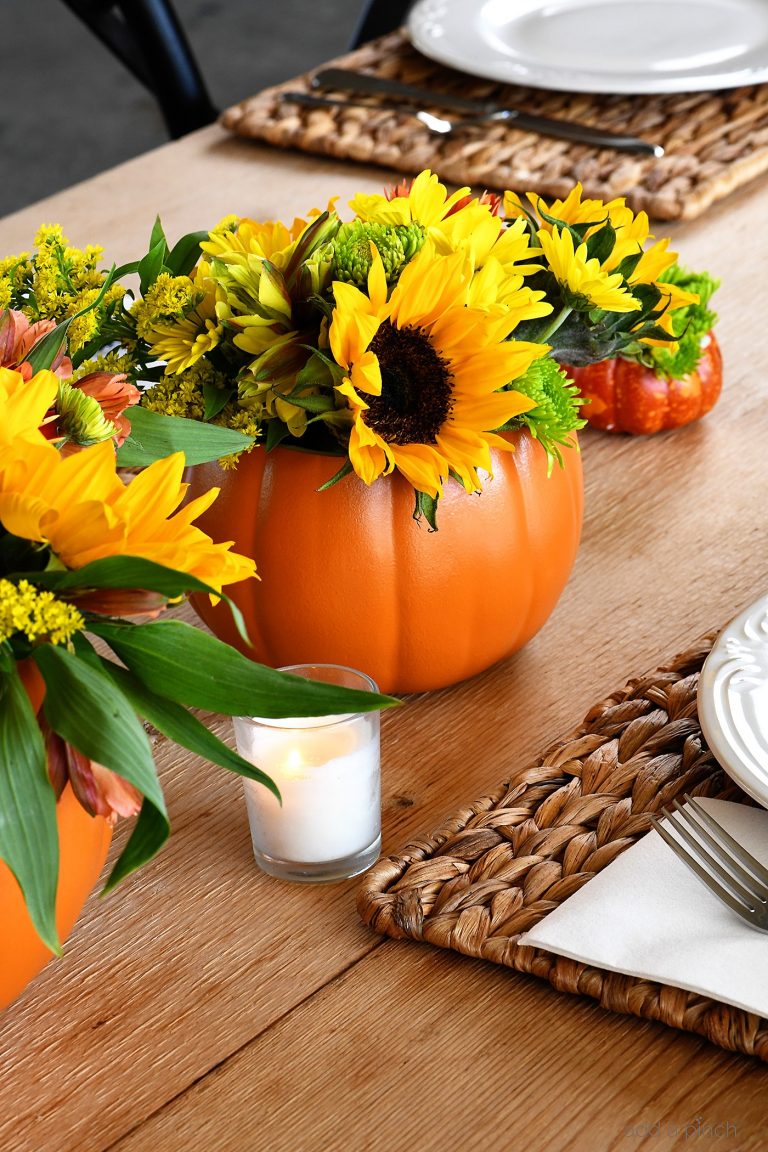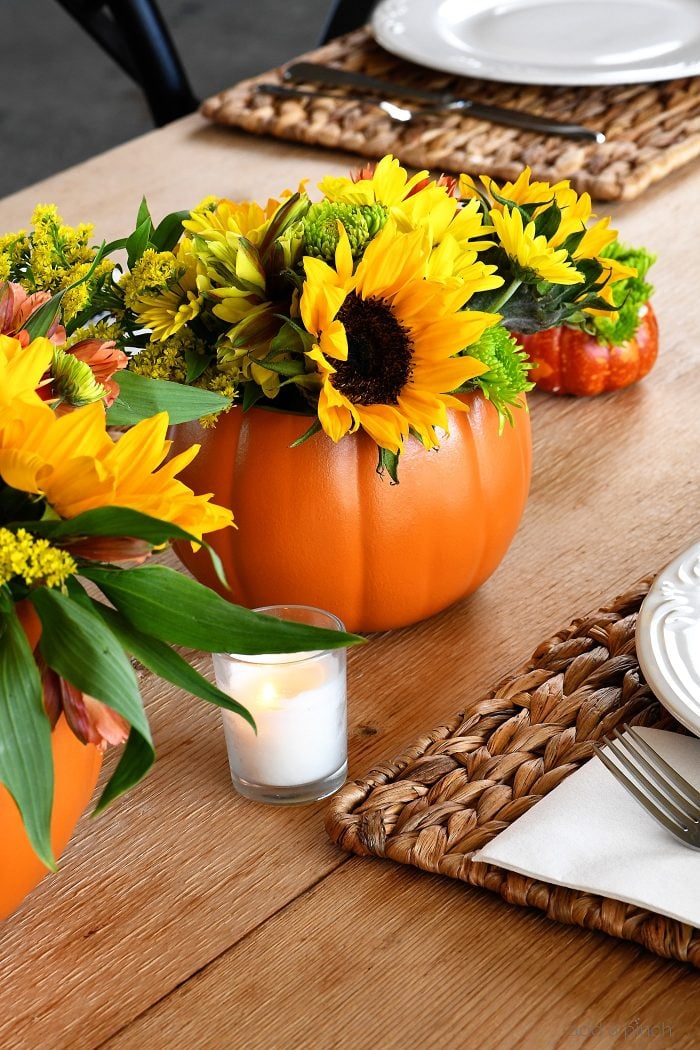 Fall is my favorite season, probably because it seems to be the time of year that family comes together. Whether it's for football games, trick or treating, or Thanksgiving, its a great time to slow down and catch up with the people you love. An easy way to welcome fall and family is with a simple floral arrangement that includes rich earth tones and 'gourd'geous vases. 🙂
How to Make This Simple Fall Floral Arrangement
What You'll Need:
Grocery Store Bunch of Flowers
Reusable Pumpkins and/ or Gourds
Glass or Plastic Vessels to Hold Water
Sharp Scissors, Floral Clippers and/ or Sharp Craft Knife
Fresh Clean Water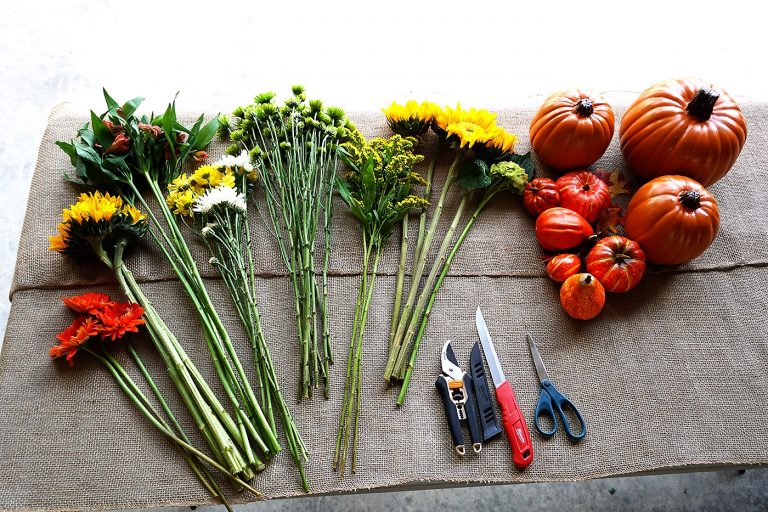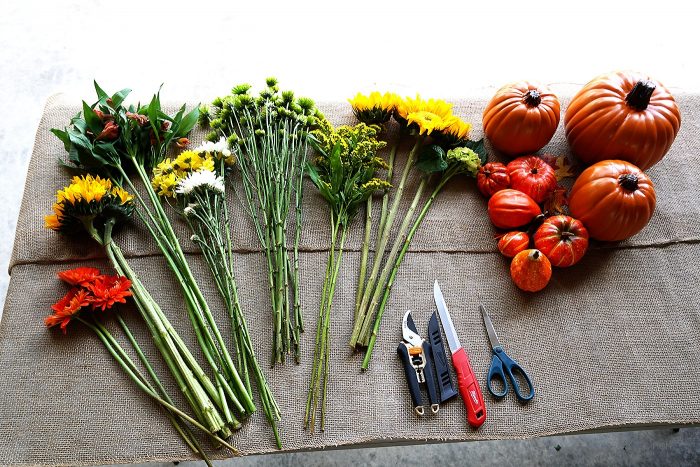 Flowers
I like to pick up flowers for my arrangements from my local grocery store. I think most floral departments will order flowers for you, but most of the time, I just go in and pick up the freshest ones available.
For the arrangements shown here, I selected two types of sunflowers, orange gerbera daisies, golden Solidago, orange alstroemeria, yellow and white daisies, and green mums.
Before creating the arrangements, take the flowers out of the wrappers, remove the leaves and any dead blooms, cut the end of the stems under water, and then place the stems in clean warm water.
Reusable Pumpkins and/or Gourds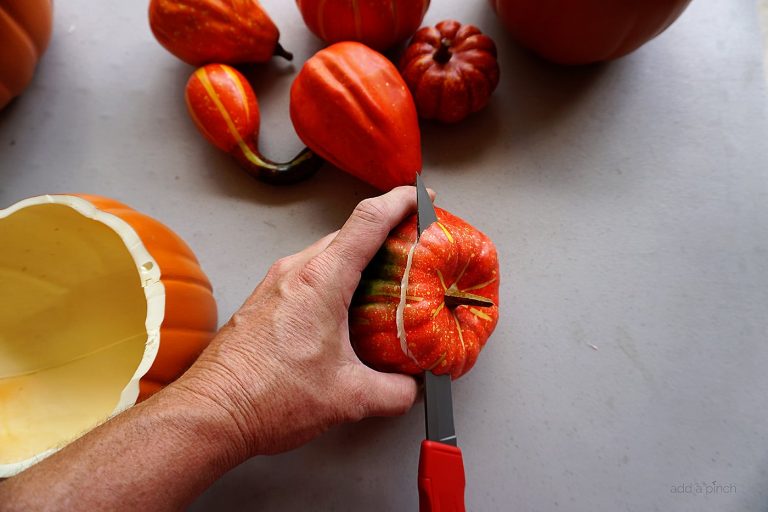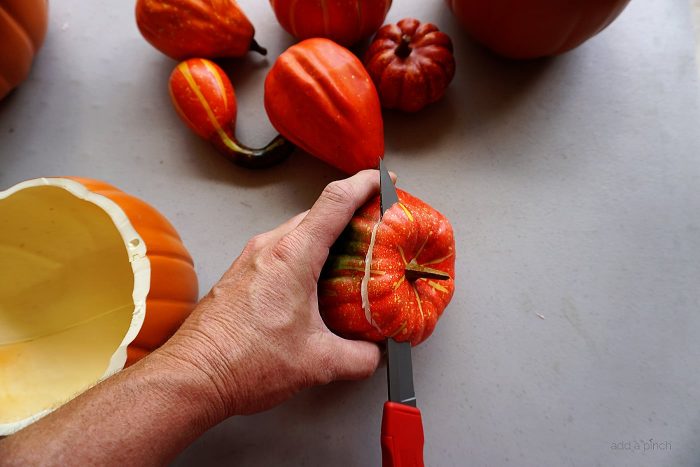 To make this arrangement, I used reusable pumpkins and small gourds, which are available at most craft stores. They add so much color to the arrangements and a fun touch for the season!
The reusable pumpkins I use are hollow, easy to work with, and just require for the top to be carefully sliced off with a craft knife or other sharp knife. For the smaller gourds, many of them are filled with a filler. If so, just carefully scrape this out of the gourd with your scissors. If you would prefer to use a real pumpkin, you certainly can!
Water Vessel
Make sure you have enough room in your "vase" for a jar/ glass or bowl of water for your flowers. For smaller gourds, old baby food or jelly jars work great. You may also consider cutting down a small paper or plastic cup to fit inside.
Making Your Arrangement
Have all of your pumpkins and/or gourds prepared, along with the water vessel filled with fresh clean water, and then begin with the largest blooms and work down to the smallest one.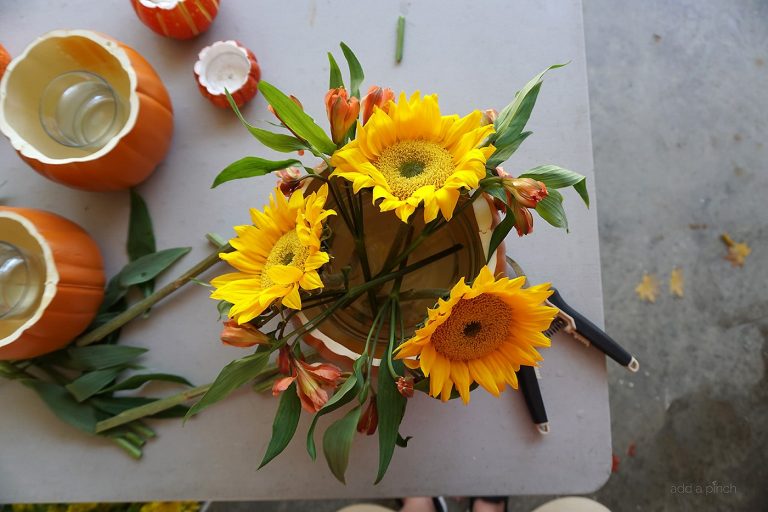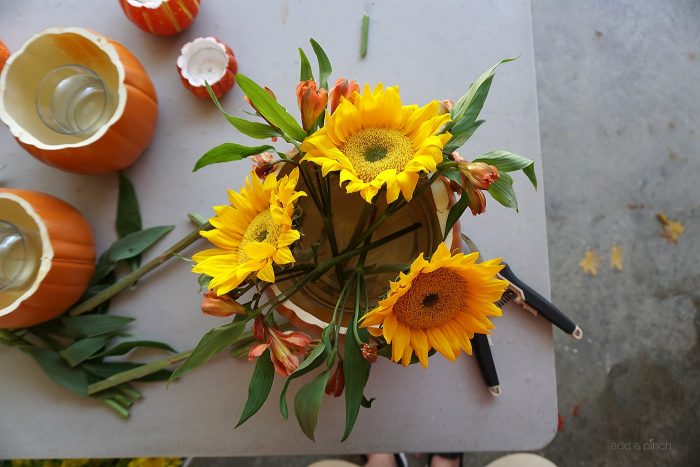 I started this one with the alstroemeria, which provides a good, sturdy base. Four or five stems distributed evenly will give you the base to build upon. Sunflowers were the biggest of the flowers and went next. I use odd numbers for the focus flower because it helps the arrangements look more natural.
Next I started gradually adding in the other flowers: Sodidago, gerberas and then filled in any blank spots with the daisies. I had several sunflowers left so I was able to use them in smaller arrangements, along with the remaining gerbera.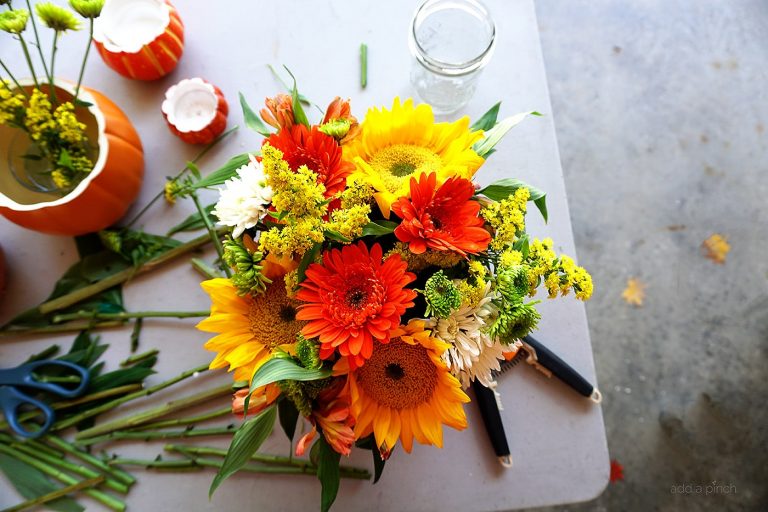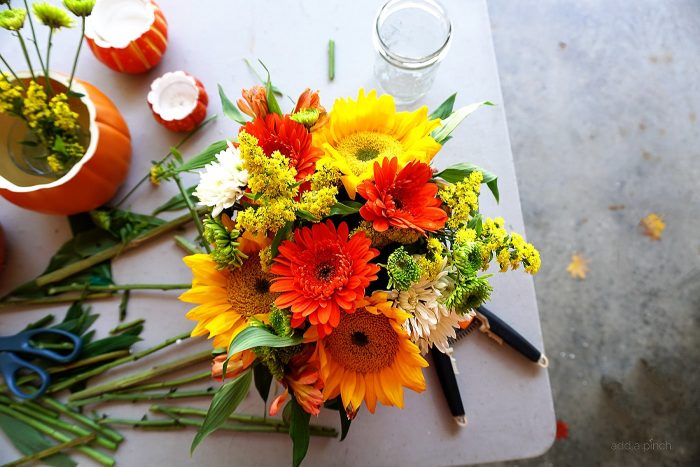 There isn't any right or wrong method; it's whatever appeals to you.
You may have to take things out and rearrange to get the look you want. Sometimes I have to try several versions before I find what works. I never throw away a single stem until I  am completely finished.
Once completed, place your arrangement on a sturdy table and check daily for any additional water needs.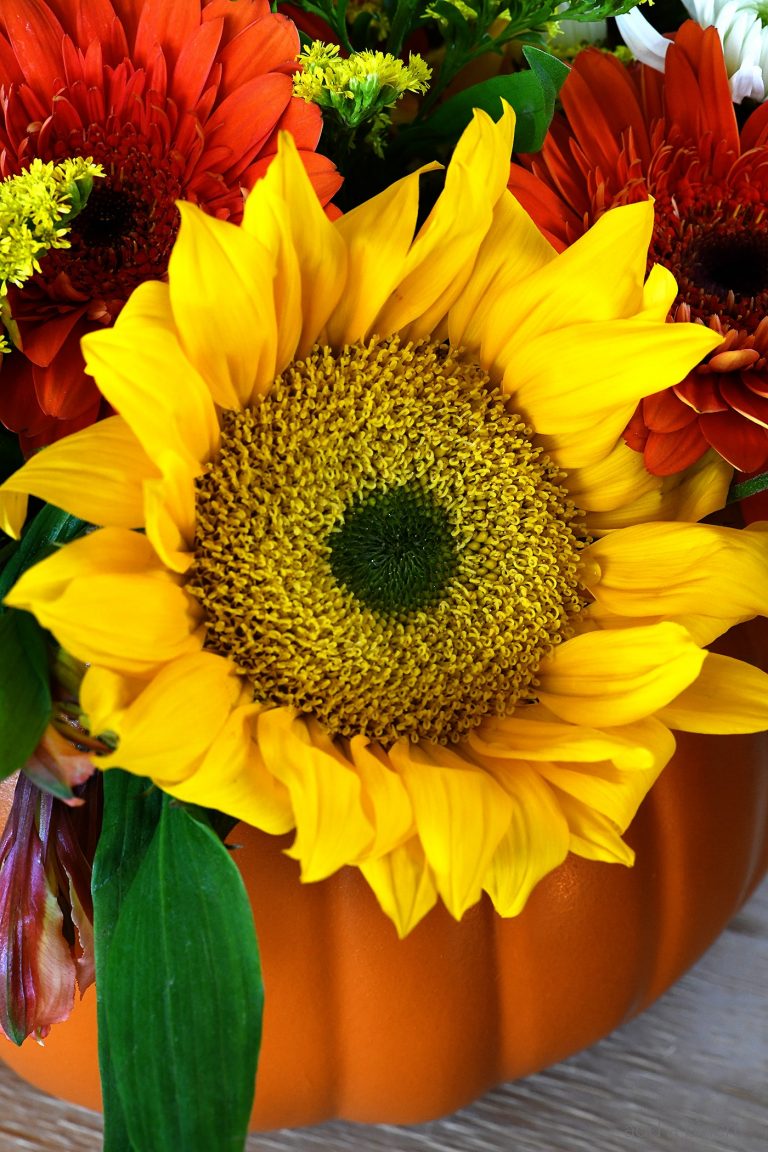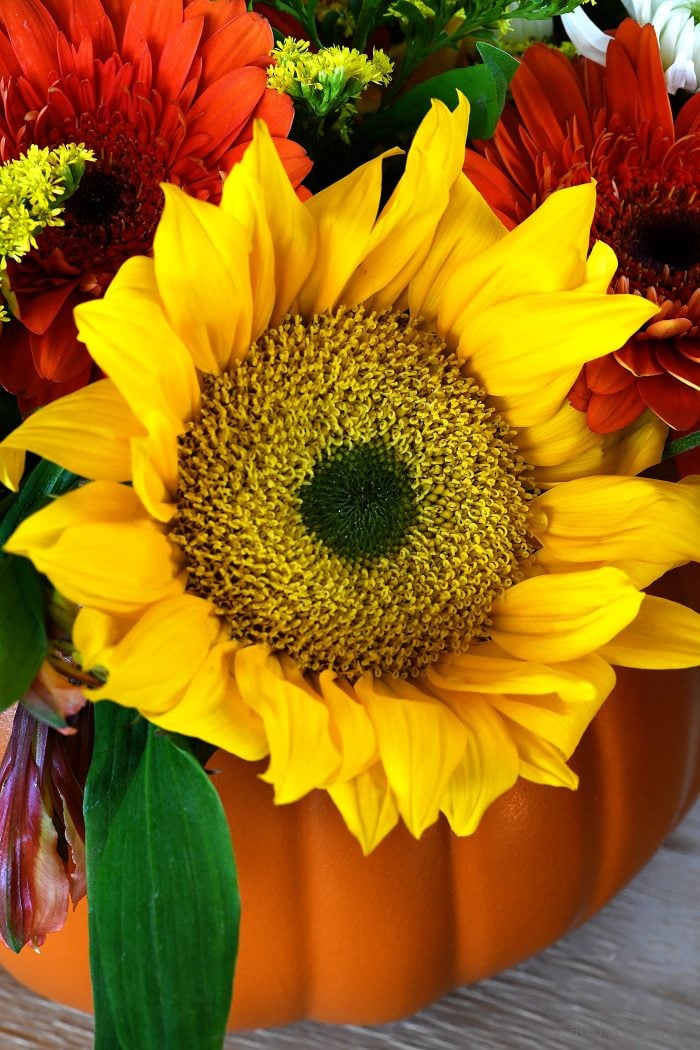 Have fun making your own floral arrangements this fall!
Kelly