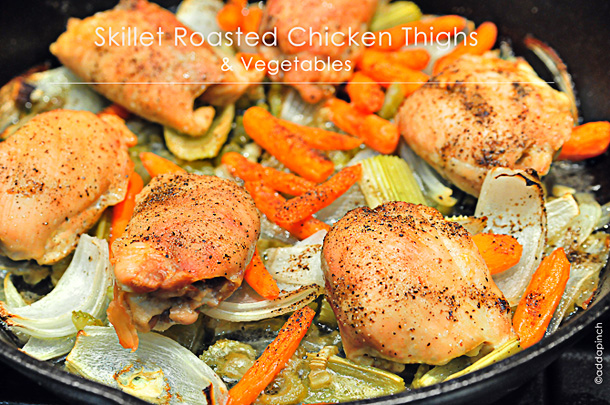 Quick, easy to throw together suppers and I are the best of friends – especially if they look like they took a whole lot more effort than I actually put into them. And if it can be made in one-pan, in this case a skillet, that makes it even better in my book! This Skillet Roasted Chicken and Vegetables falls into that category.
I had been dragging my feet all afternoon in deciding what to fix for supper. Little Buddy and I sat down for the afternoon after school to watch Good Luck Charlie, read issues of Lego Club, talk about the latest airsoft gear he'd heard about, while I thumbed through Glamour reading all about Victoria Beckham's fashion tips.
What can I say? It is absolutely amazing all the things I can accomplish in one day.
Time somehow got away from me in all of my productivity and the afternoon quickly disappeared. That's about when I decided that chicken and vegetables sounded like just the thing to fix. The only problem was, I didn't want to make multiple dishes that I'd then just have to clean.
So, I decided to rough chop celery, onions, carrots, and garlic and toss them into a big skillet with some olive oil and then top them with boneless, skinless chicken thighs. You could just as easily use chicken breasts in this recipe, but with all the flavor that chicken thighs have in them, I'm not exactly sure why I would ever unless I just didn't have chicken thighs on hand.
We're a chicken thigh family, for sure.
In less than 30 minutes, supper was ready and no one would have ever guessed how lazy I'd been all afternoon.
I did learn a ton about Lego Club and Victoria Beckham did have a pretty cool list of fall essentials.
So, all in all, I think it was a rather productive afternoon after all.
Here's the recipe for my Skillet Roasted Chicken and Vegetables.
Skillet Roasted Chicken and Vegetables Recipe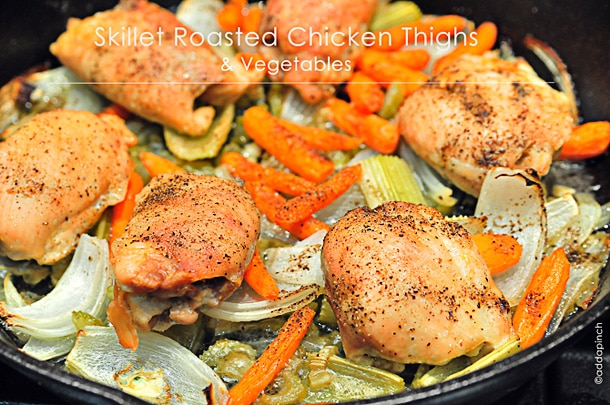 Skillet Roasted Chicken and Vegetables is an easy to prepare, one dish dinner recipe.
Ingredients
2-3

tablespoons

olive oil

2

onions

peeled and quartered

4

stalks

celery

chopped

5

carrots

chopped

3

cloves

garlic

chopped

6-8

skinless boneless chicken thighs

salt

pepper
Instructions
Preheat oven to 375 degrees.

Drizzle ½ of olive oil into a large skillet. Add onions, celery, carrots and garlic. Place chicken thighs on top of vegetables. Drizzle with remaining olive oil.

Sprinkle with salt and pepper.

Place in oven and roast for 20-25 minutes until chicken thighs reach 165 degrees F. with an internal temperature probe and/ or juices run clear.

Remove from oven and serve.
Nutritional Information
Calories:
218
kcal
|
Carbohydrates:
10
g
|
Protein:
23
g
|
Fat:
10
g
|
Saturated Fat:
2
g
|
Polyunsaturated Fat:
2
g
|
Monounsaturated Fat:
5
g
|
Trans Fat:
1
g
|
Cholesterol:
107
mg
|
Sodium:
159
mg
|
Potassium:
568
mg
|
Fiber:
3
g
|
Sugar:
4
g
|
Vitamin A:
8640
IU
|
Vitamin C:
7
mg
|
Calcium:
49
mg
|
Iron:
1
mg
Feel free to use it sometime when you've been learning a lot of new interesting things instead of hanging out in the kitchen all afternoon.
Not that you'd ever do that or anything.
Enjoy!
Robyn xoxo
If you like this recipe, you may also enjoy:
Chicken Thighs with Cucumber Avocado Salsa
+ more chicken recipes on Add a Pinch