I sure am glad that you guys are as excited about fall (and the delicious recipes!) as I am! I loved seeing all those yummy dishes that are your favorites for fall. Apples, pumpkin, chili and soup definitely were predominant in the list! But, without further delay, here are the winners for the slow cooker giveaway!
Winner #1: Mindy, comment #661. She said," My favorite recipes include those can cook all day in a crock pot (which just died) and slow roast in the oven so I can be outdoors with my family and our horses. I love to experiment with different chili recipes using our home grown and home processed pork, chicken and the canned, frozen, dried produce from our garden. One of my favorite fall recipes in the oven is roasted root veggie torte with balsamic glaze. Happy Fall!"
Winner #2: Corrie H, comment #392. Her favorites are, "Chilis, soups and stews – oh my! I love the warm comforting food that comes with fall, and as a working mom to six kids – couldn't live without my slow cooker!"
Winner #3: Stephanie, comment #11: She said, "Loaded Potato Soup! Just doesn't taste the same unless there's a little nip in the air!
Congratulations! Please email me and we'll get your slow cooker right out to you! xo
*****
Happy Friday, friends! I hope you all have fun plans for the weekend! Apple picking, pumpkin carving, or snuggling up by the fire with a good book, I hope you have a great one! In the meantime, since you guys are the bees knees and I love you more than you'll ever know, I have a great giveaway for you!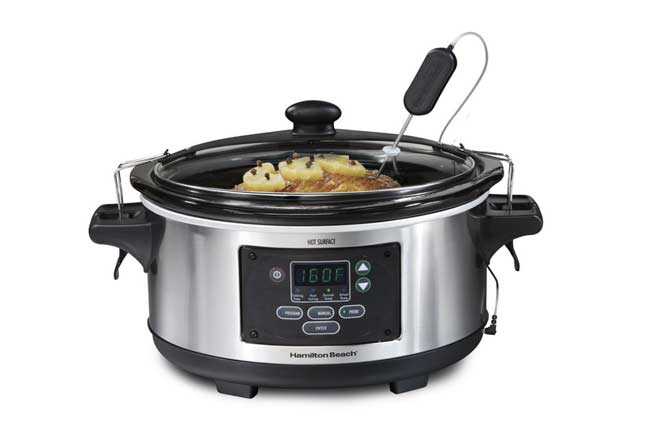 There are few things in my kitchen that I go on and on about how much I love them – my collection of cast iron skillets that is borderline hoarder level, the wooden spoons that I don't think I would even be able to cook without, my sheet pans that work for everything under the sun, and my slow cooker that might as well stay out on my kitchen counter permanently since I use it so much!
I've written about my love for it on more than one occasion, but if you need just one reason to fall in love with it, it would be this.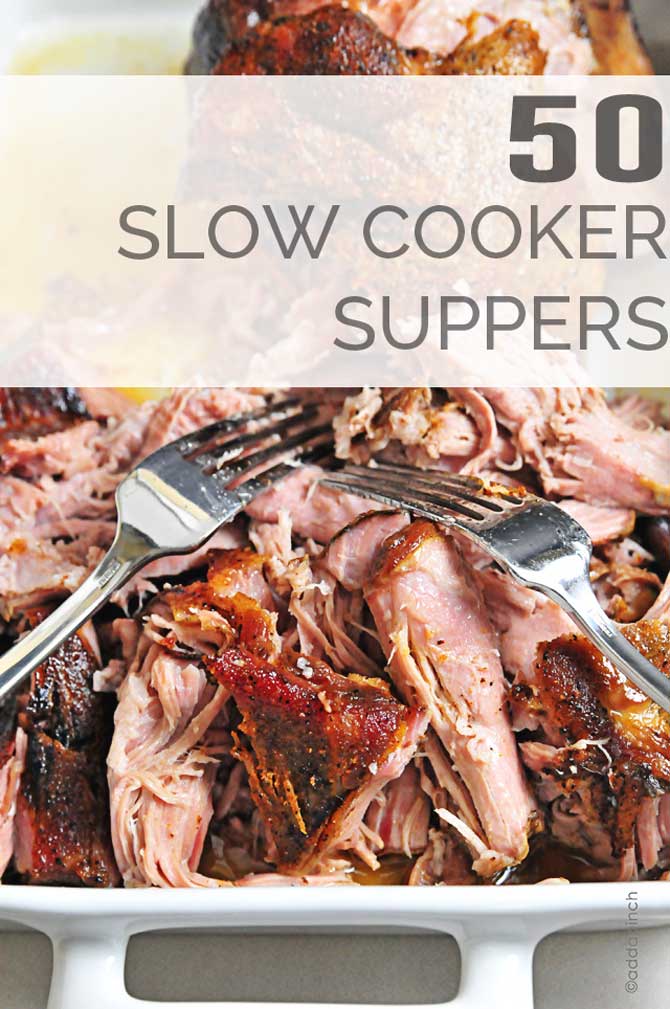 Yes, 50 Slow Cooker Suppers that I think your family will love!
But if that doesn't do it for you, you may want to check out the whole section of slow cooker recipes with everything for breakfast, lunch, supper, and appetizers! There's a little something there for everyone.
So, since I love mine more than may be respectable, I decided you might love one, too!
Giveaway
Because I think you'd love this slow cooker as much as I do, I'm giving away three (3) of these Hamilton Beach Set n' Forget Programmable Slow Cookers. It's the one I use and wouldn't want to be without!
 To Enter
Just leave a comment telling me about your favorite fall recipes!
Details
Giveaway ends Monday, October 12th at 11:59 PM eastern. Winners will be selected randomly and announced on Tuesday.
Giveaway sponsored by Add a Pinch.