I'm excited to share my spring and summer beauty routine perfect for everyday in seven simple steps!
I learned at a young age that "less is more" directly applies to beauty and makeup. I was introduced to makeup at age 13, thanks to Robyn, and learned that a girl's beauty routine really sticks with her as she grows. We all have a routine whether it's washing your face in the morning or at night, or both, or choosing lipstick over lipgloss.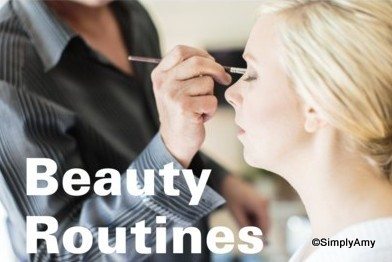 With spring in the air, I like to pick items for my daily beauty routine that are lightweight, easy to apply, and keeps your skin hydrated.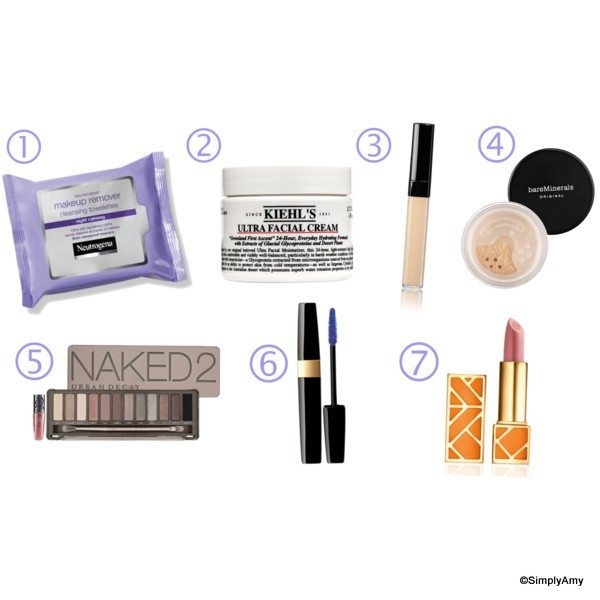 1. I always start with a fresh face. I love these Makeup Remover Towelettes and I can't live without them! I take them everywhere and they are great for traveling. The night calming ones remove even waterproof mascara. These would be a great item to bring to the beach as you can keep them in your bag and wipe away any oily sunscreen when you head to lunch or just need a quick clean.
2. Next, I always apply moisturizer. It can take a while to find the perfect moisturizer and one that fits your needs and price range. This facial cream is lightweight and lasts all day–it does just the trick and is great for those who have dry skin! It is also ideal for any season (even in the hot summer months) as it never feels oily.
3. My favorite concealer and a must-have for me is this long lasting concealer. I tend to get dark circles under my eyes and this helps cover them up as well as hide any blemishes. It is lightweight and blends in well with your makeup while lasting all day.
4. After concealer I go straight for a loose and light powder to take away any shine. I use a mineral powder foundation. This allows me to just use one item instead of applying foundation and then powder. It gives a very natural look and is super quick and easy to put on! Living in the south, you feel like your makeup melts the moment you walk out the door in the summertime. Using this powder in place of foundation is a great summer trick and will help you alleviate makeup melting during the heat!
5. Eye makeup can always be a fun way to play with different colors without getting too outside of our box. I love having a color palette that you can experiment with to fit the mood you are in that day. Some days you just feel like being a little more daring ya know? I love this palette … the name of it is a little daring as well! The colors are beautiful and it makes you want to try a new color combo every day!
6. I always apply a little mascara to open up my eyes. While there are many mascara options out there, I have continued to cling to this one. Chanel has been doing this mascara for a while now but their latest blue color is beautiful on and it helps brighten the whites of your eyes and cancel out any redness, which is helpful when traveling. Plus, this mascara really adds volume and length all at the same time and the blue color is a great way to change it up for Spring.
7. I finish up my routine with a little color on my lips. In the Spring I love wearing a soft and more neutral color that adds just enough "pop". The new Tory Burch lip color has been a new favorite of mine. She has come out with 12 different shades to flatter a variety of skin tones from subtle/neutral colors to more bold pinks as well. For me, Ramble on Rose, is perfect for lighter skin because it is not too overpowering and gives just enough "pink" to leave you looking ready for Spring!
I'd love to hear about your spring and summer beauty routine staples? Anything you'd recommend for me to try?