Our cruise included stops in Nassau, Bahamas, St. Thomas, and St. Martin (St. Marteen). It was my first trip to St. Thomas and to St. Martin. I'm not quiet sure what I had imagined, but the gorgeous waters easily exceeded anything I could have pictured in my mind.
I wanted to share a few photographs from St. Thomas with you and will share more from other parts of the trip later.
When we arrived, this was the view from our balcony.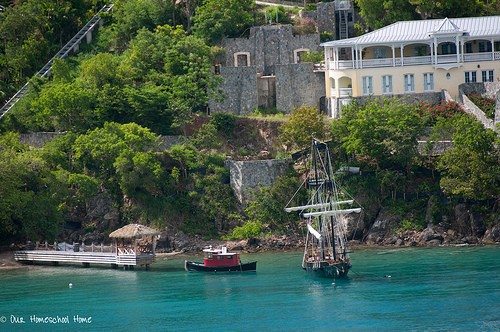 I thought, "Oh my, this is beautiful. I hate that my Mom and Little Buddy aren't having such great views." I called them to invite them over to see and Little Buddy said, "Mama, I don't know what you have off your balcony, but you've got to see my side." (Our staterooms were on the same floor, but on opposite sides of the ship.)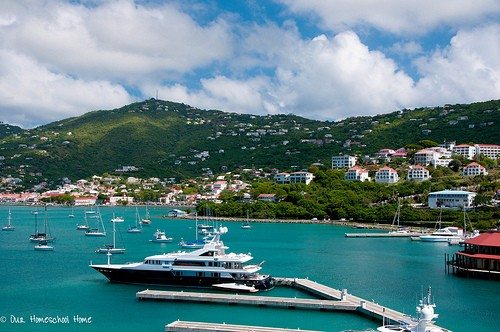 Wow! Not much more I could say. Just Wow!
Our excursion for the day was called the Ultimate Tour. It took us to one of the highest points on the islands for photographs (right up my alley), to Maegan's Bay (one of the top 10 beaches in the world according to National Geographic), and then to Blackbeard's Castle where we go on a walking tour the rest of the way. Perfect.
Our driver was Mr. Lead-Foot and drove like a mad man through the streets of St. Thomas. As we whizzed past areas of interest, someone would say, "What is that?" He'd quickly mumble out over the microphone what we'd just passed. It was pretty funny, and led to a bit of nausea on my part. Trying to take pictures while being driven on the opposite side of the road, going at a break-neck speed definitely wasn't easy on my tummy.
But… the end result was well worth it.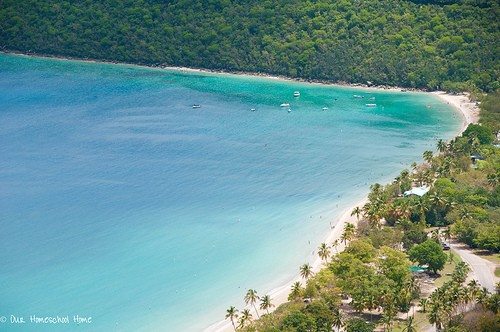 Don't you agree? This was from the high point of the island overlooking Maegan's Bay.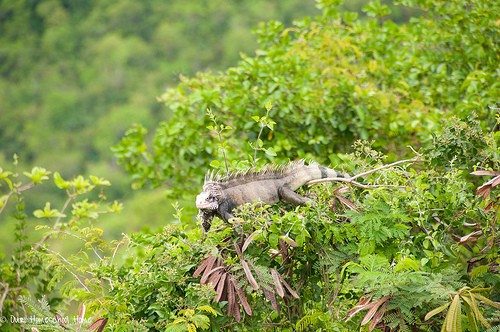 Little Buddy thought we should check into getting an Iguana as a pet when we got home. Just because of this cool looking fella on top of the bushes at our stop. He was pretty neat looking, but we are not getting his cousin as a pet.
We. Are. Not. Getting. An. Iguana.
We loaded up and headed out down to Maegan's Bay for a two hour visit.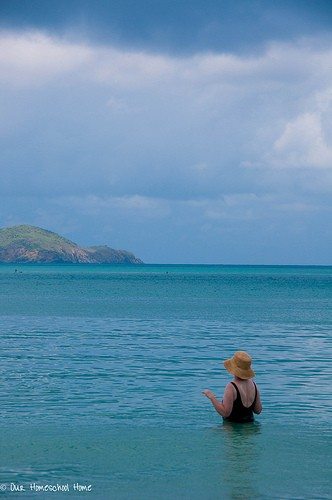 Now, this reminded me of National Geographic.
Did you notice those dark clouds building?
Yep, you guessed it.
It rained.
Raining while you are in the water really isn't a big deal, except that you have dry things on the beach that you really don't want to get wet. (Like my new camera.) So, when it looked like it wasn't going to let up for a while, we hustled to get all of our things and find some cover.
As soon as we'd gotten into our somewhat dry clothes, the sun came out, the clouds disappeared.
So we took advantage of the sunshine.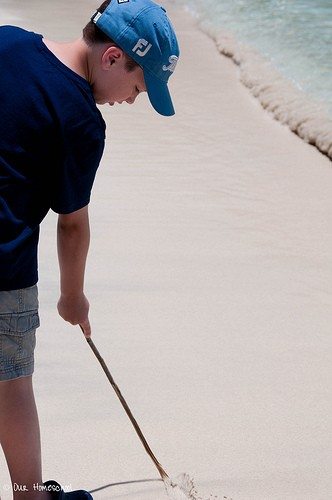 And played on the beach.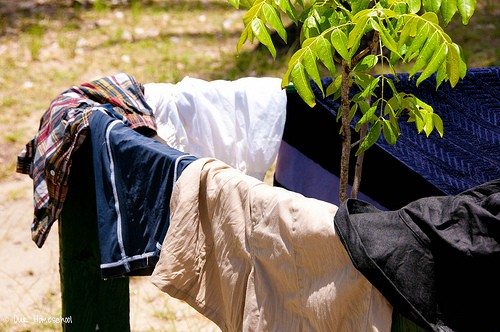 And dried our wet things.
Isn't that what all good tourists do? Find something to make a clothesline out of beside one of the top 10 beaches in the world?
Yeah, I did it. And it worked.
At least we were dry by the time to go to Blackbeard's Castle.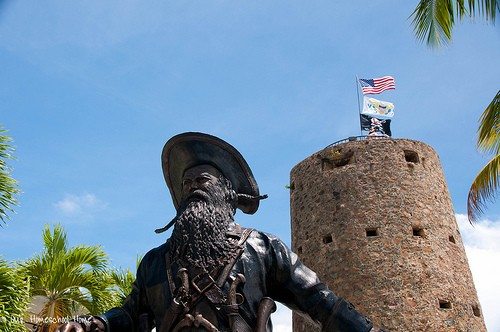 Since it wasn't raining, we were able to go to the top of the castle.
I'm not sure Blackbeard ever really visited or lived on St. Thomas, but we were most certainly into the folklore. If I were Blackbeard, it certainly would be on the top of my list of places to build a castle.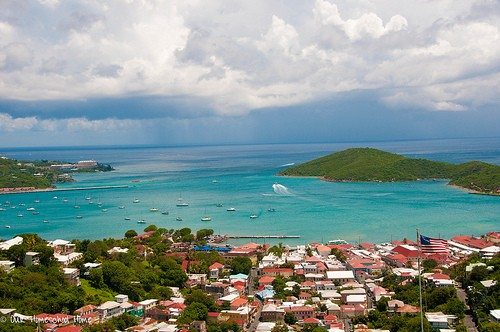 And we were able to enjoy this gorgeous view.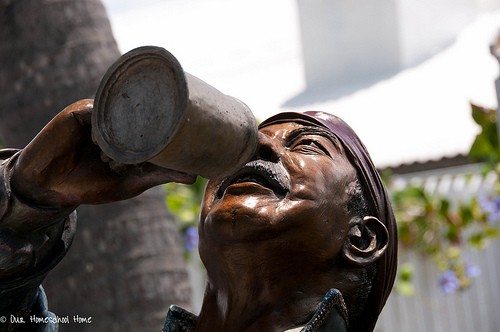 And all of the pirate statues.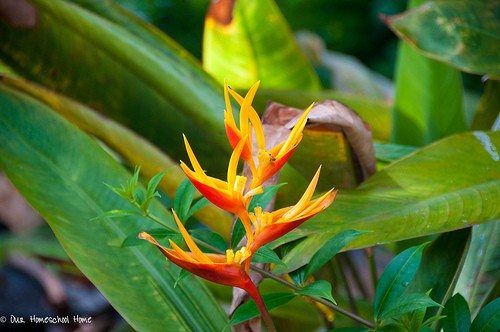 And the flowers.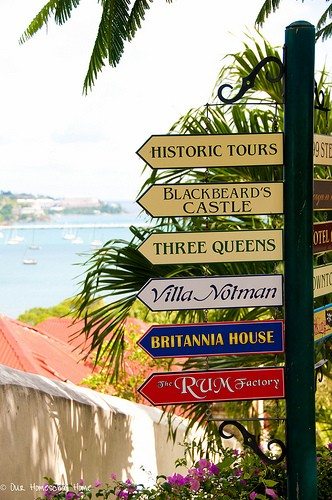 The walking portion included lots of stops.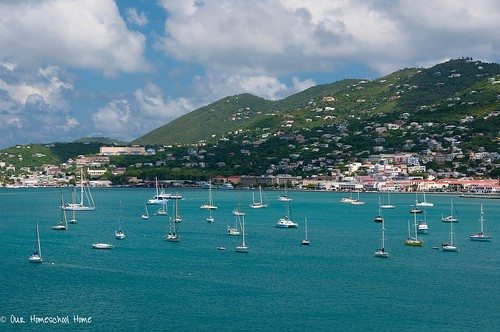 And views of boats.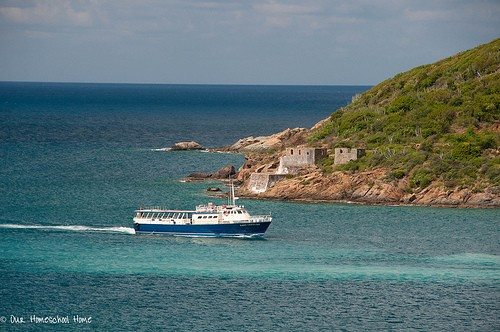 And a boat ride back to the cruise ship.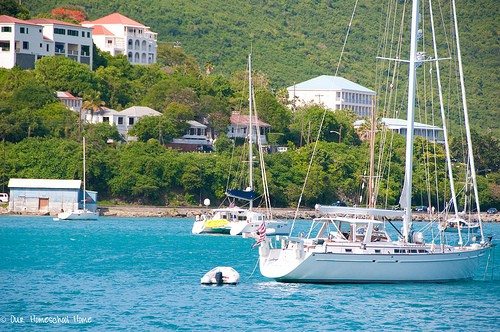 My husband most definitely got a sailing bug after seeing these beautiful sail boats.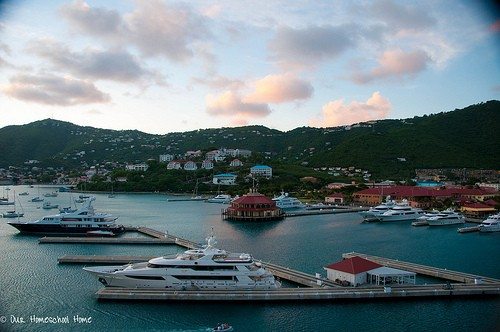 But once back on the cruise ship, we were all able to enjoy the gorgeous sunset from the balcony of my Mom's and Little Buddy's stateroom.
And then I started trying to figure out what the galley inside this yacht must look like.
Which photo is your favorite? Mine? The one of Little Buddy playing with the stick on the beach.