Staking tomatoes provides support for the tomato plant while allowing easy access to tomatoes as they grow.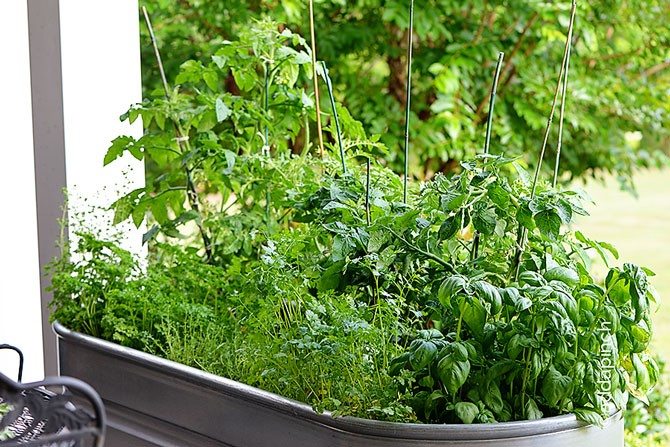 Our container gardens are still doing great. Each morning, I walk out to check on them with my cup of coffee in hand as I pick peppers, squash, and zucchini that seem to multiply overnight! We also planted about 10 tomato plants that are full of green tomatoes that I have to force myself not to use them all for fried green tomatoes!
This year we took the route of staking our tomatoes rather than using tomato cages. We decided on that for a couple of reasons.
Limited space. Since we are container gardening this year rather than having an in ground garden, we have limited space for additional materials in the garden. Therefore, we decided that cages would take up room that we weren't really willing to give up in the container gardens.
Ease of care. With tomato cages, the metal of the cage allows only so much room for reaching in to take of the plants. By staking tomatoes, we are able to access every part of the tomato plant while easily being able to pick tomatoes as they are ready.
For staking tomatoes, you'll only need a couple of things:
garden stakes – we chose green bamboo stakes that were sold in the gardening section of our local home supply store.
twine – we used cotton kitchen twine
knife or scissors – you'll use this for cutting the twine
How to Stake Tomatoes
Insert stake. Insert stake about 4-5 inches into the soil being sure to be as close to the base of the plant as possible without harming the plant.
Cut twine. Cut pieces of twine that are long enough to secure the tomato plant to the stake.
Stake the plant. Using the twine, tie the stalk of the tomato plant to the bamboo stake, being sure to secure with a knot. Trim off any excess twine, if you prefer. You'll want to secure the plant about every 3-5 inches, being sure to secure in the area near blossoms or where tomatoes are growing to support the weight of the tomato on the plant. You'll want to periodically check on your tomato plants and secure it as it grows.
You can also stake other plants using this same method. I stake my squash, zucchini, and even my cucumbers and they get wonderful air circulation around the entire plant. It sure makes for a healthy plant and easy, peasy gardening!
I can't wait to hear how your garden is doing! What are some of your favorite gardening tips?