Boy, do I have a bunch of goodies for you! It is something I've raved about time and time again, but knew it was something I wanted to share with you all again. It's my Anker® external charger! But, it's not just the one charger I've been talking about. I've got a whole bundle that will keep you charged and ready!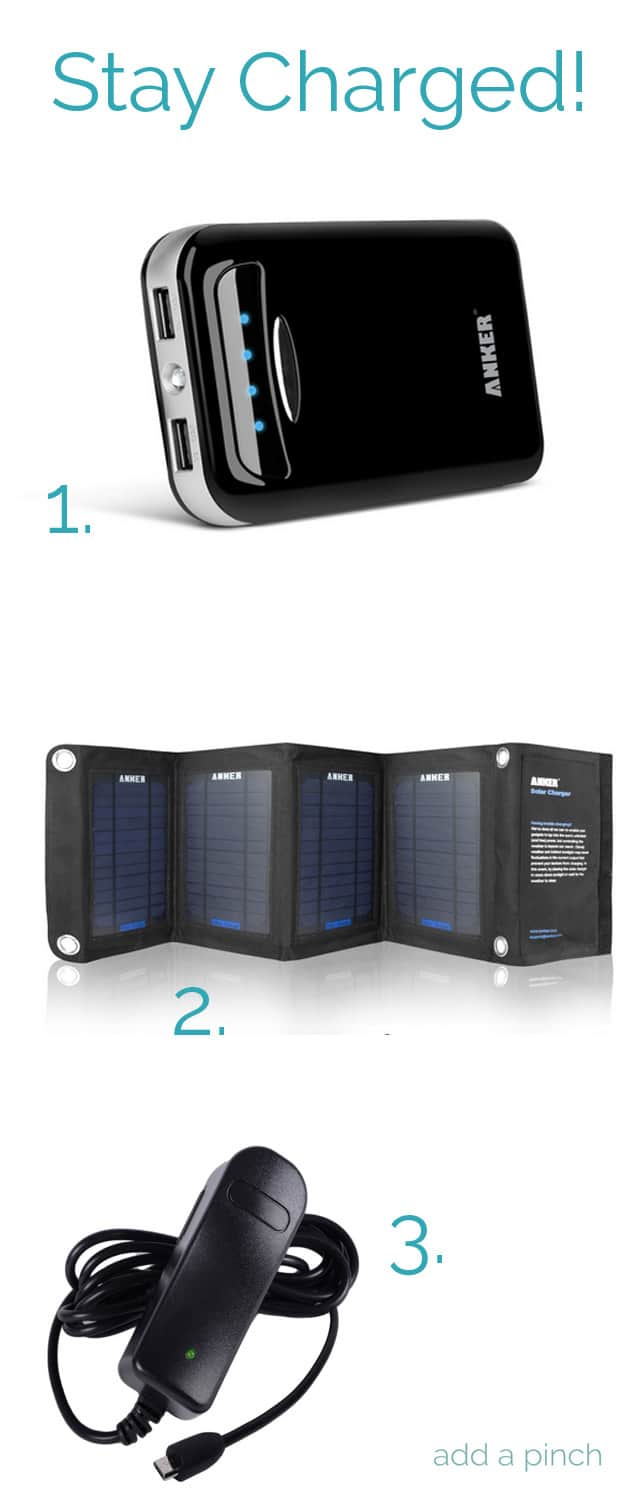 1. Anker External Charger | 2. Anker Solar Charger Panel
3. Rapid Charger
It seems like everyone in my family loves to use this thing. From me when I'm out and about running errands or traveling, my husband and son when they are on Scout camping weekends, and especially me lately while Mama was in the hospital and my phone battery was getting a workout with texts and phone calls! This baby is absolutely indispensable and I keep it in my bag at all times!
Recently, my husband used my Anker (#1 above) on a three-day camping trip and was not only able to keep his phone and iPad charged, he also kept my son's phone and two other people's phones charged. When he returned it to me, I just popped it back into my bag without recharging the Anker and then, used it four more times to charge my phone while at the hospital. Talk about a jewel!
Now, I've ordered the Solar Charger Panel (#2 above) for him and my son to have in their backpacks. That way, I know they'll stay charged and I can reach them. I guess that means my gift for them is more for me than it is for them. Ha! Oh well, my peace of mind is good for something I guess.
So, since I love you guys more than you will ever imagine and I want you to stay charged like I do, I'm giving away a bundle as photographed above to one lucky member of the Add a Pinch family.
Here's all you have to do to enter, just leave a comment telling me about how you use your mobile device the most. Is it hour long conversations with your best pal, constant text messages, or playing Candy Crush? LOL!
Giveaway ends Saturday, April 5th at 11:59 PM eastern time.
CONGRATULATIONS to Tessie, #150! I know you will enjoy your new chargers!
Only one entry per person, please. Replies to others comments will not count as an entry. Only entries on this post will be counted.
Love ya!
Robyn xo
Disclosure: This giveaway is sponsored by Add a Pinch. Anker® has no clue who I am, although I've bought plenty of their devices as gifts over the last year!