Sunset Flights and Date Nights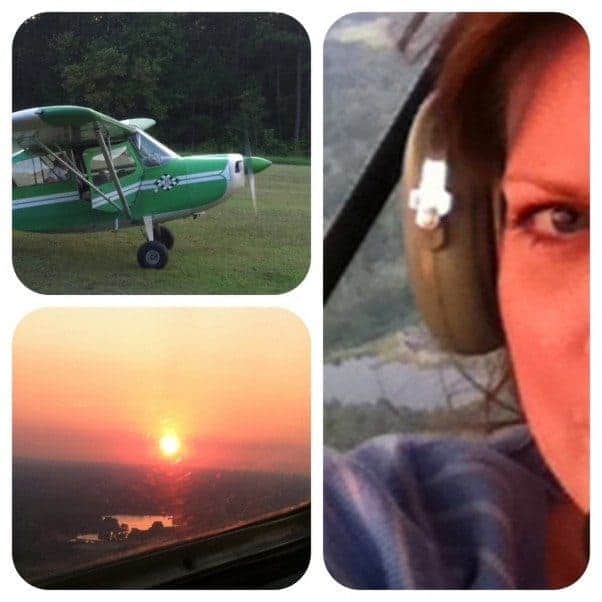 When my husband and I were dating, he would rush from his office in Atlanta to a smaller airport on the outskirts of the perimeter a few nights a week for his flying lessons. I even thought for a few minutes I should get my pilot's license as well so we could enjoy cross-country flights together and share some of the responsibility of the flight.
Those few minutes abruptly ended one night during my ground school lessons as I was working diligently on navigation and planning a flight with a hypothetical situation of passengers and their weights, a predetermined destination, an assigned type of aircraft, and airspace issues to consider.
My instructor peered over my shoulder with his head half cocked and plainly stated, "Robyn, I think you'll make a much better passenger than you ever would a pilot. Let's save you some money and just make that decision at this point."
I was devastated.
And ever so slightly relieved.
You see, my father had always teased about how I was directionally challenged to the point he joked, "sometimes I'm not sure you could find your way out of a wet paper sack."
I knew compasses, maps, weights and balances, air space concerns, and aircraft specifics were not my strongest suit, but was eager to give it my best shot to be able to share in the favorite hobby of my true love.
And then I realized my flight instructor was right.
I do make a much better passenger than I ever would make a pilot.
Date nights of sunset flights ensued throughout our courtship and early marriage fueling the dream of one day living on enough land to have our own airstrip where we could hop in a plane at a moment's notice to enjoy the sunsets from a bird's perspective.
Caring for a family, work, and farm chores quickly became reality and edged out the spontaneity of that hop into the plane on a pretty afternoon.
But as hectic as life seems, unplugging from the rush to here and there and a must-do list longer than can possibly get done in a day to take time to enjoy the sunsets, reminds me to enjoy the special moments of the dream I am living.