They always say, "There's no place like home" and I couldn't agree more. While I love being anywhere that my family is, my absolute favorite place to be in the whole wide world is here on the farm. To me, it is the most magical place on earth. Disney World comes a close second.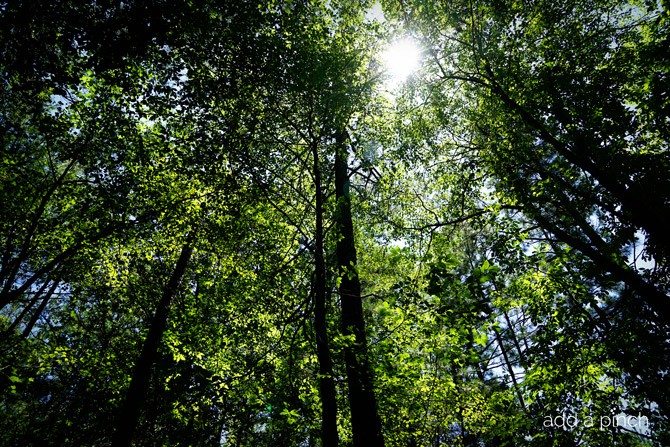 This summer, Bart and Sam have begun building a biking/ hiking trail throughout different areas of the farm. They started with one small section and then expanded it into another, and then another. Their plan being to build the trail so that it went around the majority of the property.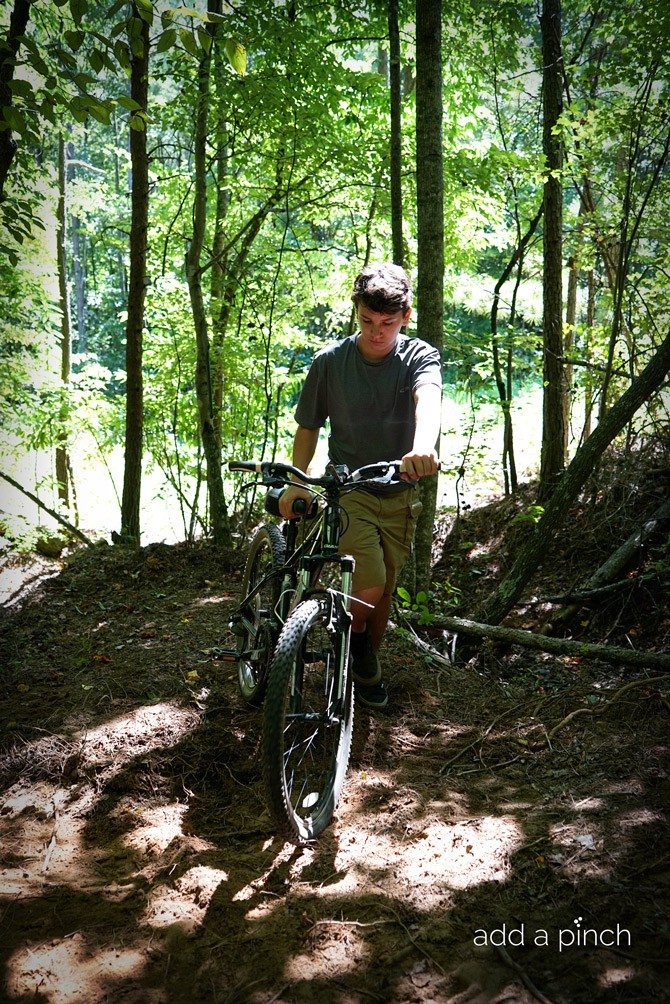 I've been so proud of Sam for taking an interest in building the trail, too. Every day, he'll go out and work on it while Bart is at work and then together they'll spend most of the day on Saturdays making it even better.
Last weekend, I walked into the kitchen as they had their two heads together over a piece of paper. Pencils in hand, I knew they were up to something. And guys, around my house, that's when you start battening down the hatches.
Timidly I asked, "what are you two up to?" Sam's head bobbed up his eyes bright with excitement and he said, "We're building a bridge." Immediately dropping his head back down to the plans and carrying on as if he'd just said, "It's raining."
Finally, I decided I'd better get a little bit more information and asked, "where is this bridge going?"
Without either of them looking up this time, they said in unison, "the point."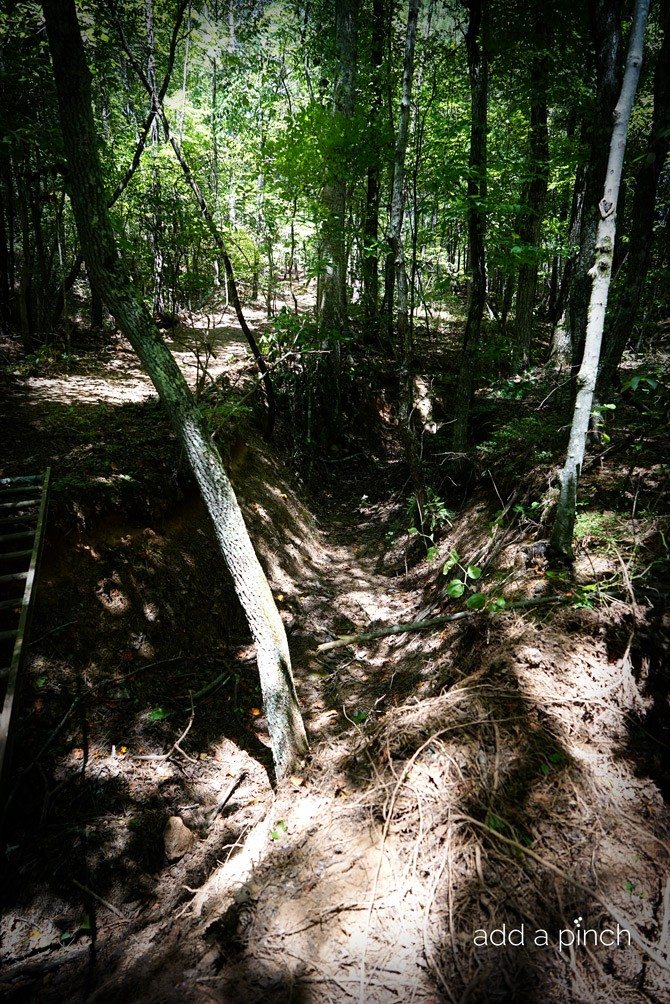 The point is an area on the farm where two ravines converge into the woods, making it impassable for biking or hiking any farther. It is a beautiful area and one where when you reach it, you just turn around and come back the other way. No big deal, but I knew it was hampering their idea of expanding the trail to another area of the farm.
This weekend, they spent the morning Saturday building the bridge and then situating it over one of the ravines at the point connecting it to another area. I'd heard them describe exactly how the bridge would work, that it needed to only be wide enough for one person to use it at a time, but big enough that you could walk a bike across it. That's when they started snickering and said,  "because Mama won't ride across it."
Do they know me or what? They know how much I can't stand heights.
I then asked why not make it big enough that we could drive scooters or the mule across. I could feel their eyes rolling at me before I even finished my question. "Because there are no motorized vehicles on the trail. That's the rule."
I think I missed that family meeting somewhere along the way, but understand their point.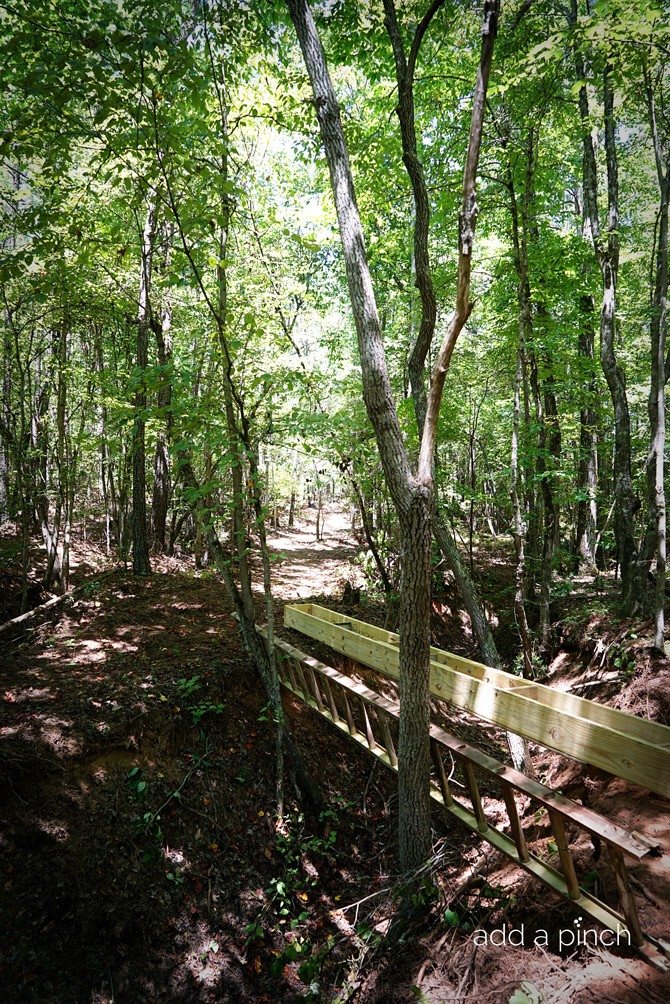 I hiked down to the point when they were situating the bridge so that I could snap a few photos of it. I knew how hard they'd worked on it and wanted to be there to cheer them on as they installed it.
The ladder was the temporary crossing point so one person could be on either side of the ravine as the bridge was being pushed into place. Let me just tell you, watching your husband walk across a ladder lying on the ground over a huge drop makes you hold your breath until he's safely on the other side.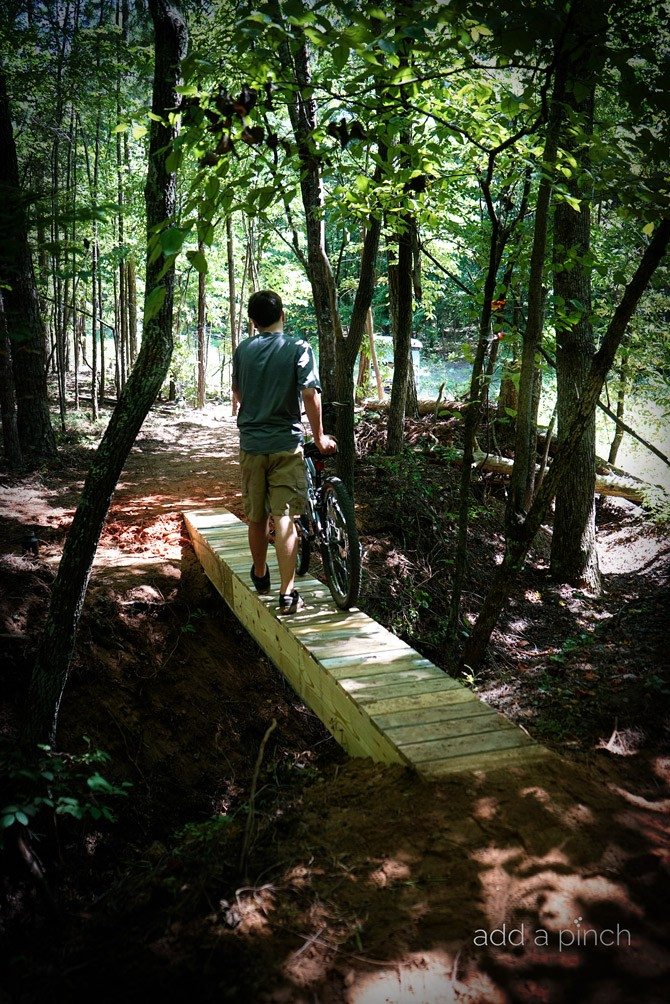 The bridge was placed and berms were added to make a perfect slope from the trail to the bridge and then off again. The bridge is just the right width for walking your bike across – but not even half of an inch extra.
Boy, do I hate heights. I wouldn't have minded if they'd have built it wide enough that while you are on it you can't see underneath on either side and with handrails so I could white-knuckle it across.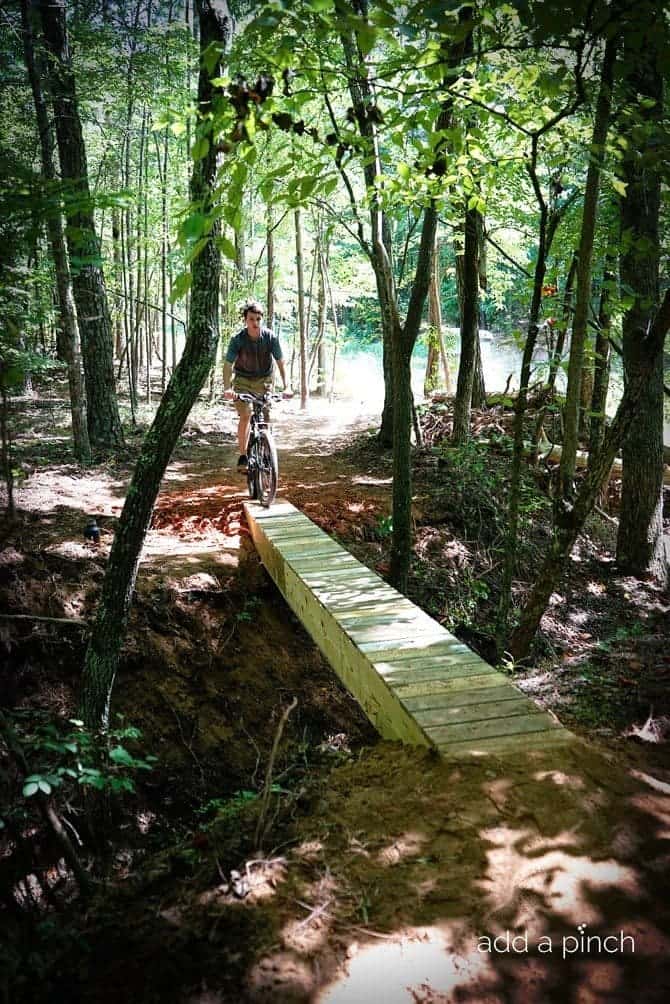 The bridge has been used pretty much nonstop since they gave it the final green light. But you know, I'm still thinking walking my bike across it is the smartest idea. That or crawling.