We'd planned on finishing our bee boxes today, but overnight our plans changed rather quickly. We went from thinking of making the top bars for our boxes to making sure we had extra Ginger Ale and Kleenex – oh, and plenty of Tylenol.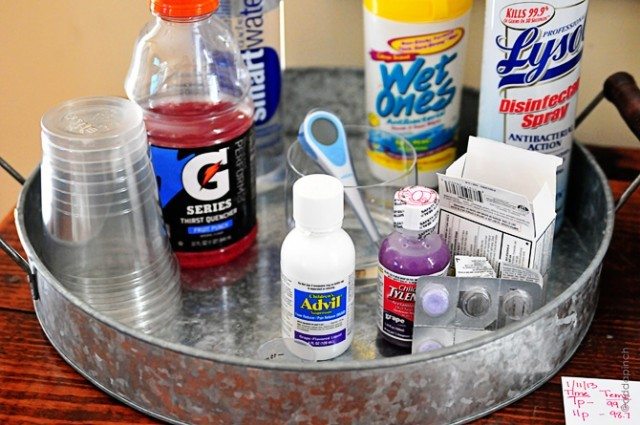 Little Buddy started not feeling well yesterday and then as the night wore on, he began aching, coughing and a headache.
Um, how can this be? We just got the flu shot on Tuesday! No way does he have the flu!
Oh, but he does.
I pulled together a tray to keep beside his bed of the essentials – you know, Gatorade, Advil, and Tylenol. Oh yeah, and plenty of disinfectant.
One thing I was worried about though was missing the every four hour rotation of medicine. I found an app that I thought you might like to know about, too. It is Rxmind Me. It alerted me during the night when it was time to check Little Buddy's temperature and which medicine to give. I'd set it for alternating the medicines, as instructed by our doctor, and low and behold it worked like a charm.
I'm in the process of switching over to a Windows phone so you know I immediately started searching for a similar app for it. I found Pill Reminder that looks very, very promising. UPDATE: I decided I like Med Tracker Free much better for the Windows phone.
The best thing about both of these apps is that they are FREE! Yippee!
So, if the flu comes knocking on your door, grab the Gatorade, Lysol, Tylenol and you may want to check out one of these apps.
Here's hoping for a short flu season!