For five days this week and weekend, my husband's family is gathering at the lake for our annual family trip. My husband comes from a large family (six children) and there are 15 grandchildren and 1 great grandchild. When I say big, I mean BIG!
This morning, all of the children under the age of 10 (except the 1 year old) had a fishing rodeo. Each child had a partner that fished with them, but the rule was the child had to be the one to reel the fish in all the way. Their partner could help them with taking the fish off of the hook, re-baiting their hooks, and if needed, setting the hook when a fish bit. I have to say, the children had a ball.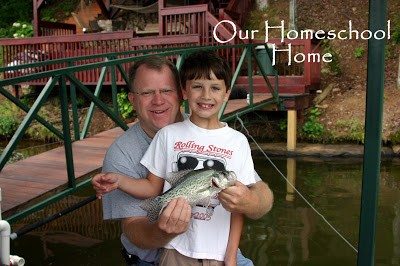 Little Buddy caught Big Fish. He and his Daddy were mighty proud. Can you tell?