Toffee Recipe
An easy homemade toffee recipe that you'll get requests for time and again! Made four simple ingredients, it is a favorite!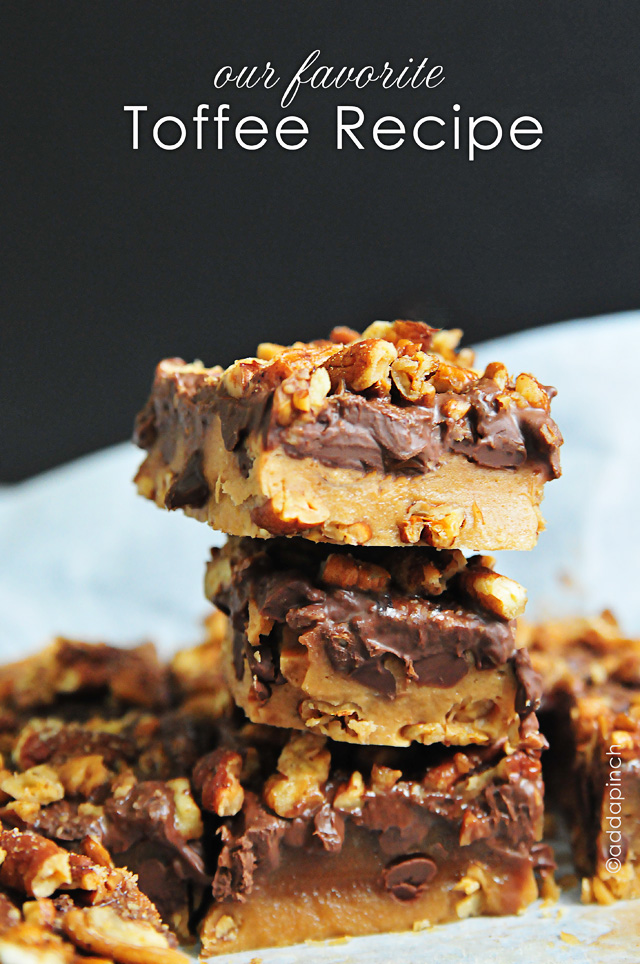 The holidays and making this toffee recipe go hand-in-hand for me. Well, candy-making in general goes hand-in-hand with Christmas around here, but toffee? Well, it tops the list.
Toffee is really so easy to make once you figure out a couple of basics, that you can easily make a few batches within an hour or so and have delicious gifts to share with friends and family or to serve throughout the holiday season.

Believe me when I say this though, you want to make this and then invite as many people over as you possibly can or immediately wrap it into hard to unwrap packages! Otherwise, you'll be tempted to eat it all yourself. Promise.
And that sort of temptation just needs to be shared amongst all those you love.
This toffee recipe is so easy it is ridiculous. With four simple ingredients that you probably have on hand right now, you could really have a batch made this afternoon for sampling. I use roasted pecans in my toffee recipe, but you could easily substitute another roasted nut or just completely omit the nuts if you prefer. If you do omit the nuts though, do me a favor and add a heavy sprinkle of sea salt on top of the melted chocolate as it begins to firm up. You really do need that little bit of salty-sweet combination that comes from this toffee. Promise.
See, I'm full of promises today and this is my third one – if you give this toffee as presents during the holidays, you will absolutely without a doubt be asked for the recipe and have folks singing your praises. Promise.
Here's my favorite toffee recipe of all time. Make it soon!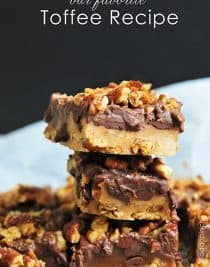 Yield:
24
Course Dessert
Cuisine American
Keyword best toffee recipe, easy toffee recipe, toffee recipe
Toffee Recipe
Total Time 20 minutes
Prep Time 10 minutes
Cook Time 10 minutes
Easy Toffee Recipe - An incredibly easy homemade toffee recipe that you'll get requests for time and again! Made four simple ingredients, it is a favorite!
Ingredients
1 cup roasted pecans divided (optional)
1 cup packed brown sugar
1 cup butter 2 sticks
1 cup chocolate chips
Directions
Line a baking sheet with parchment paper or a silicon baking mat, such as a Silpat. If using nuts, sprinkle 1/2 cup roasted pecans on top and spread evenly.

Using a heavy-bottomed saucepan over medium heat, melt brown sugar and butter, stirring constantly. Boil until a candy thermometer reaches 300º F. Immediately remove from heat and pour over roasted nuts. Top with chocolate chips and allow chips to begin melting. Spread chocolate evenly over top of toffee with a silicon spatula. Allow to cool for about five minutes before adding remaining roasted pecans.

If omitting the roasted pecans from your recipe, consider sprinkling top of chocolate with sea salt.

Allow to cool completely to harden - overnight on counter or about 20 minutes in the freezer. Lift hardened toffee off parchment paper or silpat and break into candy pieces.

Optional: for thicker toffee pieces (as pictured), I line a 7x11 casserole dish with parchment paper rather than using a baking sheet. Freezing time increases to 30 minutes.
Nutrition Facts
Toffee Recipe
Amount Per Serving
Calories 168 Calories from Fat 108
% Daily Value*
Total Fat 12g 18%
Saturated Fat 6g 30%
Cholesterol 21mg 7%
Sodium 75mg 3%
Potassium 31mg 1%
Total Carbohydrates 14g 5%
Sugars 13g
Vitamin A 5.1%
Vitamin C 0.1%
Calcium 2.1%
Iron 1.5%
* Percent Daily Values are based on a 2000 calorie diet.
All images and text © Robyn Stone for Add a Pinch
Enjoy!
Robyn xo
From the Add a Pinch recipe archives. Originally published 2012.