The ultimate wedding gifts guide that includes essential and classic wedding gifts any newly married couple would love. This wedding gift guide includes gifts for any budget.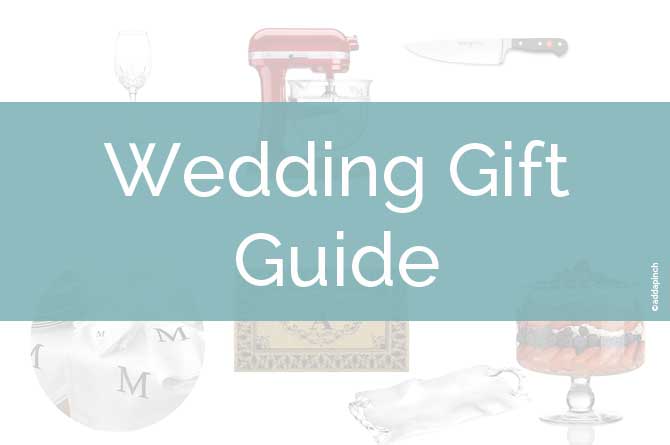 We've had three weddings in our family over the last three years. Yes, one each year. While June may seem like the popular month, it has not been in my family. My nieces and nephew have each chosen months in the fall for their weddings.
With all of these weddings, you can understand why selecting the perfect wedding gifts is on my mind.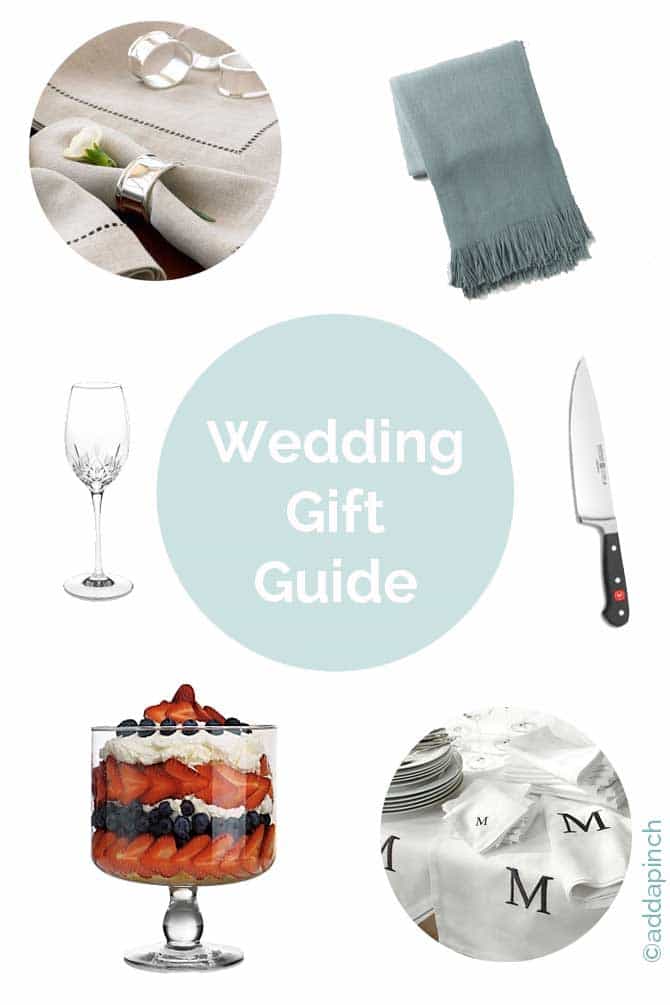 Pictured (clockwise):
Monogrammed Napkin Rings – This set is a classic while still being affordable // $20
Throw or Blanket – A beautiful throw in colors from their wedding or in the new home is always perfect. This throw would be beautiful to also add a monogram from your local embroidery shop. // $15
Cook's Knife – A great chef or cook's knife will last them forever if they take care of it well. Buying a set is great, but one essential knife they'll use again and again makes a great gift! // $129
Monogrammed Table Linens – Help them set their new table with gorgeous linens! This set of 6 napkins will be used again and again and again! // $15
Glass Trifle Bowl – This bowl is just as beautiful sitting on a kitchen shelf or in the table filled with fruit as it is filled with trifle! A definitely must-have piece for newlyweds. // $25
Champagne Flute – Lismore by Waterford – Gorgeous champagne flutes will be something they'll likely use at their engagement party, wedding reception, and on anniversaries and special occasions. // $80
These are gifts that I would give and definitely would be tickled to receive! I've also shared a comprehensive list of many items by room to hopefully help you decide on that perfect present. This guide may also help if you are the future bride and groom as you create your gift registries as well.
Wedding Gifts Guide
Kitchen
Baking
Apron
Biscuit cutters
Cake dome
Cake pans
Cake plate
Cookie cutters
Cooling racks
Nonstick baking mat
Pastry blender
Pie plates
Rolling pin
Sheet pans
Drinkware / Barware
Beer mugs
Bottle opener
Champagne flutes
Cocktail shaker
Glassware sets
Ice scoop
Margarita glasses
Martini glasses
Pitchers
Water goblets
Wine glasses (red/white)
Wine opener
Coffee and Tea
Coffee cups
Coffee maker
French press
Single cup coffee maker
Sugar and creamer
Tea cups
Tea kettle
Food Storage/Pantry
Bread box
Canisters
Crocks
Salt and pepper set
Spice bottles
Spice rack
Storage bowl/container set
Cookware
Cast iron grill pan
Cast iron skillets
Cookware set
Roasting pan
Saucepan
Sauté pan
Wok or Stir fry pan
Serving Tools and Pieces
Casserole dish
Pasta set
Salad tongs
Serving platters
Wooden spoons
Electrics and Equipment
Blender
Can opener
Electric griddle
Food processor
Hand mixer
Ice cream maker
Juice extractor
Kitchen fire extinguisher
Microwave
Panini press
Slow cooker
Stand mixer
Toaster
Tools
Cheese slicer
Colander
Cutting board
Grater
Ice cream scoop
Kitchen scissors
Kitchen timer
Knife set
Measuring cups
Spatula
Utensils
Vegetable peeler
Bowls
Centerpiece bowl
Glass mixing bowls
Glass refrigerator bowls
Serving bowls
Serving bowls
Stainless mixing bowls
Wooden salad bowl

Linens
Dish cloths
Kitchen rugs
Kitchen towel set
Oven mitts
Pot holders
Trivets
Cleanup
Dish drainer
Drying mat for glassware
Soap and lotion dispensers
Dining Room
Candles
Candlesticks
Centerpiece decor
Charger plates
Coasters
Napkin rings
Napkins
Placemats
Stemware
Table linens
Tiered server
Vases
Wine rack
Bathroom
Apothecary jars
Bath mats
Bath sheets
Bath towels
Bathrobes (his and her)
Decorative towels
Hand towels
Hooks
Makeup / magnifying mirror
Scales
Scented candles
Shower curtain
Sink accessories
Soap and lotion dispenser
Towel racks
Washcloths
Wastebasket
Bedroom
Alarm clock
Blankets
Comforters
Curtains and Rods
Decorative Pillows
Dust ruffle
Duvet cover
Full length mirror
Heated blanket
Jewelry box
Mattress pad
Pillowcases
Pillows
Shams
Sheet sets
Small rugs
Valet tray

Closet, Cleaning & Organization
Air purifier
Baskets and bins
Closet organizers
Drawer organizers
Garment bags
Garment steamer
Hangers
Iron
Ironing board
Laundry basket / hamper
Luggage sets
Shelving
Shoe rack
Stepping stool or smaller ladder
Trash cans
Travel bags
Vacuum cleaner
Living Room
Air mattress
Bed / TV trays
Bookcase
Candles
Candle sticks
Carbon monoxide detector
CD / DVD rack
Clock
Coasters
Computer accessories
Decorative storage
Digital camera
Electric heater
Entertainment players
Fans
Home stereo / MP3 player
Lamps
Magazine rack
Mirrors
Ottoman
Picture frames
Shelving
Smoke detector
Snack tables
Video camera
Wall art
Wall frames
Outside
Door knocker
Fire extinguisher
Flower pots and planters
Garden tools
Gas or charcoal grill
Hammock
House numbers and signs
Landscaping plants
Lawn and patio chairs
Personalized door mat
Porch swing
Rocking chairs
Smoker
Tool kit
Walkway lights
Preserving Memories
Engraved or monogrammed keepsakes
Framed wedding announcement
Framed wedding invitation
Handcrafted doily with last name
Memory box
Needlework sampler with wedding Date
Shadow box to display wedding keepsakes
I hope this wedding gift guide gives you ideas to help you choose a useful and memorable gift for that special couple for their life together! What an exciting time!