One of my favorite Dr. Seuss books has always been The Lorax. I remember reading it as a little girl and being so taken away with the illustrations, but now as a Mother I am more taken with the story.
Seuss definitely makes you think about the world and your impact on it.
We are blessed by being able to live out in the country, surrounded by trees Little Buddy can climb to his heart's content, trails that we can enjoy and hear woodpeckers digging in for their morning snack, and plant flower bulbs that we know as soon as we cover them with soil that the squirrels will have them dug back up by the next morning.
We know when we plant our corn during the spring that as soon as the tender stalks pop about a foot out of the ground, the deer will decide they are a tasty snack and chomp the tops right off of each one. Unless we're lucky and they haven't found a way through, over, or around the fencing.
And with each of those blessings, my job as a Mama is to encourage Little Buddy to enjoy it with such a fierceness that he'll always remember. To love it with all of our might. To never become a Once-ler.
I've made a 5×7 Unless Printable that I'm keeping in our information center area. I think it's just the place we need the reminder each day as we grab jackets, put on our shoes, and head out into the world. I hope you enjoy it, too.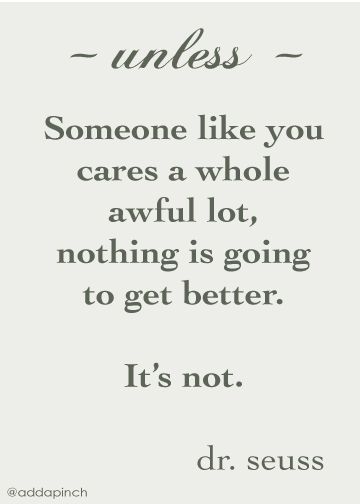 Have you been to see the movie yet?