Ah! White denim. It's that time of the year!
There is no better feeling than pulling out those white denim jeans in the back of your closet as the weather is warming up. When I think of spring, white always comes to mind as it is always so crisp and cool. I thought I'd share a few of my favorite ways to wear white denim with you for this month's wardrobe staples!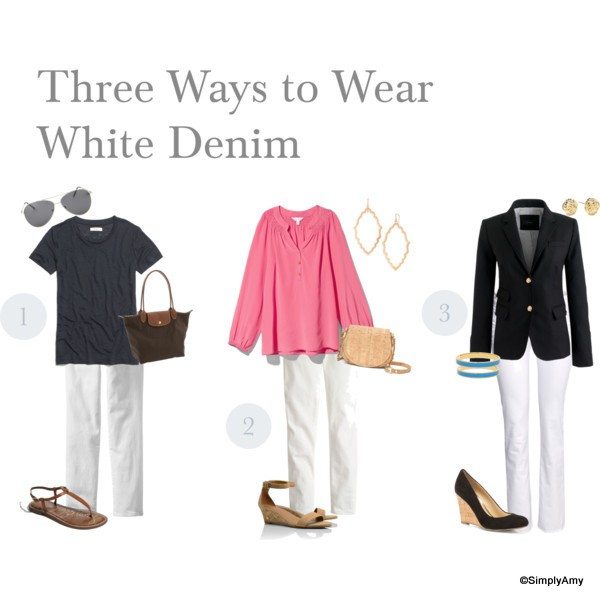 1. Tee / White Jeans / Sandals / Bag / Shades
2. Top / White Jeans / Cork Handbag / Drop Earrings / Tan Sandals
3. Blazer / Bootcut Jeans / Wedges / Studs / Bangles
If you are wanting to find a new pair of white denim this spring or dress up the pair you already have, here are some tips I find helpful with white denim:
Try them on.
Finding the perfect pair of white jeans is just as important (and sometimes as difficult) as finding the perfect pair of blue jeans. If you are looking for something to lengthen your body you could try bootcut as it will elongate your look. If you want a more basic pair, try a straight to skinny cut that is ankle length. This way you can wear them with sandals, flats, or wedges and you won't have to worry about the length.
Invest in quality but don't spend too much.
White denim is easy to find in every store and at every price point these days. Remember they do tend to get dirty (I am "mess" prone, keep a Tide pen nearby if you are too!) but a nicer quality fabric will last longer and compliment your body better. (See above for some different options on where to find a pair)
Remember classic always works, but experiment for fun.
You can never go wrong with white denim paired with black, oh so classic and simple. While I love sticking to the basics, I also love experimenting with colors such as hot pink, blue, or navy. Neon is big this spring if you are feeling more daring! Dress it up or down with jewelry, shades, and some sassy sandals. The possibilities are endless with this versatile wardrobe staple!
I love wearing white denim to work, date nights, and just running around town. Here are some of my favorite ways to wear them: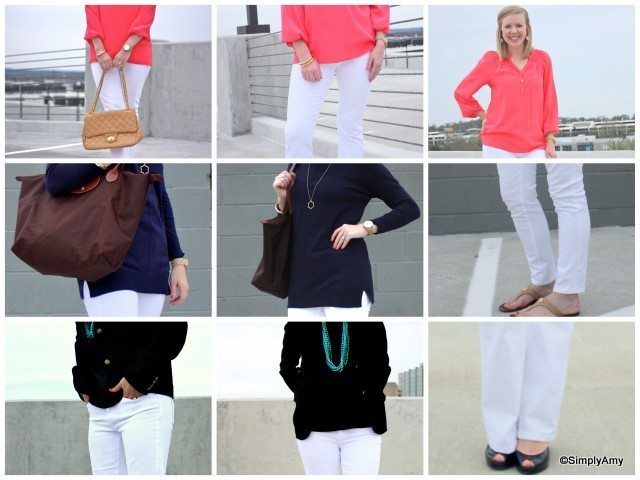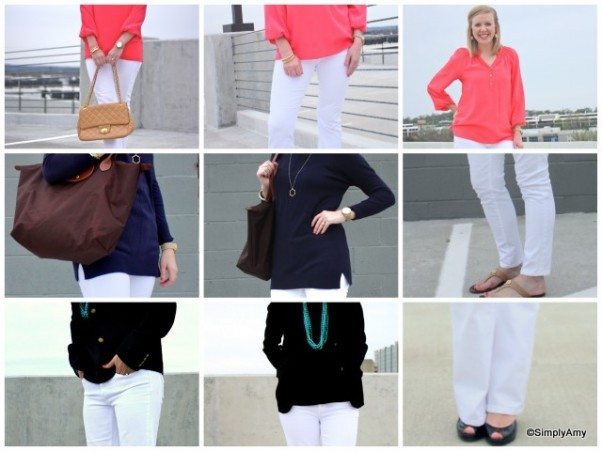 Do you have a pair of white denim jeans you love?