My poor dog, Tinkerbell, needs a groomer. One much more skilled than I am at wrestling a three pound pooch while said pooch is washed, dried, brushed, and has her hair coiffed!
I barely am able to do my own, much less Tinkerbell's.
But, I tried. And now… she is now embarrassed and sporting a Snuggie.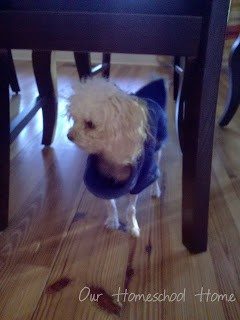 Do you have pets? Little Buddy told me that he thought Tinkerbell just might not be my friend anymore. I fed her and she forgave me. Aren't dogs wonderful?