We're Hiring! Digital Content Producer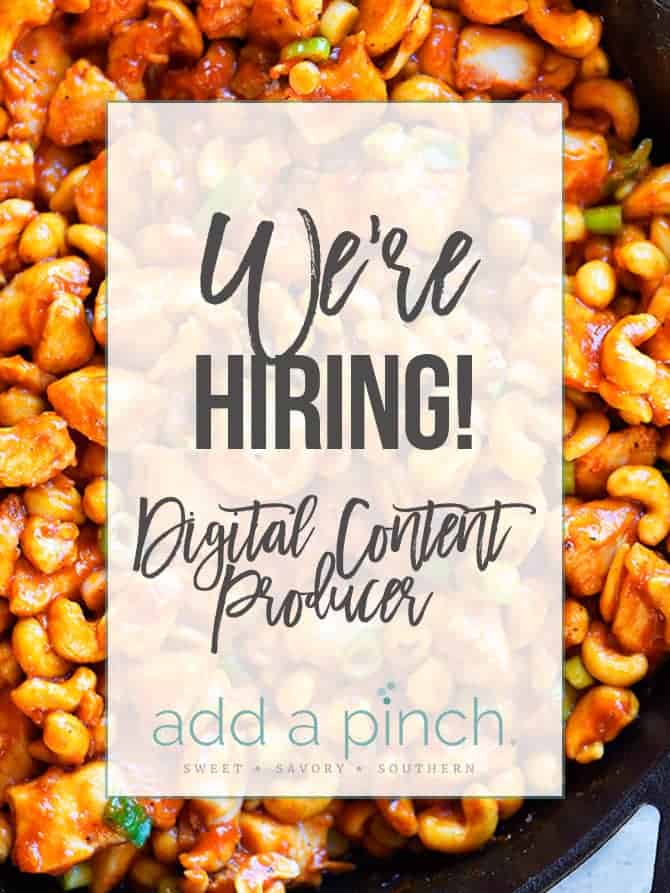 I have some exciting news, sweet friends!
I am so thrilled to announce that we are officially adding a new member to our little team at Add a Pinch. We are looking for someone who simply adores food, loves making and editing videos, and would love to join our team as a digital content producer!
When I say our little team, I mean our little team! 🙂 It is primarily me and sometimes Mama dropping by and giving me a hand testing and retesting recipes. If you want to include taste-testers, then Bart and Sam definitely are top of the list and occasionally, Ranger and Annabelle like to come by from time to time, too! We work in our renovated Barn here at the farm that is filled with natural light, a full kitchen, and all of the equipment and materials that you'll need to produce high-quality work! We have a wonderful time in our very family oriented environment and look forward to adding one more to our crew!
If this sounds like the exciting, creative position that you have been looking for, check out the full job posting below. If it isn't for you, but sounds just perfect for someone you know, please share this with them as well! I am beyond excited about this newest addition and just can't wait to get started with all the amazing videos to come!
---
JOB DESCRIPTION:
Position: Digital Content Producer
Primary Job Description: To produce engaging, high-quality videos.
Hours: 30 hours/week
Compensation: Dependent upon the qualifications of the applicant
Starting Date: October 2017
Location: Carrollton, Georgia | Work will primarily take place in Carrollton, GA with occasional work at other locations.
Responsibilities:
Recipe videos — plan and produce everything for the video including planning and storyboarding the video and associated photographs, shopping for the ingredients and supplies, cooking and shooting the recipe, editing and uploading the video, etc. All necessary equipment is provided.
Requirements:
Must be comfortable designing, shooting and editing videos
Must be a confident cook with a basic knowledge of cooking and be comfortable following recipes
Must be someone who is:

family-friendly
creative and organized
efficient and deadline oriented
a self-starter and can work well independently, yet also enjoys collaborating and working as part of a team
fun to be around
How To Apply:
Produce a 1-minute step-by-step recipe video of any Add a Pinch recipe, upload the video to Google Drive, and include a link to your video in your submitted application. I am looking for creative and engaging step-by-step videos that entertain and educate the reader on the recipe.
Submit your application via this link: Application
Please email your resume and why this job sounds like the perfect fit for you to robynstone (at) addapinch.com.
Applications must be submitted by September 23, 2017.
I can't wait to see all of your great videos!
Robyn xo