For Valentine's Day, my sweet husband made a playlist of all of our songs. Songs from while we were dating, songs we had sung in our wedding, songs that were favorites of Little Buddy's growing up, and even newer songs that we love. It has to be one of my favorite presents ever.
The other day, on a rare occasion that I was in the house alone for a few hours, I played all of the songs he'd included in the playlist.
I sang along, I danced a little bit, I laughed and I even cried.
It caused me to think of songs that my parents would have playing as I was growing up and even songs that I remember my Grandmother singing. One of my favorite songs from when I was a little girl was You are My Sunshine. She'd brush her hand over my forehead to push my wispy bangs to the side as she pressed a soft kiss and would pull me close to her side as she began singing. The memory is forever imprinted not only in my mind, but in my heart.
Many years later, I held my own baby and would rock him gently from side to side as I sang a favorite song from my youth. As he's grown up, whenever he's needed an extra dose of loving due to hurt feelings or a bump or bruise, I pull him to my side as I brush his hair to the side and kiss him gently on the forehead. As I begin the words of the song, I can feel his taut muscles begin to relax a bit and by the end he's grinning his adorable lopsided grin again.
In this fast-paced world we're living in, we need to take minutes every day to make sure those we love know how special they are to us. A special song and a little kiss never hurt.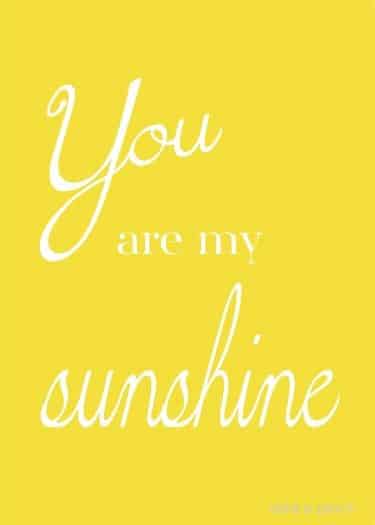 I made a You are My Sunshine Printable for you. It is a 5×7 that would be perfect framed and included in your child's room, living room, or somewhere you know your loved ones will see it each day.
I hope you enjoy it!